Last Updated on July 6, 2023
45th President Donald J. Trump is speaking out on Truth Social to ask "Where are the White House SECURITY TAPES?" that could lay to rest all of the questions and speculation surrounding the bag of cocaine found in the Biden White House.
The American People still have far more questions than answers in the not-so-mysterious case of cocaine being found in the Biden White House and the story that the White House and its media partners are feeding to the American People is ever-changing. President Trump joined the chorus of Americans searching for answers in a pair of posts he made to his Truth Social platform, and suggested that if the cocaine doesn't belong to Hunter or Joe Biden, it could be the property of deep state prosecutor Jack Smith, who Trump says "looks like a crackhead."
"Does anybody really believe that the COCAINE found in the West Wing of the White House, very close to the Oval Office, is for the use of anyone other than Hunter & Joe Biden," President Trump wrote in the first of the Truth Social posts.
"But watch," he added, "the Fake News Media will soon start saying that the amount found was 'very small,' & it wasn't really COCAINE, but rather common ground up Aspirin, & the story will vanish. Has Deranged Jack Smith, the crazy, Trump hating Special Prosecutor, been seen in the area of the COCAINE? He looks like a crackhead to me!"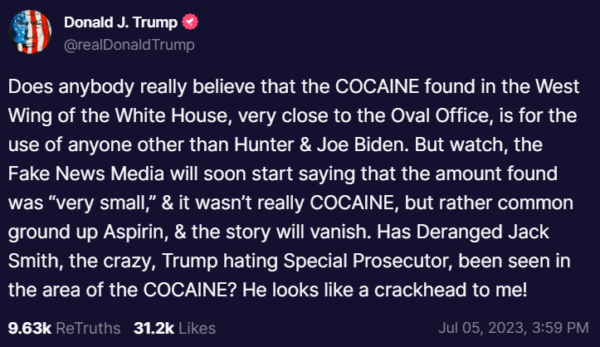 In a follow-up post, Trump asked the question that millions of Americans, including we here at National File are asking.
"Where are the White House SECURITY TAPES, like the ones I openly and happily gave to Deranged Jack Smith," Trump asked, adding that the tapes "will quickly show where the Cocaine in the White House came from."
"They already know the answer," the 45th President added. "But probably don't like it!"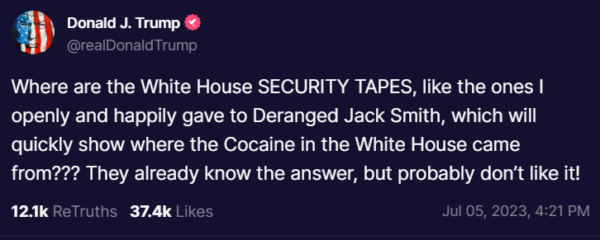 VIDEO: Americans say Hunter Biden looked high during July 4th fireworks display…And possibly did a bump of cocaine. 
Nothing to see here

Just a video of Hunter Biden allegedly doing a bump of cocaine at the White House in front of children

But don't worry – the media said the bag of blow found at the WH wasn't Hunter's!
pic.twitter.com/Bt5hCT2ghf

— DC_Draino (@DC_Draino) July 5, 2023