Last Updated on July 1, 2020
Social media platform Reddit experienced an intense and volatile debate on the subreddit r/funkopop after a user demanded the production of a Funko Pop in the likeness of George Floyd.
Floyd, whose death while in police custody sparked a series of nationwide riots, was posited as the perfect model for the next line of plastic toys in the now-deleted Reddit post.
"The black community has suffered more than enough. We, as Funko POP owners, need to stand with them and DEMAND that Funko honors the lives of black victims of police brutality by making a George Floyd Funko POP," the post read. "We need to tell the world to take a stand against anti-black racism, and there would be no better way to do so than buying a George Floyd Funko POP. Will you take a stand and join me?"

The post was met with intense backlash: "the f**k is wrong with you?" one user replied, while another said, "would be wildly insensitive but ok."
"I dont see how funko making this and then profiting off it helps in any way at all. I would think it's very inappropriate," another Redditor stated, though another replied that the proceeds could be donated "to the BLM cause."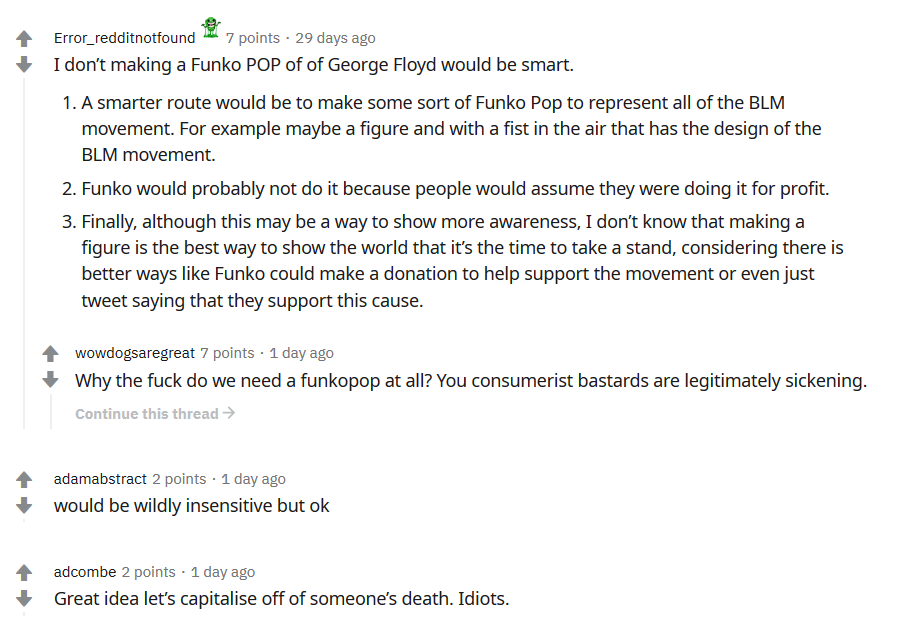 Some users voiced support for the idea. "I honestly think Funko should do an entire Black history line. As a Black woman I feel hurt and saddened during this time but after every storm you're promised a rainbow," one supporter wrote.
Another Redditor chimed in, "This is a better idea. So many incredible people could be honored. I would collect this line especially if part of the profit went towards an organization that helps out."
"Yeah blows my mind there's still no MLK Pop," a third user stated.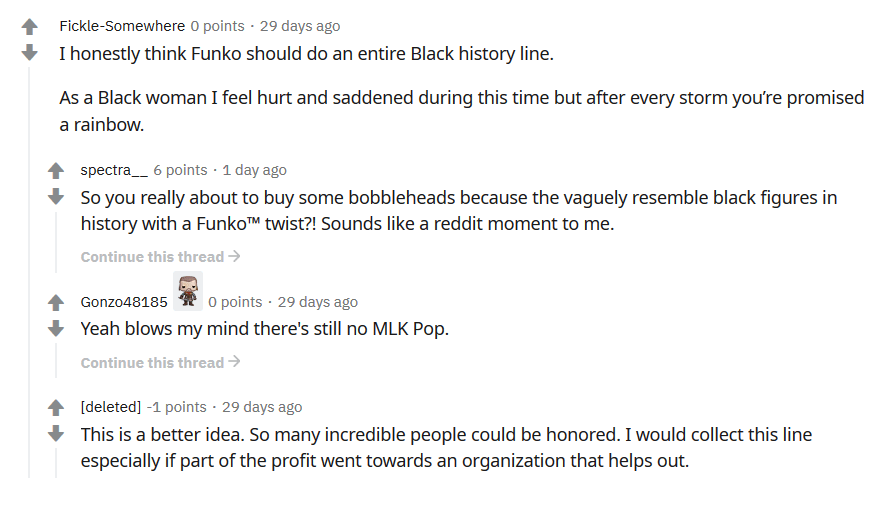 Screenshots of the thread quickly went viral on social media, including other subreddits such as r/enlightenedcentrism and r/consumeproduct. The latter subreddit was deleted by Reddit as part of a massive political purge on the platform carried out on Monday:
On Monday, Reddit banned over two thousand subreddits today, including r/The_Donald and r/TheNewRight, allegedly to stop the "promotion of hate" on the social media platform.

In an announcement posted on Reddit, Steve Huffman, co-founder and CEO of the company, said that "communities and users that promote hate based on identity or vulnerability will be banned," and that over 2000 subreddits were removed, although only 200 had more than 10 daily users.

A number of subreddits were banned, including right-leaning subreddits, such as r/The_Donald, r/TheNewRight, r/RightWingLGBT, r/rightwingcomics and r/Groyper_Movement.
READ MORE: Redditor Complains That COVID-19 Pandemic Makes Cuckoldry More Difficult