Last Updated on February 26, 2023
A Twitter poll from pro-DeSantis social media personality Bill Mitchell massively backfired as respondents said they'd support President Trump in a 2024 GOP Primary contest between the two men by a margin of up to 40%.
"Who would you like to be the GOP Nominee?" asked Bill Mitchell, a former online surrogate for President Trump who's now joined neo-con and establishment types in passionately supporting Florida Governor Ron DeSantis for President in 2024.
The poll, which now appears to have been deleted, massively backfired on pro-DeSantis Bill Mitchell, with President Trump raking in massive support.
At one point, when over 4,170 respondents had weighed in, President Trump was leading Governor DeSantis by a whopping 40-point margin.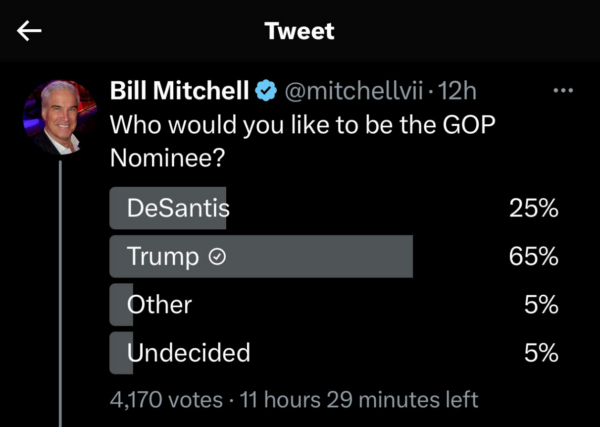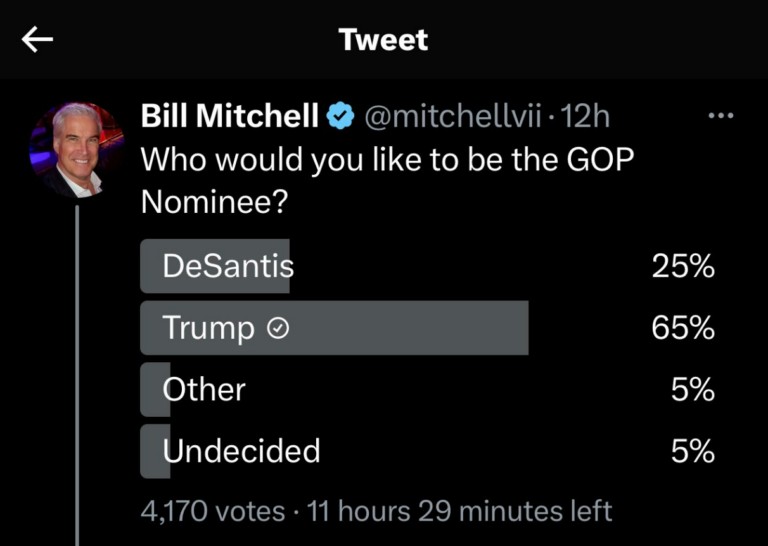 The Trump-DeSantis poll from Bill Mitchell was just one of numerous in recent days that have placed President Trump in the winner's circle.
In another Twitter survey, Bill Mitchell asked users who their friends think is more "likable." President Trump won that poll as well, bringing in 53.8% of the vote, compared to 46.2% for DeSantis.


In 2016, Bill Mitchell was an internet supporter of then-candidate Trump's campaign, amassing a large following before being booted from the platform for opposing mask mandates. His account was later restored after Elon Musk's takeover of the platform.
Though he touts himself as a former "advisor" to President Trump, that claim has been called into question by many, including actual Trump advisor Sebastian Gorka, who mocked Mitchell after he posted a tweet claiming to have "advised" the Trump campaign that "go[ing] negative on DeSantis" is a "huge mistake."
"And I'm sure Mar a Lago took Bill's call," Gorka tweeted, along with dozens of laughing emojis.
https://twitter.com/SebGorka/status/1620160334253412355