Last Updated on February 22, 2023
Florida Governor and probable presidential candidate in 2024, Ron DeSantis, lashed out against a Florida GOP official during his 2018 campaign, for making the factual observation that Democrat Andrew Gillum has a race-centric political platform and wants to seize money from the American People to "pay back" black Americans for slavery that occurred hundreds of years ago.
Then-candidate Ron DeSantis called an Orlando-area GOP official, Kathy Gibson, "disgusting" and demanded her resignation in 2018 after she posted a meme online reporting that DeSantis's Democrat opponent, Andrew Gillum, wanted black people to be "paid back" for 18th and 19th-century slavery in the United States. Additionally, DeSantis called on anyone who "subscribes" to the same "disgusting" anti-reparations "thinking" of Gibson to follow her out the door of the Florida GOP.
"Kathy Gibson should resign, and so should anyone else that subscribes to this sort of disgusting thinking," DeSantis told Politico at the time, in the form of a written statement. "This campaign is about issues and creating a better Florida for everyone. That's what Floridians care about, and that's what we'll continue to focus on."
DeSantis was joined in his apparent outrage by Orlando's BLM-aligned Commissioner, Regina Hall.
"We don't need this kind of politics in Orlando. We don't need this racism in the state," Hill told Politico, going on to claim that Gibson had fallen for "fake news" about Gillum's reparations stance.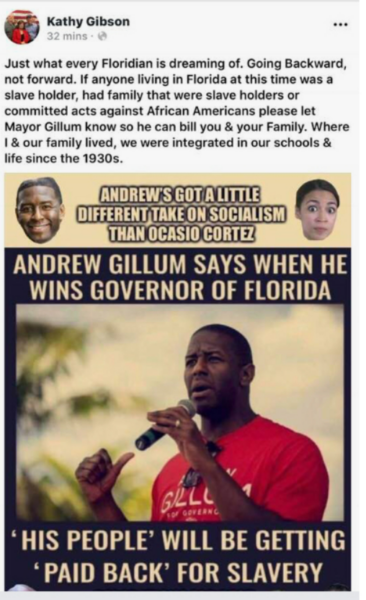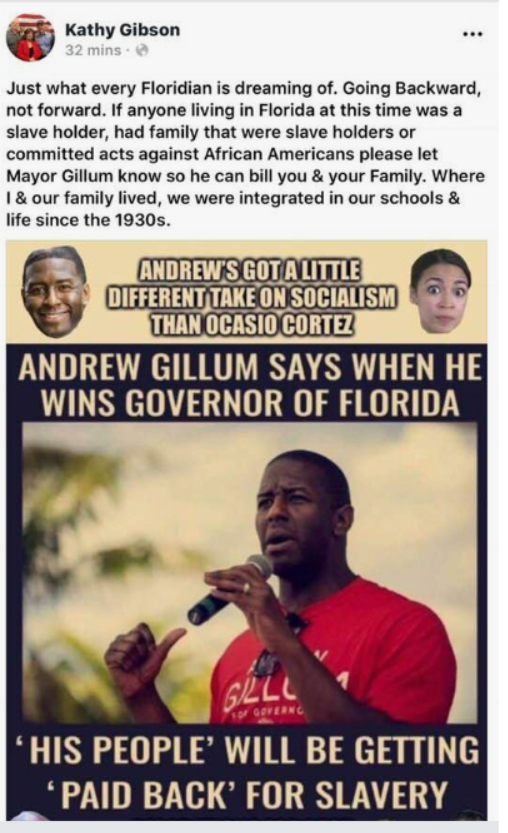 Now, despite the outrage of Ron DeSantis and the "disgusting" label he assigned to Kathy Gibson, Andrew Gillum, who is facing multiple federal charges and was publicly humiliated after he was caught in a drug-fueled gay orgy in a hotel room, is openly calling for slavery reparations to be given to black people. Gibson has, seemingly, been vindicated.
While the reparations issue was previously kept under wraps by most Democrats, and anyone who vocally opposed hypothetical reparations for slavery was maligned as a racist by people like Ron DeSantis, in the aftermath of BLM's 2020 mayhem, reparations are a standard portion of the Democrat Party's platform.
"I'll say it again for the people in the back," Gillum captioned a 2021 video excerpt from his show, "Real Talk With Andrew Gillum."
"REPARATIONS. REPARATIONS. REPARATIONS."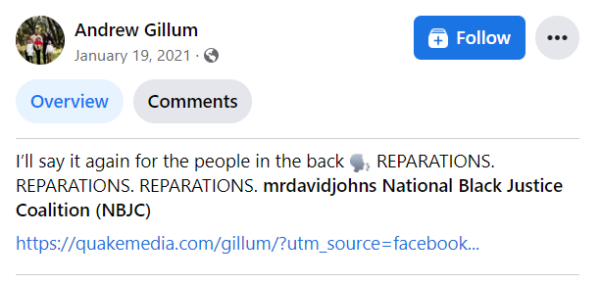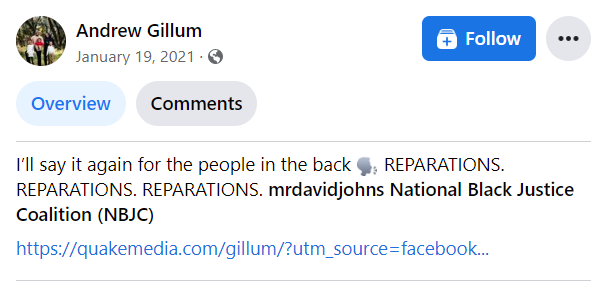 Ron DeSantis's attacking of Kathy Gibson for opposing race-based slavery reparations is just the latest red flag to be raised in regards to his presidential ambitions, and America First, conservative bonafides.
As previously reported by National File, DeSantis's top donor, Ken Griffin, who's also helped bankroll Democrats like Barack Obama, is closely tied to Communist China, both financially, and personally.
Griffin, who has countersignaled a Trump 2024 run, wants to "increase the size of our commitment" in China and supported CCP leader Xi Jinping for his economic leadership, saying it helped "re-accelerated China's growth."