Last Updated on May 12, 2022
Pro-choice Republican Delegate Marie March, of Virginia, is changing her tune on abortion in the aftermath of the Supreme Court's Roe leak and the resurfacing of a 2019 Facebook post in which she defended the practice of abortion and called for it to remain legal. March's 2019 Facebook post came as Democrats tried to advance legislation allowing for abortion up to the moment of birth and, according to comments made by then-Governor Ralph Northam, even post-birth infanticide.
Following the leak of the Supreme Court's draft opinion overturning the 1973 Roe v. Wade ruling, which legalized abortion nationally, Delegate Marie March called in the local news to announce her plans to sponsor a life at conception bill in the Virginia House of Delegates during next year's legislative session. Shortly thereafter, a 2019 Facebook post revealing March's pro-choice views on abortion resurfaced, throwing the sentiments behind her entire life at conception bill into question and drawing the ire of her constituents, to who she has still refused to give a straight answer regarding the post and her views on abortion.
"How bout Everyone loves babies and would never want to terminate their pregnancy. However, many of my friends don't want Big brother deciding what they can do with their bodies and I GET IT!," March's 2019 post read, before going on to say that abortion is an object of "partisan politics" meant to divide Americans and that there are "HUGE lobbying interests behind both sides" of the issue. Pro-life activists, as well as pro-choicers, March went on to say, are mere "pawns in a game" – a "game" revolving around the lives of babies.
"How bout PRO-LESS Government, PRO-Personal responsibility, PRO-RESPECT for each other. PRO-LOVE. Love is the greatest of these and can fix us all. Don't let yourself be propagandized!" March wrote.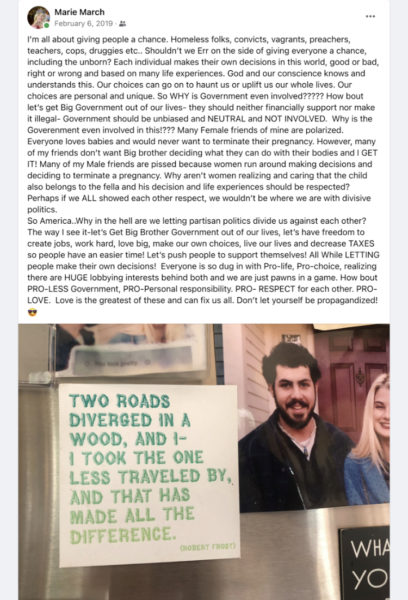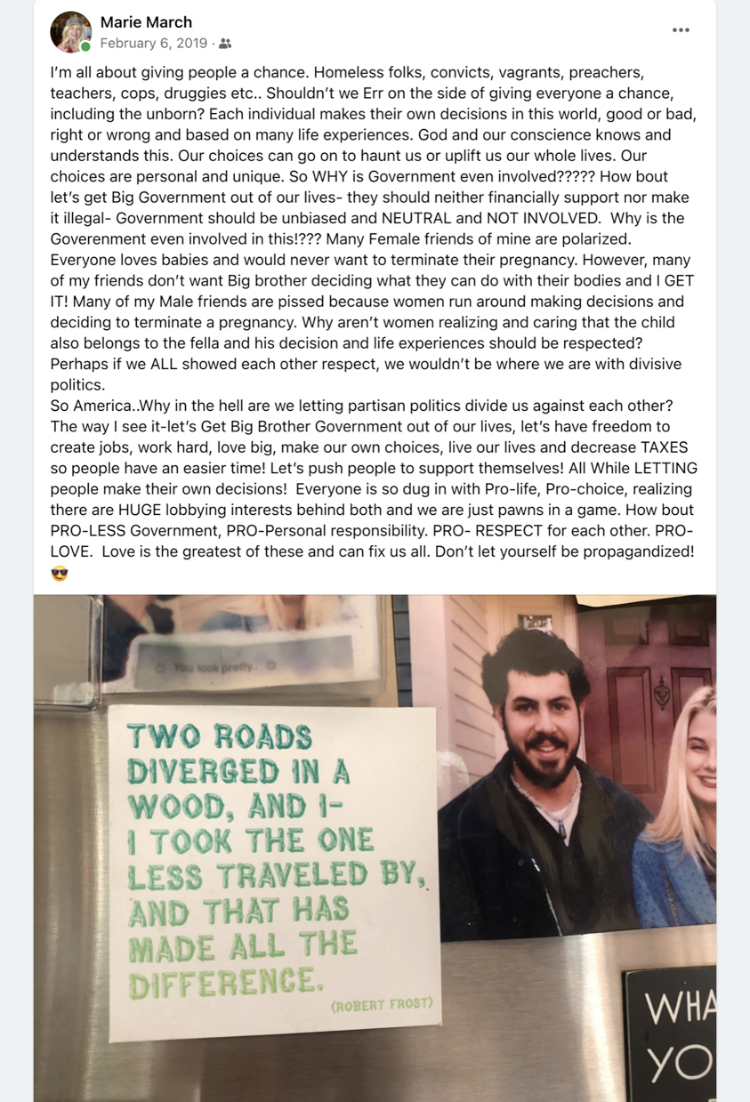 While Marie March currently represents Virginia's 7th District in Richmond's House of Delegates, due to redistricting, her territory has been combined with that of fellow incumbent Republican Wren Williams, of the nearby 9th District into a new 47th. The new district will be one of the most conservative in the state, having given a whopping 78% of its votes to Glenn Youngkin in the 2021 Gubernatorial race.
Wren Williams, who served as a Trump election attorney fighting 2020 fraud, released a press statement citing March's true feelings on abortion as revealed in her own Facebook post and called on her to drop out of their 2023 contest.
"I am shocked and horrified that my opponent, Delegate Marie March, would respond to Northam and his Pro-Life critics by defending abortion and saying that the government should not make it illegal," Williams said. "Marie March is Pro-Choice. There is no other way to interpret her comments," Williams went on in saying, reminding Virginians that when the Supreme Court hands down their ruling, state legislatures will be tasked with shaping America's abortion laws and that conservatives "can't trust Pro-Choice squishes like Marie March."
"I will wholeheartedly support a ban on abortions in Virginia," vowed Williams, who is on record supporting pro-life legislation in his first year in Virginia's House of Delegates and introduced an Infant Born Alive Protection Act to the legislature. "I call on Delegate March to withdraw from this race," he went on to say. "A Pro-Choice Liberal does not fit in the Pro-Life conservative values of this district. Delegate March is unfit to represent us. I am the only Pro-Life Republican in this race." 
After Williams' statement went public and Marie March's Facebook post began making the rounds among her constituents, March made another post on Facebook defending the sudden pro-life views she claims to have and accusing those questioning her 2019 post and views on abortion of using babies as "fodder" against her. The Roanoke Times profiled the story, leading March to launch into attack mode against her pro-life adversary, bizarrely claiming that the attorney turned Delegate who helped President Trump fight documented election fraud in 2020, is a "swamp" creature. March didn't even address her 2019 comments, only claiming that she is pro-life and accusing Williams of running a "smear" campaign for quoting her directly.
While Marie March continues to attack those who ask questions about her positions on abortion, Wren Williams is doubling and tripling down on his respect for human life and the need to protect unborn children.
"My position has been consistent: Abortion is murder and should be illegal," Williams says. "I think killing an innocent unborn human life is only ever justifiable when the life of the mother is in imminent mortal danger, and other is no viable option to save both mother and child. However, my pro-choice libertarian opponent said in 2019 that government 'should not be involved,' 'should not make abortion illegal,' and instead 'should let people make their own decisions' on 'deciding to terminate a pregnancy.' To date, she has never acknowledged that abortion is murder."
National File reached out to Delegate Marie March for comment on this story but received no response by the time of its publishing.