Last Updated on April 2, 2023
45th President Trump's lead over Ron DeSantis is growing in polls of likely GOP Primary voters, and it's apparently being spurred by the anti-Trump political persecution campaign led by Manhattan DA Alvin Bragg, whose grand jury indicted President Trump on politically-motivated charges last week.
According to recent polling put out by Yahoo News and YouGov, President Trump's lead over Florida Governor Ron DeSantis has stretched to a whopping 26 points in the midst of the Manhattan persecution of the 45th President. Just prior to the announcement that Alvin Bragg's grand jury had moved to indict Trump, he was leading the Florida Governor by less than 10 points in the same poll.
Now, Trump boasts a commanding lead and appears to have the support of 57% of "registered voters who are Republicans or Independents who lean Republican," when those voters are asked for their opinions on a head-to-head, Trump vs. DeSantis match-up.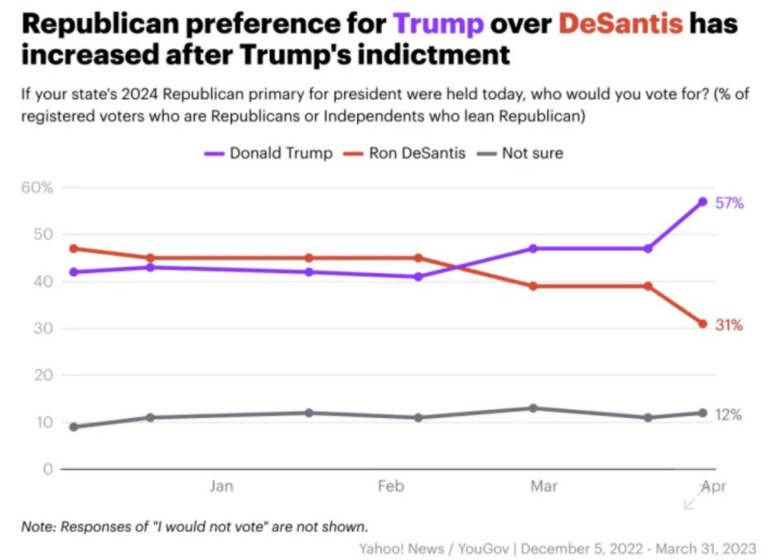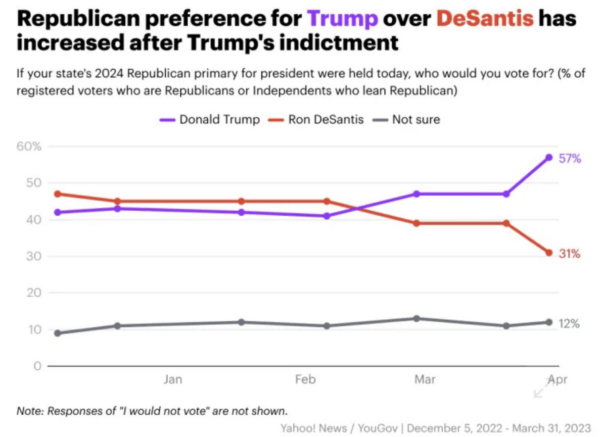 The bump in the polls for President Trump comes not only as he faces political persecution in Manhattan, but as it's being further revealed that the people backing Ron DeSantis for President are the same people who tried to overthrow the will of the GOP Primary voters in 2016 by blocking Trump from receiving the GOP nomination in the first place.
In addition to people like Paul Ryan and Karl Rove, DeSantis is being backed for President by Ken Cuccinelli, the former Virginia Attorney General who tried to lead a convention floor revolt to block Trump's 2016 presidential nomination on behalf of the failed Ted Cruz campaign.