Last Updated on June 4, 2021
President Donald Trump is demanding that the Republican-controlled Pennsylvania State Senate conduct a forensic audit of the 2020 election, similar to the audit currently taking place in Maricopa County, Arizona. Trump is making it clear that "If Pennsylvania Senate leadership doesn't act, there is no way they will ever get re-elected!"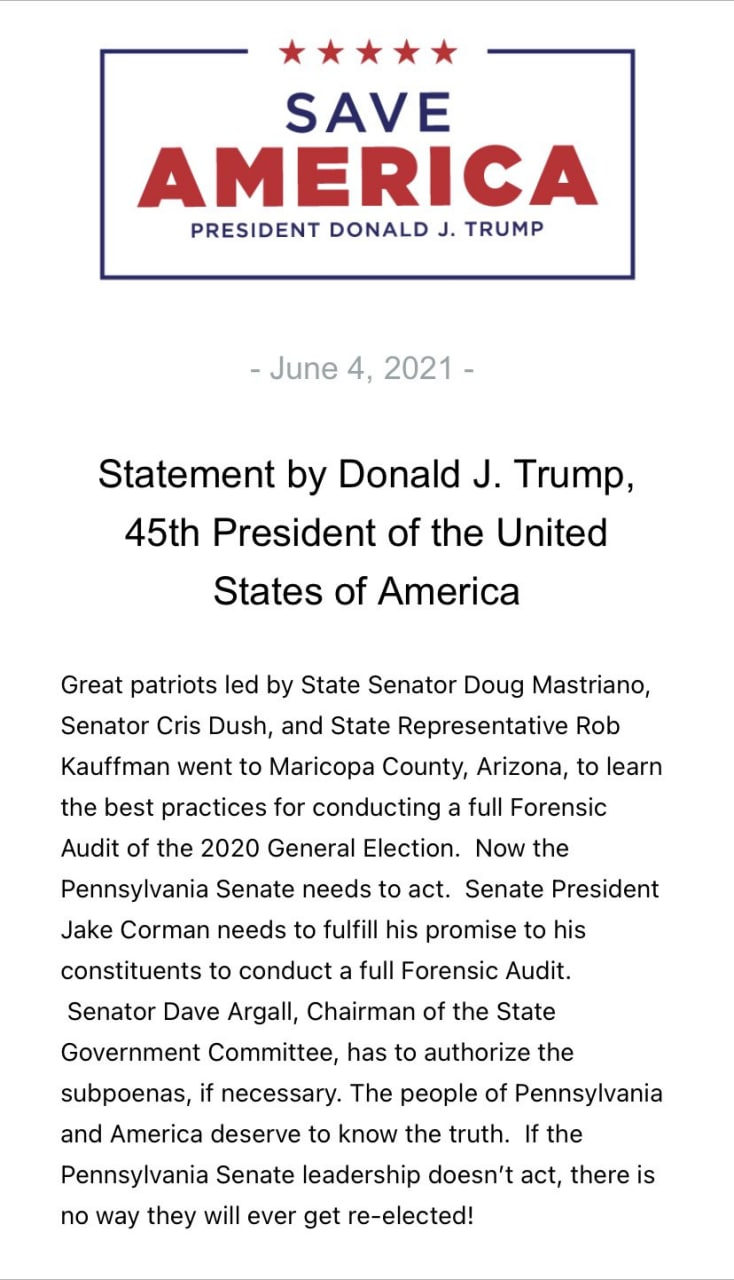 Pennsylvania Republican lawmakers learned from an in-person tour of the Arizona election audit in Maricopa County. Meanwhile, a pro-audit Pennsylvania state senator met with President Donald Trump at Trump Tower in New York City, and citizen petitioners are demanding an audit in the Keystone State. Thus, hope for a Pennsylvania audit is growing, even as Georgia's quisling RINO governor Brian Kemp resists massive Republican calls for an audit in Georgia. How many domino states will end up falling?
Doug Mastriano, the pro-Trump Pennsylvania state senator, joined two other Pennsylvania lawmakers, Rep. Rob Kauffman and Sen. Cris Dush, at the Maricopa County audit to observe and learn what needs to be done to make sure the votes can be audited properly. The Arizona audit, undertaken by the Republicans in the state senate and carried out by the exclusive Cyber Ninjas audit team, is already turning up widespread "significant discrepancies" that favored Sleepy Joe Biden in 2020. Mastriano, who showed his chops at a pro-Trump hearing with Rudy Giuliani in Gettysburg during the overtime period, earned himself a private Trump Tower meeting with the man himself: President Donald J. Trump. (RELATED: EVIDENCE AT GETTYSBURG….) "This audit is so secure, transparent and organized that other states want to duplicate the process," Mastriano stated in Arizona.
PA delegation arrives on floor of AZ Audit. pic.twitter.com/xljwCZb4jP

— Christina Bobb (@christina_bobb) June 2, 2021
NATIONAL FILE RECENTLY REPORTED:
Patriotic American citizens have launched a petition to urge the Pennsylvania legislature to audit the results of the 2020 election, citing "alleged fraud" and numerous statistical abnormalities. The citizens demand a recount of certain votes and signature verification on mail ballots. A Trump stronghold in 2016, Pennsylvania certified its Electoral College votes for Democrat Joe Biden after a disputed paper ballot-counting effort in Philadelphia that alarmed civilians nationwide.
The petition at Auditthevotepa.com, drafted by freedom activist Toni L. Shuppe of Citizens For Free Speech, lays out a number of concerning anomalies and calls for an audit similar to the kind currently underway in Maricopa County, Arizona, where Republicans in the Arizona Senate tagged in the Cyber Ninjas group to search for evidence of fraud.
The Pennsylvania petition states the following: "To all Pennsylvania Representatives and Senators, I am writing this letter on behalf of myself and the other 10,000+ PA residents who have attached their signature. We are reaching out to voice our concern over the Pennsylvania 2020 election process, procedures, and alleged fraud to restore confidence in our entire election process moving forward. I speak on behalf of everyone who signed this letter when I say we are extremely disappointed at not just the handling of the election irregularities, but also what appears to be the blatant disregard for the rule of law in our home state…
In addition, on November 19th, the Pennsylvania House voted to approve a Republican-sponsored measure to set up a near-immediate audit of the 2020 election, citing inconsistencies and confusion in the electorate as evidence that the process must be improved for future elections in the state. The vote was 112 in favor of the audit and 90 against it. However, the Legislative Budget and Finance Committee ultimately rejected the request for an audit…
According to the votes.pa.com website, the purpose for a post-election audit is to detect errors, to deter fraudulent activity, to ensure votes were counted correctly, and to build voters' trust in our elections. I have established below a list of irregularities that indicate enough cause for concern to perform a full investigative audit of the Pennsylvania 2020 General Election…." (READ THE FULL PETITION HERE)