Last Updated on November 6, 2022
Aaron Carter, an actor pop star who frequently made guest appearances with the Backstreet Boys and Nickelodeon, was found dead in a bathtub at his home in Lancaster, California around 11:00 AM on Saturday. Two days prior Carter published a public request to meet with Ye face-to-face, prompting much discussion on social media. "Yo Kanye let's talk…man to man," Carter said in his tweet published on Thursday.
Yo Kanye let's talk… man to man

— AARON CARTER (@aaroncarter) November 4, 2022
Carter's fiancé, Melanie Martin made a statement to the media.
"My fiancé Aaron Carter has passed away. I love Aaron with all my heart and it's going to be a journey to raise a son without a father. Please respect the privacy of my family as we come to terms with the loss of someone we love greatly. We are still in the process of accepting this unfortunate reality. Your thoughts and prayers are greatly appreciated."
Los Angeles County Sheriff Department confirmed that Carter's house sister found his body in a bathtub and called 911.
"It is with great regret to confirm Aaron Carter was found unresponsive this a.m. in his home in Palmdale, CA," Carter's rep told Page Six on Saturday. "The family has been notified and will be flying out to Los Angeles. Aaron worked very hard towards the end of his life in recovery, to be a good father and to make amends with his family."
The cause of death has been listed as drowning.
Carter was born on Dec. 7, 1987, began touring at the age of 9, even opening for the Backstreet Boys on a 1997 tour. He released his self-titled debut album, which sold a million copies, that same year, shortly before he turned 10 years old.
Despite the success, Carter, like a number of former child stars, has been open about being the victim of sexual abuse and other exploitation during his early days.
In 2019, Aaron Carter revealed that he had been sexually abused for years by his sister, brother, and back-up dancers. In addition, the pop star once relayed in an interview that the FBI and his mother once attempted to intimidate him into making a false accusation of abuse against Michael Jackson.
"I get back to the Sheraton hotel at Universal over here; there's four FBI agents waiting for me in the hotel," Carter said. "And my mom's there and she's like, 'tell them what happened,' and I'm like what do you mean, 'tell them what happened?'"
Aaron Carter stated that the FBI, along with his mom, pressured him to make false allegations of abuse by Michael Jackson. pic.twitter.com/vKeNy0FkIw

— Addy Adds (@OneAddyAdds) November 6, 2022
"They all asked these super sexually exploiting questions, back-sided questions, and I knew that at my age already and I looked at all four of them and I said are y'all crazy? What do you think I'm going to do? Tell you that Michael did something bad so we can sue him for money?" Carter said. "That's what I told them, and I looked over at my mom and I said are you serious mom? What is going on here? Why are you letting this happen? And she goes, 'Well, I think something happened.'"
One internet denizen speculated that Carter may have wanted to discuss the dark side of the entertainment industry with Ye, which the rapper formerly known as Kanye West has talked openly about.
Yo if this don't have you realizing that everything @kanyewest been saying about Harley & handlers are real; idk what to say! This is scary. We've got to question how celebrity who couldn't be controlled, died. We need answers. This is wild crazy he's now dead. He wanted to talk

— Goddess Energy (@Jadeoftheisle) November 5, 2022
"His last tweet was to Kanye. Thing are getting weird bros," another Twitter user added.
Aaron Carter died? RIP…
His last tweet was to Kanye. Things are getting weird bros pic.twitter.com/Gca7DcX1p2

— ForsoothFren (@forsooth15) November 5, 2022
Ye, who did not meet with Carter before he passed on Thursday, recently released screenshots of a texts from Jewish-American celebrity personal trainer, Harley Pasternak, which show his attempt to intimidate Ye by his threat to institutionalize him again.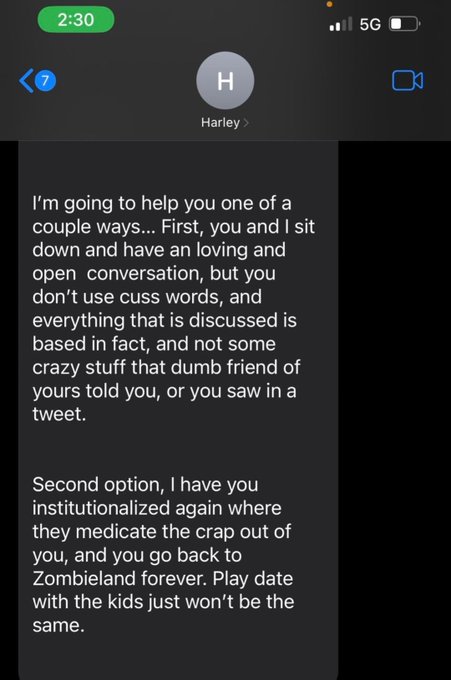 Carter shared in September that he was voluntarily attending an outpatient rehab program in order to regain custody of his son, Prince.
Angel Carter, the twin sister of Aaron Carter, made a statement about his passing on Saturday in an Instagram post.
"To my twin…I loved you beyond measure. You will be missed dearly. My funny, sweet Aaron, I have so many memories of you and I, and I promise to cherish them," Angel Carter said. "I know you're at peace now. I will carry you with me until the day I die and get to see you again."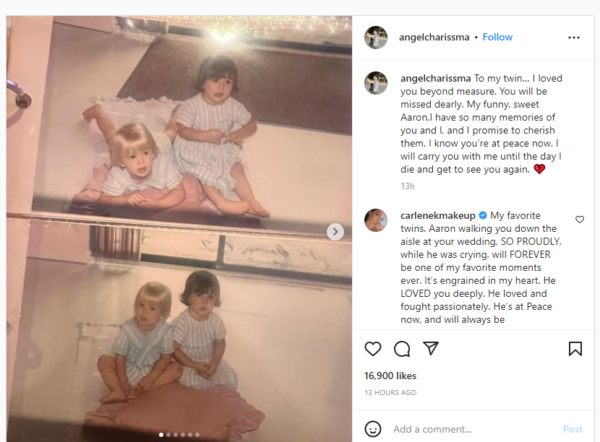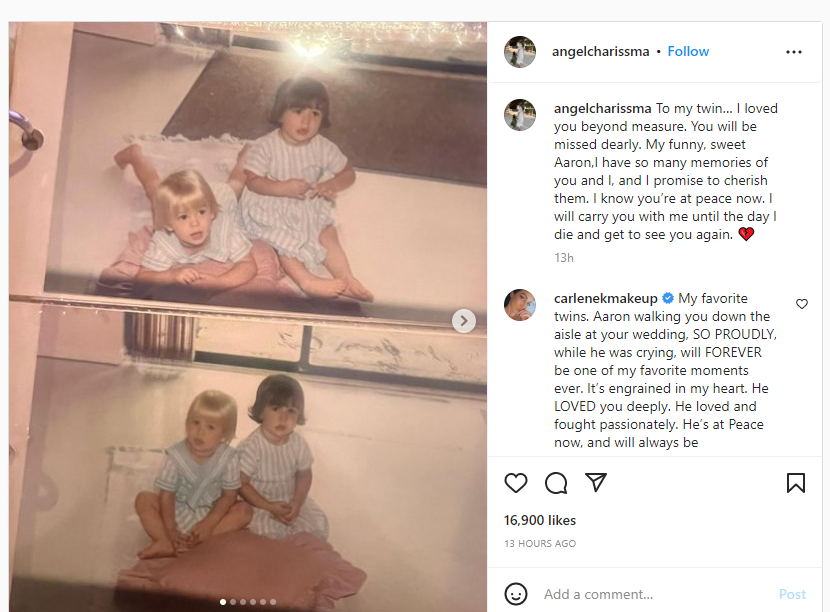 Carter is survived by his son, Prince, and his fiancé, Melanie.