Last Updated on November 20, 2023
Joe Biden's approval rating among Americans aged 18 to 34 is tanking and President Trump has pulled into the lead when the key demographic is polled on a head-to-head Trump vs. Biden presidential match-up, according to recent polling data compiled by NBC News.
An NBC News poll shows that President Trump is leading Joe Biden when voters between the ages of 18 and 34 are polled on a hypothetical 2024 match-up between the two, with Trump garnering the support of 46% of respondents, compared to Joe Biden's 42%.
Trump's lead over Biden in the 18-34 age bracket is comparable to his lead among the overall public, with Trump beating Biden 46% to 44% in that metric.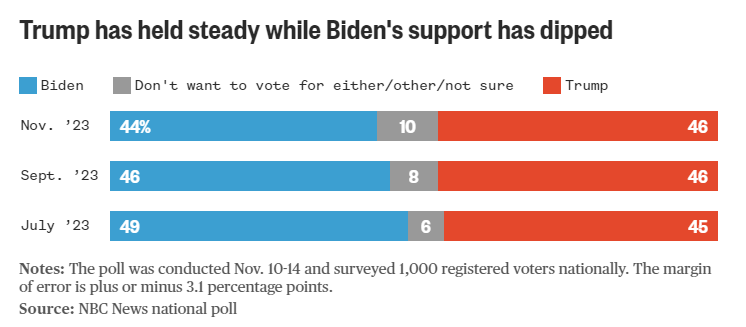 In addition to his sinking poll numbers, Joe Biden's approval ratings are rapidly declining, now sitting at just 40% overall.
Like in the head-to-head polling, Biden's collapse has been most notable among young voters, with the plummet being egged on by his handling of the war in Gaza.
Among 18 to 34-year-olds, Joe Biden had an approval rating of 46% as recently as September. Now, he's fallen to a mere 31% among the same demographic.
According to NBC News, "among voters ages 18 to 34…a whopping 70% of them disapprov[e] of Biden's handling of the war [in Gaza]."
The RFK Jr. Effect:
But the 2024 numbers shift dramatically when Robert F. Kennedy Jr., who is running for president as an independent, is added to the polling.
According to a recent survey by Quinnipiac University, when Biden and Trump are pitted head-to-head, they're in a statistical dead heat.
In a Quinnipiac poll including RFK Jr., Biden and Trump earned 39% and 36% of the vote respectively, still placing them in an effective dead heat within the margin of error, and RFK Jr. received 22% of the vote. That 22% is the highest proportion earned by an independent candidate in any serious presidential poll since Ross Perot in the 1990s, proving that RFK Jr's candidacy could spell trouble for both parties in 2024.
What's more, is that in the same poll, Kennedy was the top choice of voters in the critical, aforementioned 18 to 34-year-old age bracket, with 38% of those respondents picking RFK Jr. for president.