Last Updated on July 5, 2022
A photograph of the suspected July 4 Highland Park mass shooter, Robert Crimo III, shows him wearing a hat adorned with Antifa symbolism. Included on the hat is Antifa's famous "A" lettering, minus the circle, symbolizing anarchy or, Antifa itself. Antifa members have been known to identify themselves by displaying the "A" on hats and clothing with or without the circle present.
22-year-old, July 4th Highland Park mass shooting suspect Robert Crimo III was taken into custody by authorities in Lake Forest, Illinois after an hours-long manhunt that spanned the Chicago metro area. In his mug shot, as well as other photos found online, Crimo can be seen with a neck tattoo of a rose, a common symbol employed by the far-left worldwide.
In another photo of the suspected left-wing mass shooter, who attacked his local parade celebrating America's birthday, Crimo can be seen wearing a hat featuring the Antifa "A" symbol, minus the circle that at times accompanies the lettering, symbolizing anarchy. Antifa members have been known to display the "A" on both clothing and graffiti, using it to symbolize Antifa as well as their far-left political ideologies, which often combine cultural anarchy with economic communism.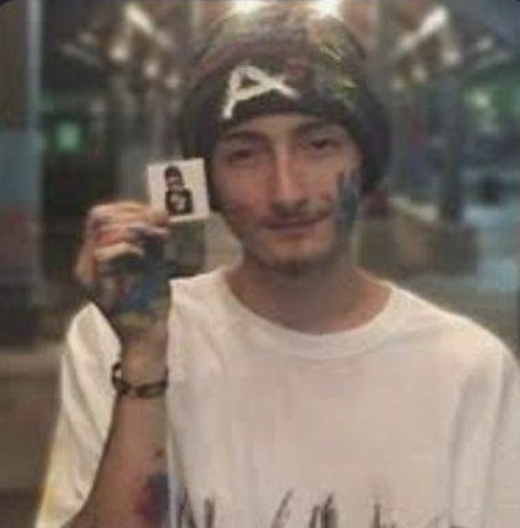 Further details surrounding the suspect are scarce, but currently, it is known that Crimo appears to be an aspiring rapper, uploading disturbing music online to the Sound Cloud platform. Included among his songs are the titles "Kill Them All" and "Suicidal Thoughts." In one of his rap videos, Crimo appears on screen in tactical gear before the screen fades to an image of a mass shooting. In another, a school slaughter is depicted.
An additional far-left rose symbol is included in the biography portion of Crimo's rap profile and he has uploaded numerous photos of himself donning an FBI ballcap.
Online, Crimo's rap profile, which goes by the name "Awake," follows the accounts of several politicians, all of whom are Democrats.
The Twitter account for Crimo's rapper name, "Awake," follows  Democrat politicians exclusively, including Barrack Obama, Kamala Harris and Joe Biden. A "fan page" for the fledgling rapper — which may very well have been operated by himself given how small of a following he had — is filled with "likes" on leftist content calling for Trump and his supporters to be arrested over January 6.