Last Updated on October 4, 2022
Elementary school students in the North Penn School District were forced to partake in an exercise, commonly referred to as a "privilege walk," where students deemed "privileged" were forced to step forward and later apologize to their supposedly less fortunate classmates. A teacher rubric for the exercise included links to work from a number of far left, "anti-racism" experts, including Ibram X. Kendi and Cornelius Minor. In response to parental concerns, one district school board members have told parents to "read a book," while another accused them of getting their talking points from Fox News.
"Privilege walks" have become common DEI curriculum in a number of public-school districts across the nation. Students are typically asked to start at the same point, then take one step forward every time a "privilege" that applies to them is listed.
In the case of Kulp Elementary School in the North Penn School District, students were asked to step forward if they could "find band-aids at mainstream stores designed to blend in or match with your skin tone" or if English was their first language, among 15 additional questions.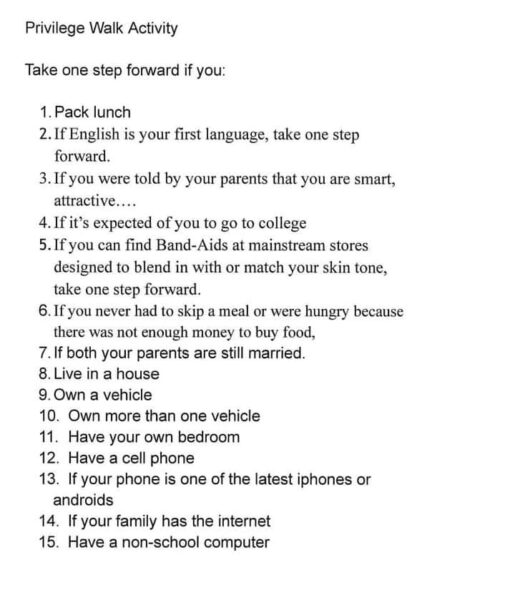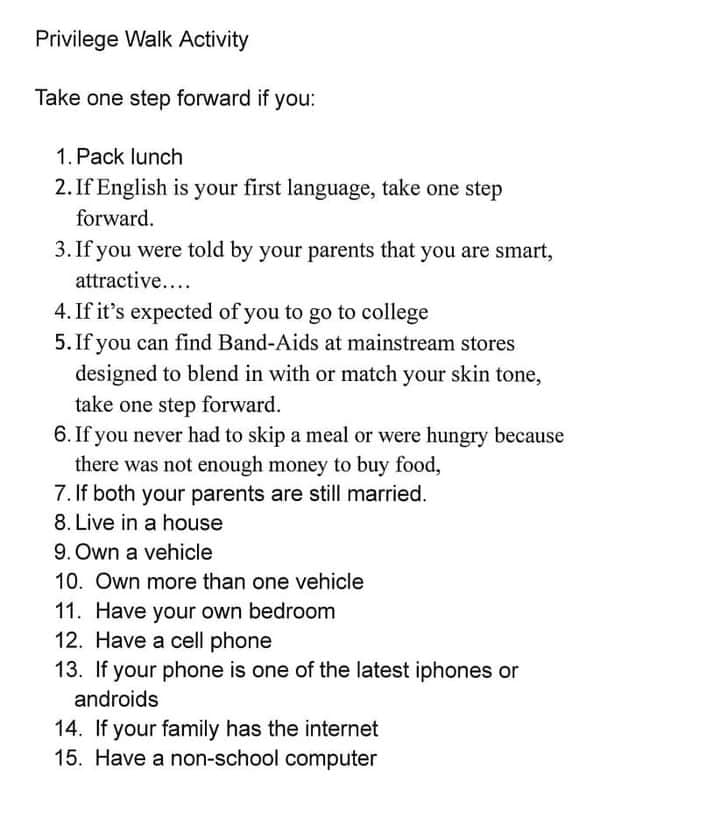 At the end of the exercise, students were asked to reflect on their supposed privileges and analyze the perspective of their supposedly less fortunate peers.
A teacher guideline for the exercise included nine options for additional resources in order to better conduct the exercise, as well as other lesson's, within the district's DEI framework. One resource option instructed teachers to follow New York-based author Ibram X. Kendi on Twitter.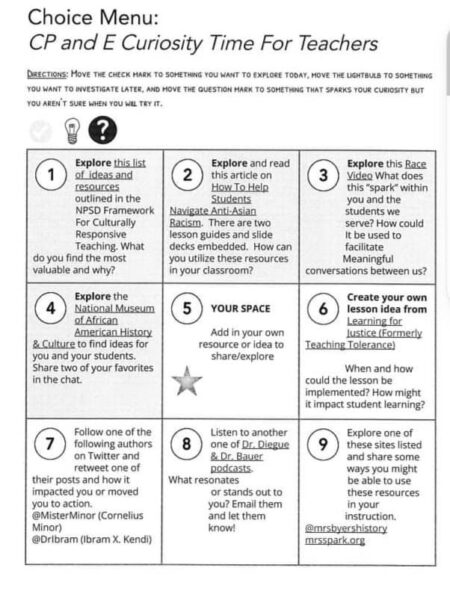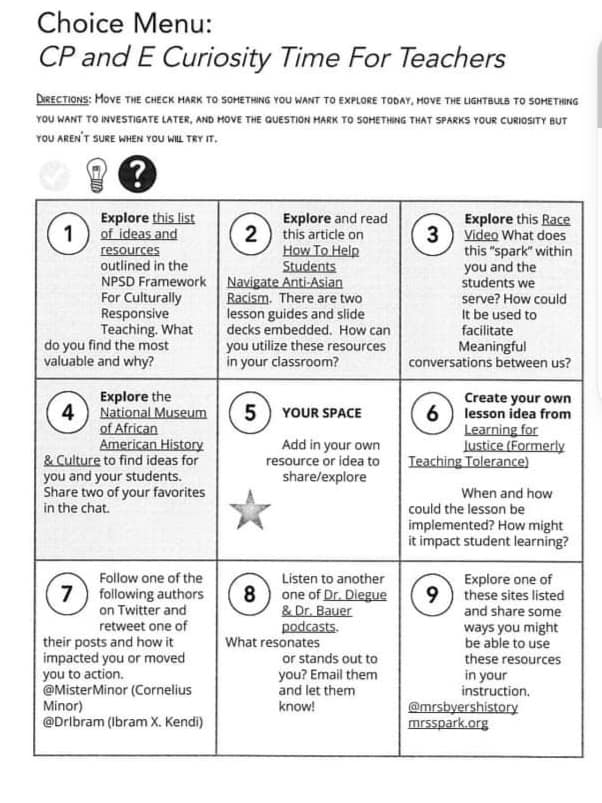 Kendi has written numerous books on "anti-racism," a philosophy that includes many of the same themes found in the often-mentioned Critical Race Theory (CRT). According to Kendi, the world is divided along binary lines into racists and anti-racists. [T]here is no in-between safe space of 'not racist,'" Kendi says.
When defining racism, Kendi's definition is circular. He defines racism as, "A collection of racist policies that lead to racial inequity that are substantiated by racist ideas."
Racist policies are "any measure that produces or sustains racial inequity between racial groups." Kendi cites as examples health-care policies or voter-ID laws that in his telling disproportionately harm minorities.
In response to the district's exercise, concerned parents critiqued the board's DEI policies in a number of public comment sections since last spring. The board pushed back on parental framing of the exercise, stating that "critical race theory" was not being taught in the district. They also challenged the notion that the exercise included racial themes, even though the guidelines clearly cite Kendi as a potential resource.
This teacher also allegedly made her students participate in a "privilege walk" pic.twitter.com/AoUOA4Pe9C

— Libs of TikTok (@libsoftiktok) February 1, 2022
During a May 20 North Penn School District board meeting, board member Dr. Lois Campbell went on a lengthy tirade aimed at parental critiques of the district's DEI initiatives. "Parents, please understand, we are not teaching Critical Race Theory in this school district. Never have, and that is not our intention," a frustrated Campbell said.
She then latched onto the literal definition of Critical Race Theory and stated that it is a college-level course that is only taught to graduate students. "So I don't know where these parents are getting this from, but the time you take, to sit up here and lambast us about 'Critical Race Theory,' which we're not even, nowhere near that direction and don't plan to be," Campbell ranted.
"But the time and effort you take to come up with these theories that you're coming up with, take time to read a book. Get off the TV. Stop listening to the pundits, stop listening to the soundbites. Really find out what Critical Race Theory is."
In 2020, the North Penn School District adopted a "resolution supporting the development of an anti-racist school climate." The resolution states that the district will evaluate its own school policies through an "anti-racist" lens and will acknowledge that "racism is systemic."
"We are deeply saddened and outraged by the recent killing of George Floyd and violence against black men and women. The subsequent protests have shined a spotlight on the harmful effects of racism and inequality. Furthermore, the public response has highlighted the racial trauma that our black students, families, staff, and communities have not only endured for centuries but continue to face today," reads the first section of the resolution.
"We must recognize that racism and hate have no place in our schools and society. However, we must understand that racism is systemic, and it is unconsciously and consciously rooted into our institutions, policies, and practices. Consequently, we acknowledge that we must look at our own school policies and practices through an anti-racist and equity lens to address traces of racism and inequity that still exist within our own school community," it continues.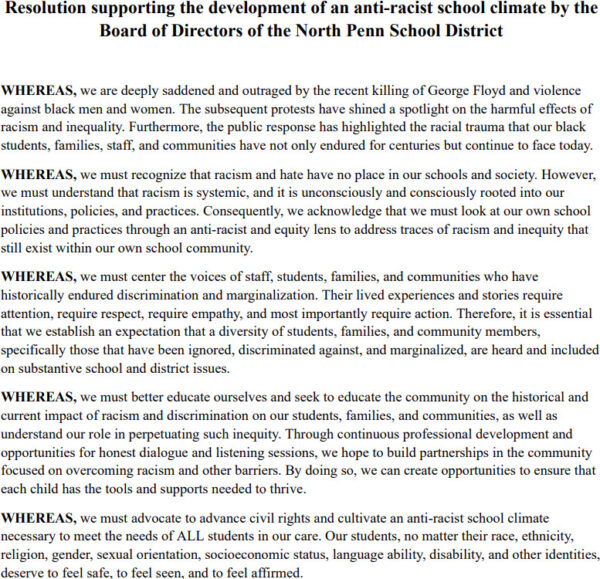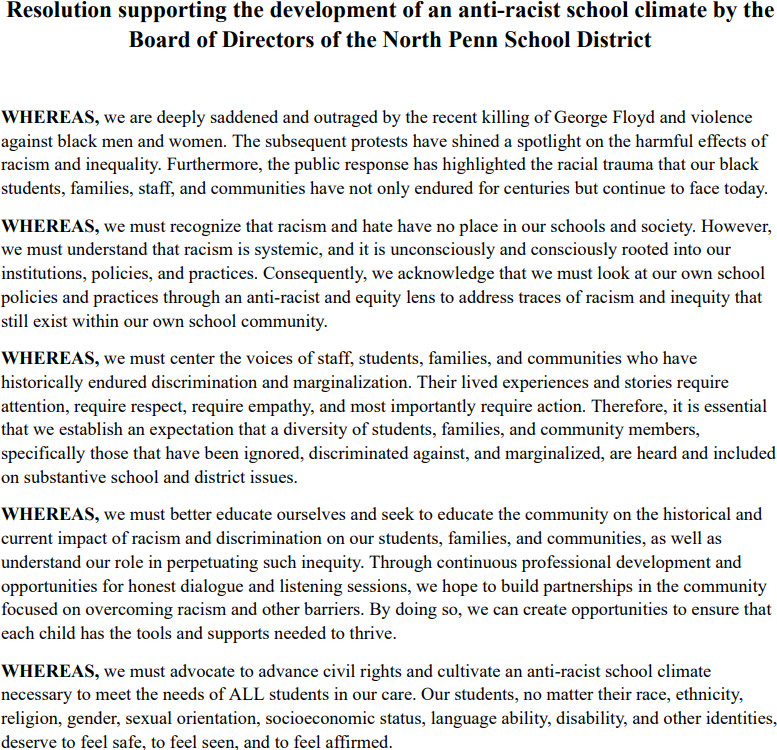 In order to meet its goals, the district pledged to implement the following:
1. Passage of an Equity Statement, Equity Policy, and Equity Action Plan
2. Meetings between students and School Board members to discuss issues relevant to race within the
North Penn School District
3. Bi-annual review of academic, social-emotional, process, and discipline data disaggregated by race
4. Annual climate survey to gauge community's response to institutional reforms related to the district's
Cultural Proficiency Plan
5. Ongoing Professional Development for all North Penn teachers, administrators, and staff
6. Creation of a building level steering committee for each school that will include parents, building
leader, and teachers
7. Establish an Equity Advisory Council as an accountability measure at the district level.
The board has repeatedly pushed back on parental framing of its "anti-racist" and DEI policies, citing alleged threats. In 2022, another board member, Dr. Elisha Gee, claimed that concerned parents were getting their talking points from Fox News.