Last Updated on November 7, 2022
North Carolina's Sanford Police Department directly collaborated with the LGBT groomers of children to help them run a Disney-themed drag brunch for kids at a local brewery, even acting as event enforcers to keep concerned citizens away from the venue under the threat of arrest.
Officers with the Sanford, NC Police Department stood guard at the Hugger Mugger Brewery on Saturday, October 30th, where kids under 12 got in free for a Disney-themed "brunch" full of drag queens and other LGBT fetishists. Adults, on the other hand, had to pay $50 to get inside.
Online commenters have compared the drag brunch's business model to that of college bars, where guys pay a cover charge and girls get in free, to keep the ratio from getting out of hand. While those bars are hoping to maximize their number of adult female customers, Hugger Mugger looks to have been trying to maximize the number of children they could expose to the realm of homosexual fetishism.
Outside the Hugger Mugger Brewery, Sanford Police officers stood guard, facing down a local group of permitted demonstrators out to oppose the sexualization of children.
Among them was a chapter of Proud Boys, who locals say gave them a massive sense of security considering they'd identified multiple Antifa members in and around the drag brunch, including some who were shuffling around behind the police line, seemingly awaiting an opportunity to cause trouble.
On the side of the counter-demonstrators, some expressed disbelief that, even in a conservative community like Sanford, the radical left has managed to use the local police force to facilitate the grooming of children. Police standing guard and even acting as enforcers on behalf of the privately-run drag brunch equates to the state-sanctioned grooming of children, the concerned citizens argued.
Inside the drag brunch venue, the kids weren't just in the company of drag queens, but a multitude of homosexual fetishists, including those linked to bestiality.
In one photograph taken inside the event, a grown man in a bestiality fetish dog mask is seen waving at a small boy. Also included in the same photograph are two more costumed adults.
Disturbingly enough, it was recently revealed that a high-ranking member of the Biden Administration with access to American nuclear secrets takes part in the very same homosexual bestiality fetish, and has even taught courses on it at left-wing college campuses.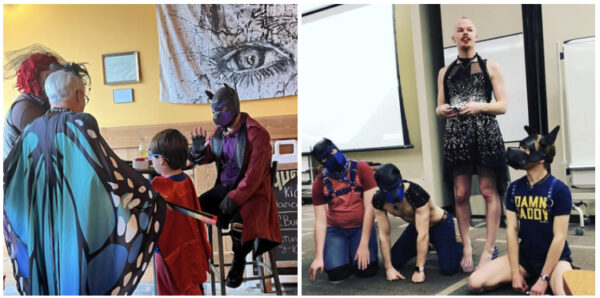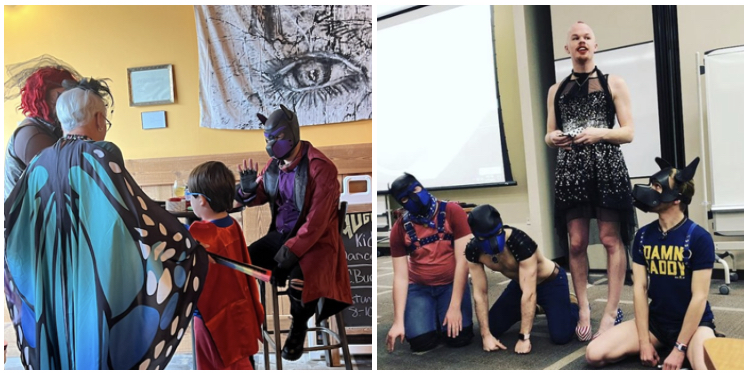 Emily Rainey, a conservative activist who has been at her local forefront of combatting anti-family policy and oppressive COVID lockdowns, was on the scene at the Sanford drag brunch and gained access to the event in hopes of keeping an eye on things before she was booted out.
In video footage she provided to National File, an officer with the Sanford Police Department can be seen escorting her out of the drag brunch.
While he does so, he's flanked by one of the event's costumed organizers, apparently, the man who'd ordered police to toss Rainey out.
Watch the Sanford Police Department act as enforcers for groomers below:
#Video: Conservative activist Emily Rainey is escorted out of a drag brunch for kids by police in Sanford, NC. Also in the video is one of the #Groomers the police were working hand in hand with to crush dissent and keep concerned citizens away. GOVERNMENT SANCTIONED PEDOPHILIA!? pic.twitter.com/HnsFhvgYNL

— Frankie Stockes – Reporter (@stockes76) November 6, 2022