A New Jersey detention officer has been suspended for an alleged Facebook post joking about a five-year-old boy who was allegedly shot in the head at point blank range in cold blood by his father's neighbor.
Rome Smith, 49, has so far been temporarily relieved of his duties as an officer at Cumberland County Juvenile Detention Center for the now-deleted Facebook post on his now-deactivated account following a backlash for his comments, reported NJ.com.
"He should've ducked," Smith, who is black, allegedly wrote, according to a viral screenshot. "Y'all always trying to sneak diss and discredit a black person being killed innocently by police. Blame cannon's parents for not watching him!!! F Y'ALL."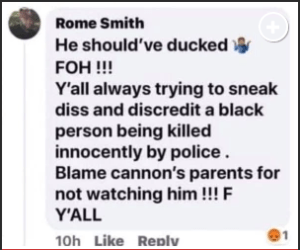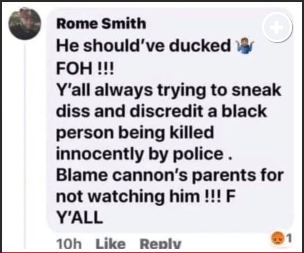 Officials confirming Smith's suspension stated that the officer's comments were "shockingly insensitive and racist in tone."
"We will not tolerate County employees using social media to broadcast hateful messages," Cumberland County Freeholder Director Joseph Derella said. "This is not who we are and we intend to pursue the strongest action available to us."
Cannon Hinnant's murder has become a national news story at a time when race relations have been soured over a series of highly publicized interracial killings, sparking international protests and riots.
The child was allegedly killed in broad daylight by his father's black neighbor, which has reopened a conversation on underreported–and even suppressed–crime statistics. The mainstream media, as a result, has been in the crosshairs over their ostensible reluctance to cover the horrific crime.
Aside from Smith's alleged comments, others have made inflammatory comments over Hinnant's murder. One person dubbed the killing "revenge" while another cackled at the idea of the child's having his "white privileged" brains blown out.
A group called "Justice for Darius Sessoms" emerged on Facebook–initially as a troll–but amassed over 20,000 members, brimming with content downplaying Hinnant's murder or shifting the blame to the child's family.
Memes and doctored Wilson Police Department press releases also circulated social media as pro-BLM supporters attempted to steer the narrative back to so-called systemic racism.