Last Updated on April 12, 2022
Parental rights activists and freedom supporters will stage a nationwide series of marches and rallies on July 16, 2022 to protest human trafficking in the Child Protective Services (CPS) and foster care system. The pro-parent activists are sickened by the brazen corruption of CPS agents across the nation. CPS is used to rip children away from parents for vague or fabricated reasons and plunge kids into a world of widespread reported human trafficking in the government system.
"On March 6th 2022 I held a Nationwide March To End Human Trafficking And CPS Corruption," organizer Annette Rauch exclusively told NATIONAL FILE. "21 states participated plus Vancouver BC joined us as well. People held seminars on that date, gave public speeches, handed out literature ,gave classes about Human Trafficking and CPS Corruption and some handed out books that they wrote on these subjects. My heart was filled with emotions. Thousands of people made signs that stated that they stood on behalf of The March 6th March To End Human Trafficking And CPS Corruption. Most signs also stated " WE CARE." And people proved that they truly do care. Some people were Marching with tears in their eyes on behalf of the victims."
Annette Rauch added that "I'm pleased to say that due to the March 6th march people have informed me that they are lecturing in schools and corporations and have begun networks to educate the public on these subjects. We need many more people to do the same. On July 16th we will have another Nationwide March To End Human Trafficking. We need all 50 states to participate this time. Anyone and everyone is welcome to call me for more information. 332-200-0149."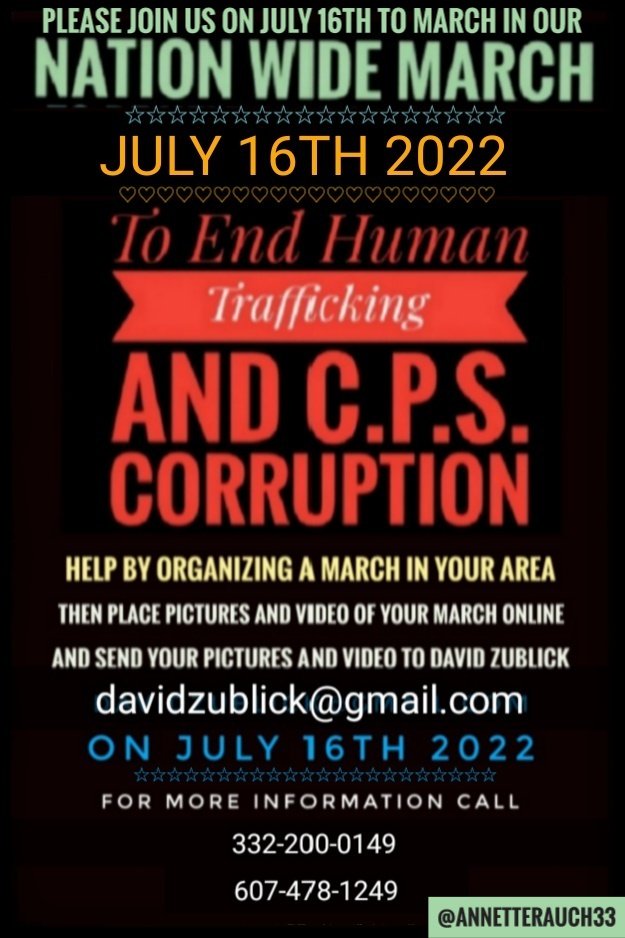 Numerous families are being referred to Child Protective Services (CPS) for keeping their kids home from school in the age of Coronavirus. NATIONAL FILE previously reported on how a judge was forced to recuse himself from a custody case in which he suspended a mother's parental timesharing agreement after we caught him on tape ranting about "anti-mask people."
The Intercept reports that "In Washington, D.C., at least 90 families with Covid-19 safety concerns have been referred to child protective services for "educational neglect," which the Department of Health and Human Services defines as a parent or guardian's failure to provide a child with appropriate schooling. As of October 8, about 30 of those referrals had been upgraded to more serious investigations, Paul Kihn, the deputy mayor for education, said at the time." The Intercept also interviewed a mother who had CPS agents in D.C. visit her home because she did not approve of the safety measures at her children's elementary school. The mother, Kavitha Kasargod-Staub said that "The social worker asked about our monthly income, about the paternity of my own children, are there any mental health diagnoses for the parents. I was very clear with them exactly why we were not sending our kids to school and what safety policies would put us at ease."
As NATIONAL FILE previously reported: The worldwide Coronavirus scam has been exposed, with massive Freedom protests taking place in Oklahoma City, Paris, Montreal, Italy, England, Australia, Hong Kong, and the Republic of Ireland. Dr. Anthony Fauci has been exposed as the funder of the Bat coronavirus project at the Wuhan Institute of Virology, which President Donald Trump and Secretary of State Mike Pompeo identify as the source of the outbreak. Protests against masking are taking place worldwide at centers of government in local areas hardest hit by the Washington Globalists' demonic policies. This NATIONAL FILE article provides you with the facts you need to know about the Coronavirus scam, which Republican Senator Dr. Rand Paul of Kentucky is leading the way on exposing in the Senate chamber. Over one billion masks are now located in the world's oceans, where they are expected to biodegrade into plastic form after centuries of ocean pollution. Numerous people have stated that they believe masks are causing illnesses to themselves and others and showed us the evidence to back it up, and a lab report shows pathogenic bacteria in children's facemasks that cause disease.
The University of Florida laboratory known as the Mass Spectrometry Research and Education Center studied six children's Coronavirus facemasks, provided by parents, and discovered numerous dangerous pathogenic bacteria in the masks. The pathogenic bacteria found on the masks cause such illnesses as pneumonia, blood stream infections, meningitis, urinary tract infections, strep throat, tuberculosis, "life threatening pneumonia," sepsis, Legionnaire's disease, and others. "Obnoxious Public Health Officials have pontificated about safety of facemasks and lectured us ad nauseum about the selfishness of refusing to wear one. But a rebellious group of Florida parents decided to question the narrative and find out for themselves," said Chris Nelson, the Floridian organizer of the Million Maskless March. The lab report (READ IT HERE) states that "21 pathogenic bacteria, were detected and highlighted in yellow. Some are quite dangerous." Here are passages from the lab report with the pathogenic bacteria highlighted.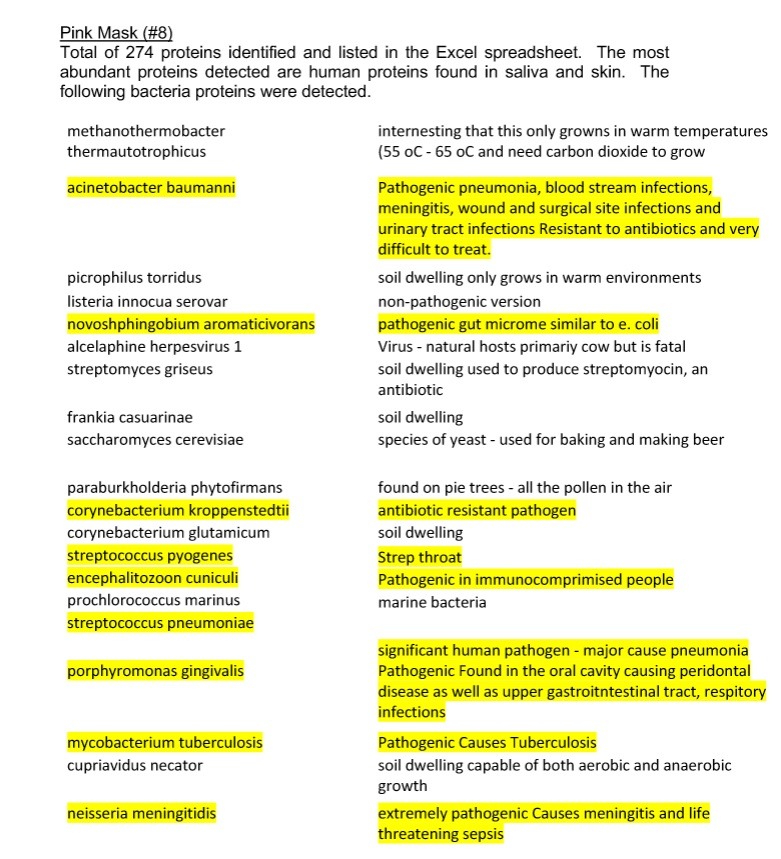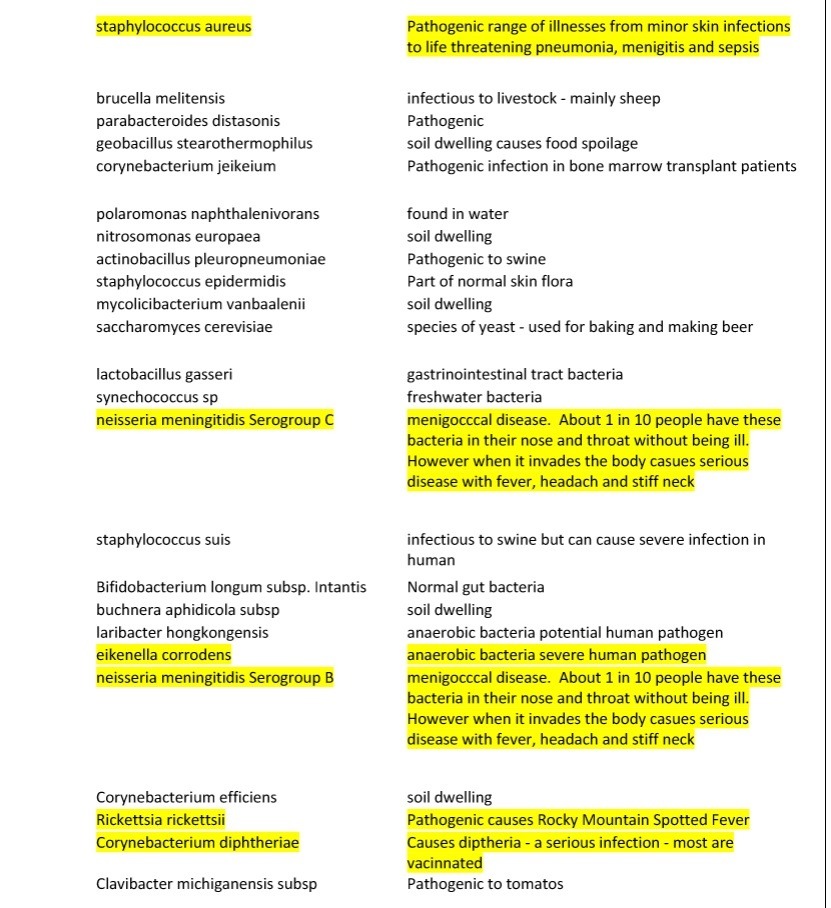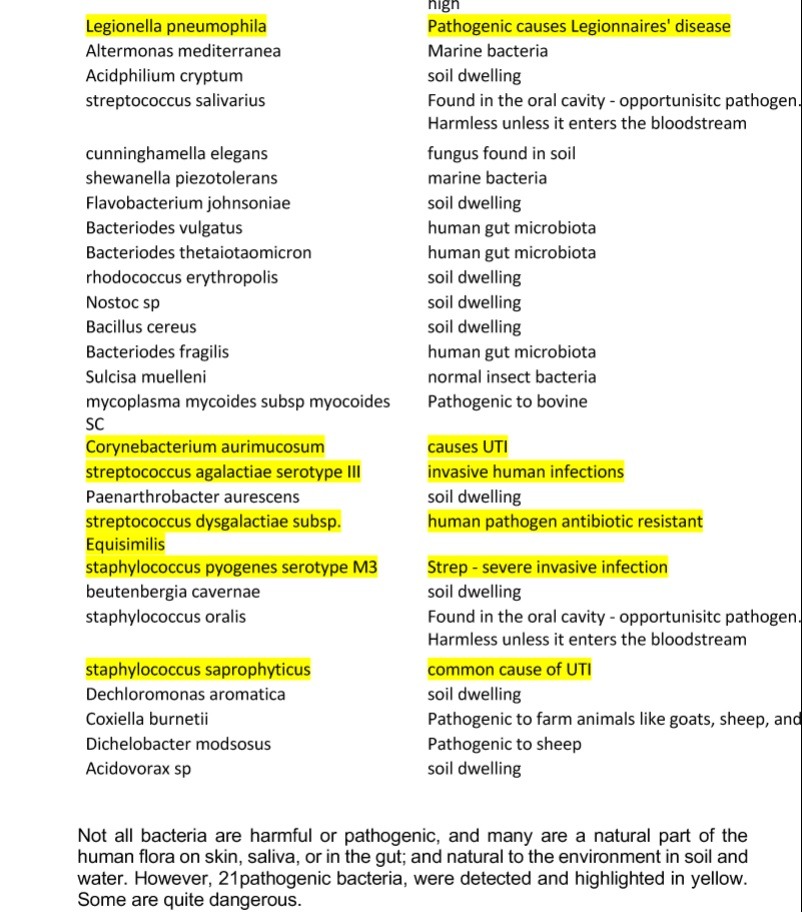 NATIONAL FILE REPORTED ON MARCH 8: The Centers for Disease Control and Prevention (CDC) released a report Friday in which it quietly admitted that the mask mandates in America were allegedly responsible for less than a 2 percent decrease in COVID case growth after ONE HUNDRED DAYS. But still the CDC advises wearing masks, despite their own numbers. (READ: CDC Caught Inflating COVID Death Numbers By At Least 1600 Percent While Trump Was President). The CDC claims that between March 1 and December 31 of 2020 the mask mandates, which were executed in the vast majority of United States counties, stopped COVID case growth rates by one half of one percent after 20 days and by less than 2 percent after 100 days.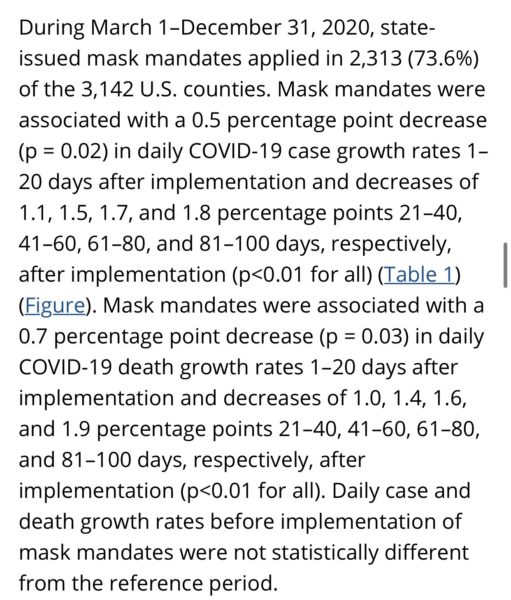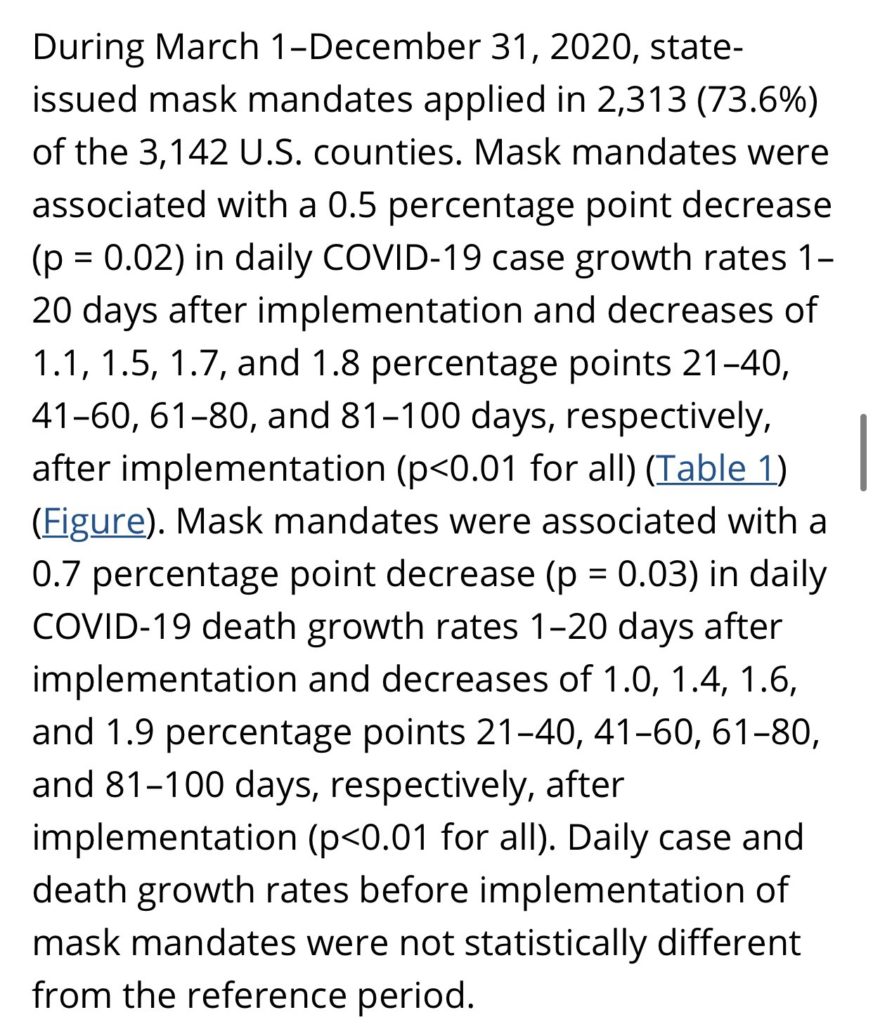 The Centers for Disease Control and Prevention (CDC) stands accused of violating federal law by inflating Coronavirus fatality numbers, according to stunning information obtained by NATIONAL FILE. CDC illegally inflated the COVID fatality number by at least 1,600 percent as the 2020 presidential election played out, according to a study published by the Public Health Initiative of the Institute for Pure and Applied Knowledge. The study, "COVID-19 Data Collection, Comorbidity & Federal Law: A Historical Retrospective," was authored by Henry Ealy, Michael McEvoy, Daniel Chong, John Nowicki , Monica Sava, Sandeep Gupta, David White, James Jordan , Daniel Simon, and Paul Anderson. (READ THE LANDMARK RESEARCH HERE)
The CDC is now legally requiring red-blooded Americans to wear face masks on all public transportation as globalists try to push the concept of "double-masking" on the populace. Since the election, the World Health Organization admits that PCR tests are not totally reliable on the first try and a second test might be needed. This corresponds with CDC's quiet admission that it blended viral and antibody test results for its case numbers and that people can test positive on an antibody test if they have antibodies from a family of viruses that cause the common cold. Hospitals in Florida had so many accuracy complications that Orlando Health had to admit that its 9.4 percent positivity rate got recorded at 98 percent. (READ: The TRUTH About Fauci and Gates And NIH Owning A Stake in the Vaccine).