Last Updated on September 9, 2022
Dr. Susan Spell is taking her case against Child Protective Services (CPS) to the United States Supreme Court, and the case could set new precedent to protect parents nationwide from racially discriminatory CPS targeting. Susan Spell lost her children in a long fight with her ex. Spell previously won a settlement from the county of Los Angeles, having proved that social workers told falsehoods under oath in her case. Now, Susan Spell is going to the highest court in the land, alleging that CPS in Los Angeles excused abuse of her children by claiming that black kids benefit from physical punishment. Spell was featured in the recent documentary Save the Babies: A Documentary on CPS Child Trafficking.
Spell's lawsuit, Susan Spell v. Los Angeles County Department of Children and Family Services, has been docketed at the Supreme Court. Spell expects the Supreme Court to address her case on September 28. Susan Spell appeared on The Campaign Show with Patrick Howley to discuss her case at the United States Supreme Court. (WATCH the Interview Here).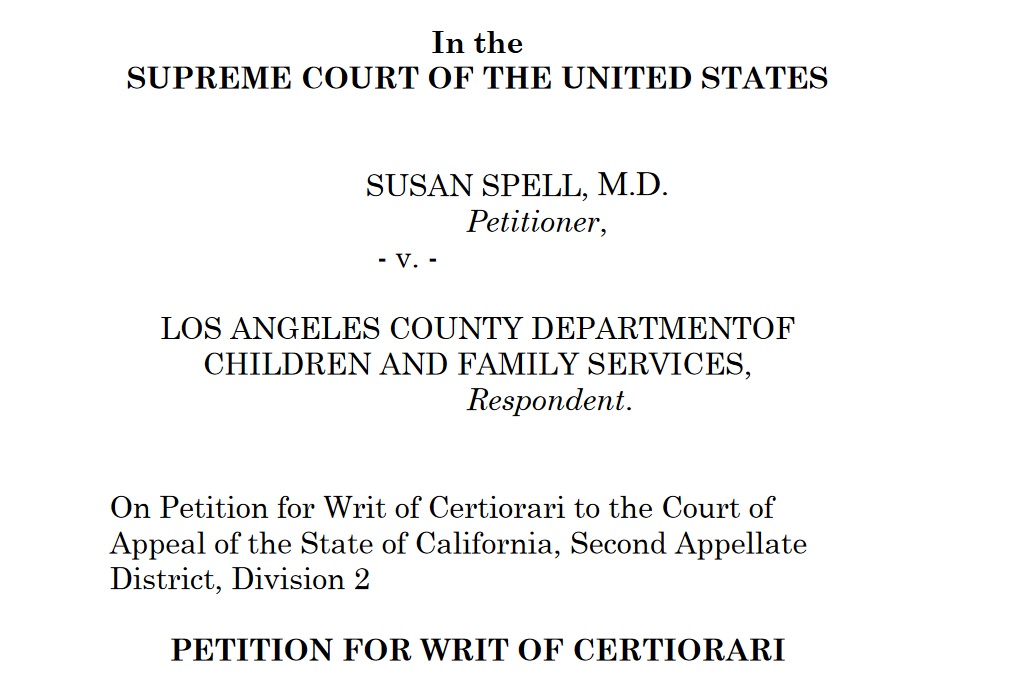 Spell's lawsuit states: "Does a trial court violate the requirements of the Equal Protection clause of the 14th Amendment when it bases a permanent child custody order on a racially discriminatory theory, holding that treatment that would be abusive if perpetrated against white children is not abusive, and even beneficial, when applied to black children?"
"Does a state appellate court violate the requirements of the Due Process clause of the Fourteenth Amendment by wrongly denying a petition for a writ of error coramvobis, where newly available evidence demonstrates that a custody ruling was based on a racially discriminatory theory and was, in addition, procured through fraud and/or mistake?," the lawsuit states.

The lawsuit states: "Petitioner respectfully seeks a writ of certiorari to review the refusal of the state courts of
California to rectify an award of child custody based on unconstitutional racial discrimination, and also based upon misrepresentations to the state courts that deprived Petitioner of due process of law.
"Because the extent of the injustice involved was not evident from the trial record and was not, therefore, litigated on appeal, Petitioner raised these issues by way of a petition for a writ of error coramvobis before California's Court of Appeal. However,that court denied the writ – without so much as issuing an opinion – and California's Supreme Court refused to hear the case," the lawsuit states.

"Now only this Court can vindicate Petitioner's right to a child custody ruling untainted by unconstitutional discrimination and a denial of procedural rights. This Court's intervention is required for two reasons. First, the use of a racially discriminatory theory to award child custody violates basic principles of constitutional law. Second, Petitioner's right to due process of law was also violated when a California appellate court, in an erroneous ruling upheld by California's Supreme Court, denied Petitioner relief from state court rulings that were precipitated by important misrepresentations and/or mistakes during the trial of the matter," the lawsuit states.