Last Updated on September 5, 2022
World-renowned rapper and fashion mogul Kanye West has put a variety of companies, celebrities, and political figures on blast over the past week.
Kanye West's most recent Instagram rants have attacked a multitude of individuals. The controversial figure made posts on Thursday of last week which claimed he was "discriminated" by Adidas, attacked Kris Jenner for letting his ex-wife Kim Kardashian and Kylie Jenner for being in Playboy magazines, and also told the Clinton family to "come get me."
West sparked controversy when he made a post with an image of Kylie Jenner's former assistant Victoria Villaroel. "Don't let Kris make you do playboy like she made Kyle and Kim do," the former presidential candidate wrote.
"Hollywood is a giant brothel Pornography destroyed my family I deal with the addiction instagram promotes it Not gonna let it happen to Northy and Chicago,' West added before deleting the post.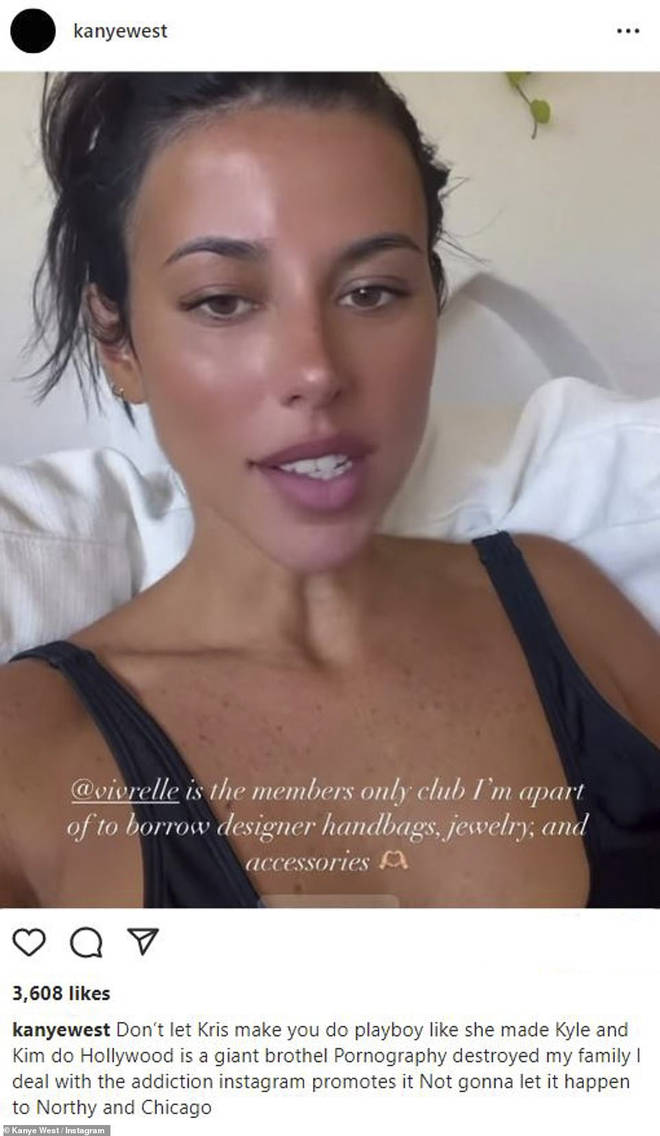 In another now-deleted Instagram post, West posted what appears to be a text thread between him and Kim Kardashian. "From my mom – PLEASE tell him to please stop mentioning my name," the text message from presumably Kardashian says.
"I'm almost 67 years old and I don't always feel great and this stresses me to no end," Kardashian continued.
"Ya'll don't have so so over my children and where they go to school. They will not do playboy and sex tapes. Tell your Clinton friends to come get me. I'm here," West replied.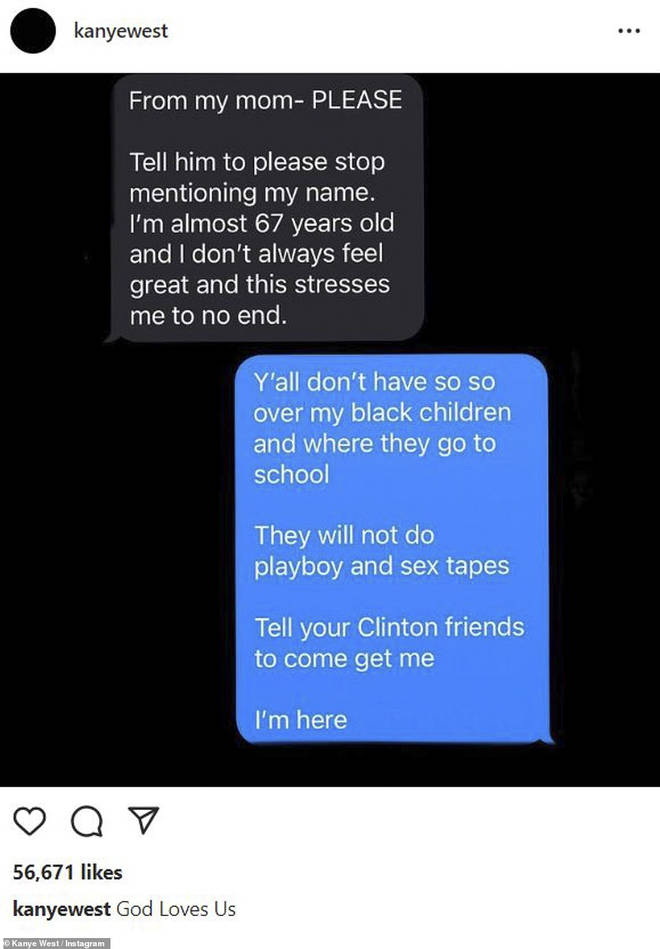 West made fiery comments about the Clinton family in February 2022, when he published a photo of Kardashian's now ex-boyfriend Pete Davidson.
Davidson has a tattoo of prominent Democrat Hilary Clinton. West posted an image of the tattoo and mocked Davidson and the Clintons by adding in another post, "THANK YOU TO ALL MY FANS FOR HAVING MY BACK. AND YOU CAN GOOGLE THE HILLARY THING IM NOT MAKING THIS SH*T UP."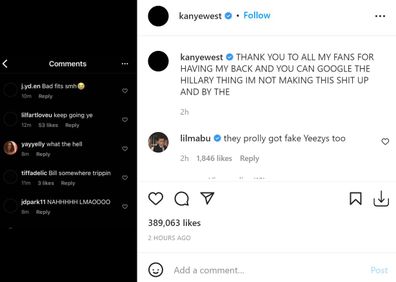 Davidson, a high-profile comedian, dated Kardashian after she got a divorce from kids'West, and got tattoos of West and Kardashian's children. Davidson got the initials of Kardashian and West's children on his neck and is now in trauma therapy following his break-up with Kardashian.
Pete Davidson got a new Kim Kardashian tattoo‼️👀 pic.twitter.com/EE9eHkPEmf

— RapTV (@Rap) March 26, 2022
https://twitter.com/STRAPPEDUS/status/1520476788438147077?s=20&t=X0fJIXqaZJwvPgiKOsQClw
"Ask Pete how those tattoos of my kids doing in the trauma unit," West said on Instagram.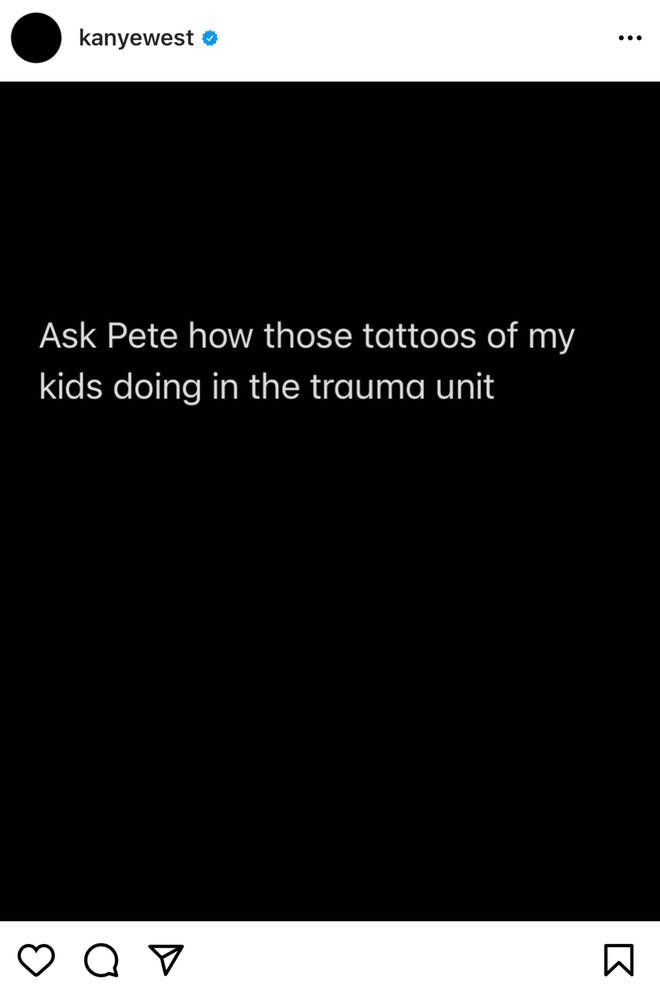 It seems his recent spat with Kardashian has to do with where his children are attending school.
"My kids going to Donda, They not going to Sierrah Canyon," he wrote on Instagram.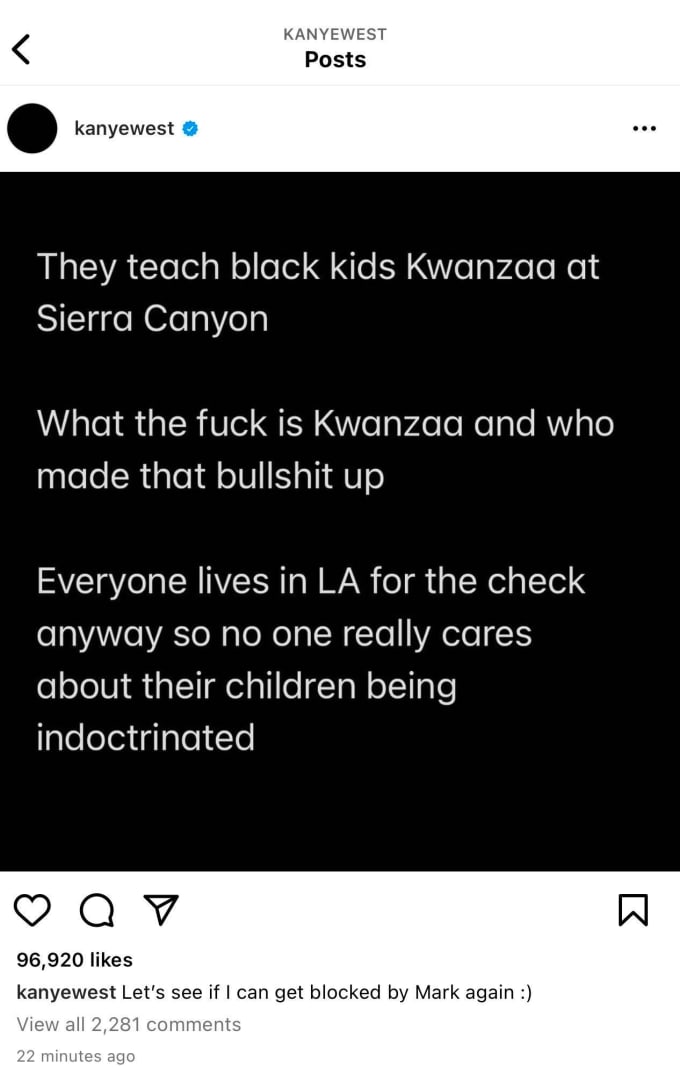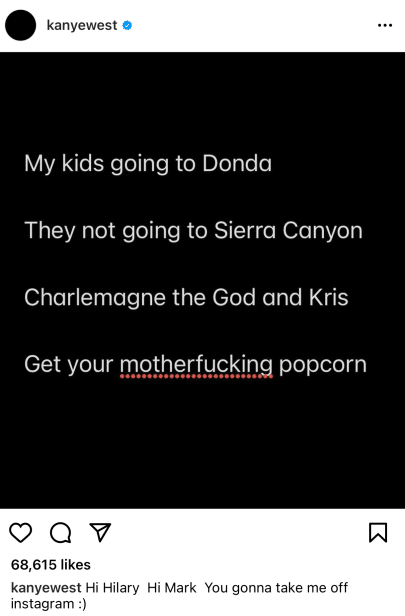 His comments about how "pornography destroyed" his family seem to reference Kim Kardashian's rise to fame. A sex tape of her with the rapper Ray-J capitulated Kardashian into the spotlight and it is believed Kris Jenner, Kardashian's mother, purposefully leaked the video.
A primary target of West's Instagram attacks has been Adidas executive Daniel Cherry III.
Cherry is Adidas' Senior Vice President and General Manager.
West is pushing the narrative that Cherry hijacked West's Yeezy brand and broke the contract West held with Adidas. West believes Adidas execs like Cherry are stealing his designs and not respecting his design input, therefore, breaching his contract with the shoe and clothing brand.
Cherry recently joined Adidas and West believes he is the reason certain Yeezy products are being released "without my approval."
Stay tuned to National File for any updates.
RELATED: Kanye Says Kim Kardashian Planned to Have Doctor 'Lock' Him 'Up' After Anti-Abortion Speech