Last Updated on August 18, 2023
A George Soros-funded organization called the International Rescue Committee is providing services to migrants to ensure their permanence in the United States of America. The group finds apartments for the migrant invaders and helps them apply for Social Security, according to records obtained by NATIONAL FILE. The Soros-funded group has received millions of dollars in total donations from wealthy benefactors including Pfizer, George Soros' Open Society Foundations, Bloomberg Philanthropies, BlackRock, and the social-transformation arm of Google.
The International Rescue Committee's board of directors is co-chaired by the Obama administration's Treasury Secretary Timothy Geithner and counts Obama administration Homeland Security secretary Janet Napolitano on its board. BlackRock chairman Larry Fink serves on the Board of Directors, and so does Pfizer executive vice president Sally Susman. Longtime neocon operative Henry Kissinger officially serves as an adviser to the organization, as does former Bush administration official Condoleezza Rice. The group has numerous offices worldwide, including one in northwest Washington, D.C.
According to the International Rescue Committee's 2020 annual report obtained by NATIONAL FILE, the International Rescue Commitee has received at least $20 million in lifetime contributions from the Bill & Melinda Gates Foundation and at least $5 million in lifetime contributions from George Soros' Open Society Foundations, including at least $500,000 in that fiscal year. The International Rescue Committee has taken a ton of money from a Who's Who of globalist power brokers including: Bloomberg Philanthropies, LEGO Foundation, Airbnb, BlackRock Inc., Google.org, PayPal Giving Fund, Pfizer Inc. and the Pfizer Foundation, Bezos Family Foundation, J&J and J&J Foundation, JPMorgan Chase & Co., Microsoft, The New York Times Neediest Cases Fund, Nicholas Kristof's C-19 Impact Initiative, Wells Fargo, American Express, Chan Zuckerberg Initiative LLC, eBay Inc., Goldman Sachs Gives, Mastercard, Morgan Stanley, Nike Inc., The Rockefeller Foundation, The Starbucks Foundation, Goldman Sachs and Co., The PepsiCo Foundation,  Verizon, Warner Media, Target, Yahoo! Finance, Larry and Lori Fink, Jewish Communal Fund, Sheryl Sandberg and Tom Bernthal, Meryl Streep, and Adelson Family Foundation. Notably, the Adelson family has donated many millions of dollars to pro-Republican Party causes, proving that globalism is a bipartisan affair.
But you might not expect that kind of globalist power and pedigree emanating from the unassuming International Rescue Committee office in Elizabeth, New Jersey, where NATIONAL FILE discovered the Committee's operation to demographically replace native-born Americans with benefit-grabbing foreigners.
The International Rescue Committee defines refugees as "people fleeing violence and persecution—in Syria, Iraq, Afghanistan, Democratic Republic of Congo, and other countries in crisis. They are seeking safety and the chance to move their lives forward." The International Rescue Committee also notes that "With funds provided through the Department of State's Reception and Placement (R&P) program, refugees are provided with safe, sanitary and affordable housing and basic furniture and household supplies upon arrival in New Jersey."
According to an International Rescue Committee volunteer job posting from Elizabeth, New Jersey obtained by NATIONAL FILE, the Soros-funded group is desperate to get migrant "refugees" processed into the American system and to get government money into their hands. According to the application:
"The Refugee Resettlement Volunteer will assist case management staff in providing reception and placement services to newly arrived refugees as they adjust to their new lives in the US. (S)he will play a key role in helping refugee families access needed benefits and services within their first month to six months in the United States. The Volunteer will also perform a series of clerical and administrative duties to ensure client files are kept up to date.
RESPONSIBILITIES: 
Assist casework staff with reception services to clients, including setting up apartments for new arrivals; assisting clients with application for Social Security and state ID cards; teaching clients how to cash checks and use public transportation; accompanying clients to medical appointments, grocery shopping, and school enrollment. 

Help clients prepare and understand forms and paperwork. 

Facilitate group orientations to ensure clients have a good understanding of the Reception and Placement (R&P) program – (IRC will provide training to volunteer) 

Assist staff with sorting and filing of documents and case files. 

Ensure client success with a strong emphasis on empowerment through high quality service that supports clients to thrive in their community. 

Adhere to IRC policies, particularly those related to confidentiality and client privacy.   

Display sensitivity to cultural and personality differences of refugee clients.  Respect their beliefs and values.   

Perform reception duties such as greeting visitors to the office and connecting them to appropriate staff. 

Other related duties as assigned, including answering and directing incoming phone calls. 

Provide translation and interpretation when necessary."
The International Rescue Committee in Elizabeth, New Jersey recently advertised for a paid position that is literally called "Caseworker, Refugee Cash Assistance." In the job posting, the International Rescue Committee claims to offer compensation and a "comprehensive and highly competitive set of benefits" to its cash-assistance caseworker. The job posting notes that the job candidate should be "Fluent in English, both spoken and written; proficiency in language(s) spoken by IRC's clients is desired; preferably Haitian Creole."
According to the job posting, the caseworker is expected to:
"Coordinate timely pre- and post-arrival services to ensure each client has living essentials such as housing, food, medical care, and access to transportation, and is oriented to their new environment.

Conduct intake services with clients to assess needs. Develop self-sufficiency plans and timelines in partnership with each client. Provide individualized support through direct services, referrals, and advocacy.

Assess and monitor client progress to support their attainment of established goals, address challenges, and to ensure that available resources are utilized."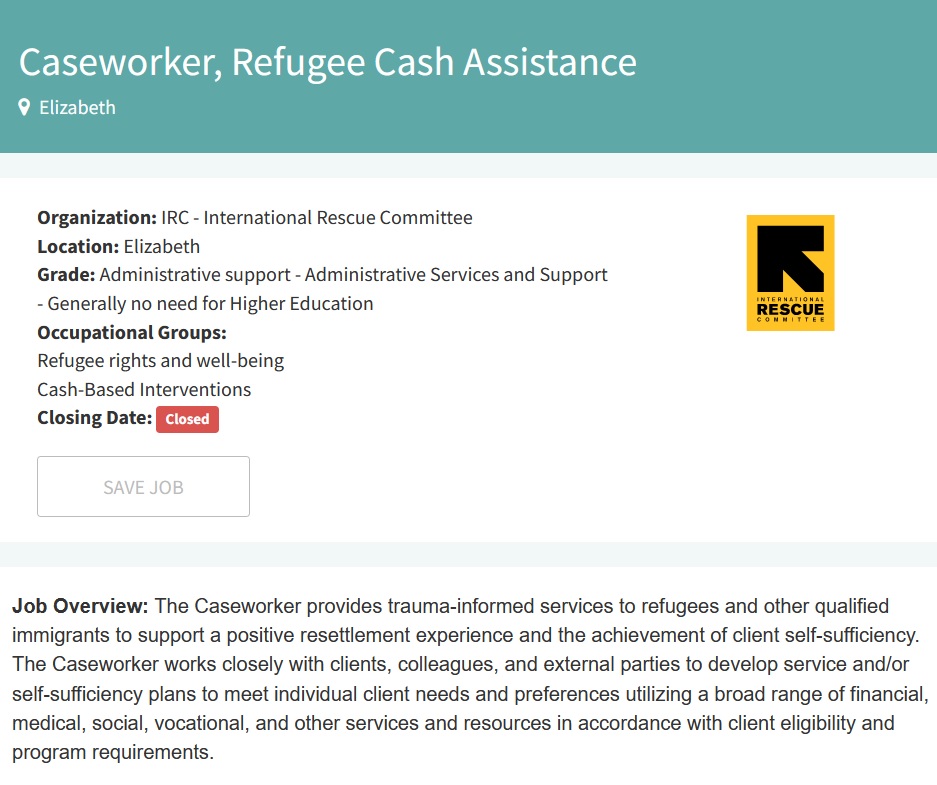 Hungarian-born George Soros reportedly is handing over his radical political donation empire to his son Alexander. Soros money is responsible for placing radical leftist prosecutors in various locations around the United States of America, corrupting the American justice system in service of globalist tyrannical authoritarian elitist rule. The globalists want to push "replacement migration," which for years has been promoted on the United Nations website. Will America fall under total globalist control? Or will national sovereignty be protected? Time will tell.
Buster Bluth energy https://t.co/BIfCYZA5D7

— Patrick Howley (@HowleyReporter) June 11, 2023