Last Updated on August 20, 2023
The Hawaii official who withheld water from burning homes and neighborhoods for a period of at least 5 hours in the midst of the massively deadly fires that recently gripped that state had previously claimed that water usage should be based on his left-wing definition of "equity" and that water is an important tool for enforcing the left's social justice agenda.
M. Kaleo Manuel, a now-former Deputy Director of the Hawaii Commission on Water Resource Management who is also a former member of the Obama Foundation, waited for more than 5 hours before releasing water to neighborhoods that were full of residents and in the midst of being burnt to the ground as fires raged in the Maui County, Hawaii community of Lahaina, where hundreds if not thousands of people are feared dead and where the death toll continues to grow as search and recovery efforts drag on.
By the time the water was released, the fires had raged out of control and those on the ground had little hope of fighting back.
Manuel's actions, or lack thereof, which by his own words appear to be grounded in the anti-Western, anti-American "indigenous" school of thought that's now so frequently employed by the American left, are being blamed for leading directly to the deaths of Lahaina residents.
"Let water connect us and not divide us," Manuel said of his highly-politicized "indigenous" views on water distribution during a University of Hawaii debate that took place last year – footage of which is now going viral online.
"We can share it, but it requires true conversations about equity," said Manuel.
"How do we coexist with the resources we have?" he asked.
Watch the video footage below: 
https://twitter.com/jeremykauffman/status/1691856782031815133
As previously mentioned, Kaleo Manuel has also been tied to 44th President Barack Obama, who himself spent much of his youth growing up in Hawaii.
In 2019, Manuel was named one of the Obama Foundation's Asia Pacific Leaders and is still listed on the group's website.
In his online Obama Foundation profile, Manuel is described as the "Deputy Director of the State of Hawaii Commission on Water Resource Management" and his stone age "indigenous" approach to water distribution is noted.
"[Kaleo Manuel] believes that ancient wisdom and traditional ecological knowledge of native peoples will help save the Earth," Manuel's profile reads. "Kaleo is passionate about elevating native and indigenous ways of knowing in all spheres of discourse and dialogue."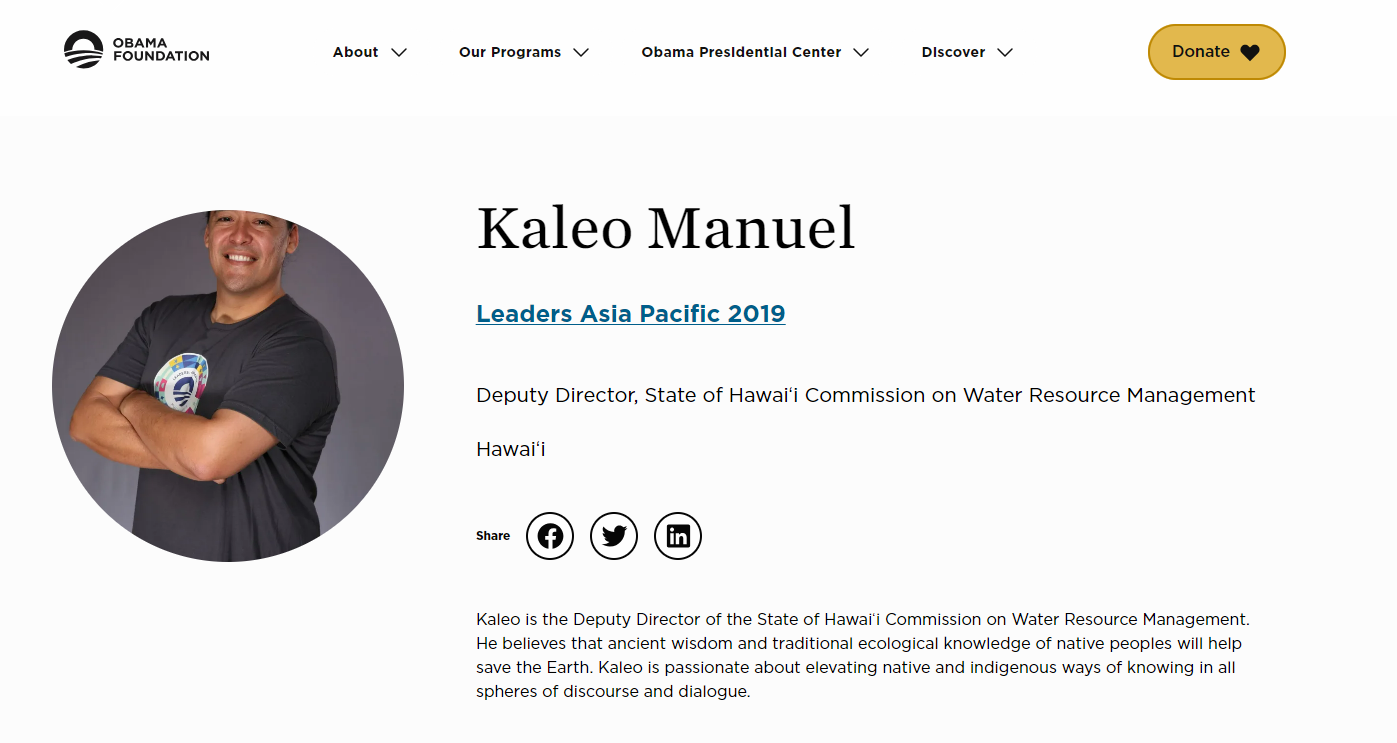 While Manuel has been transferred out of his Deputy Director post within the Hawaii Commission on Water Resource Management in the aftermath of his fire failure, he's yet to be fired, and officials appear to be shielding Manuel from further scrutiny.
This is as questions still rage nationwide as to how and why the oceanfront Maui County community of Lahaina caught fire and burned with such intensity, especially considering that the region has had above-average rainfall in the year 2023.
The fires, many have concluded, did not occur naturally.
And on top of that, it would appear that Hawaiian officials like Kaleo Manuel allowed death and destruction to rain down on the community of Lahaina in the name of "equity".