Last Updated on August 21, 2023
The bicyclist who was caught on video torching a "Trump Won" yard sign in Raleigh, North Carolina has been identified by a web sleuth after the alleged arsonist shared his bike-riding route and photographs on the cycling website Strava, leaving little doubt that a man who goes by the name of Jim White is behind the repeated attacks on the property of America First Patriot John Kane.
As National File reported days ago, a "Trump Won" yard sign belonging to North Carolinian John Kane was repeatedly attacked by a then-unidentifed bicyclist, who made multiple return trips to Kane's property in his attempts to destroy the sign. After initially being caught on a security camera kicking the sign several times, the cyclist returned to the scene of the crime to set the sign on fire.
When the burnt-up sign was promptly replaced, the cyclist came back once more, again setting the "Trump Won" lawn ornament on fire – all while being within the view of John Kane's security camera.
After the repeated attacks on his property, Kane took to X (Twitter) with video footage of the incident and it quickly went viral, with Kane offering a $1,000 reward for the identity of the anti-Trump cyclist, and multiple conservative influencers pitching in to jack the reward up to a whopping $11,000.
Now, the cyclist has been identified.
"The arsonist is James D White, Jr. (Jim White) of Raleigh, NC," Kane wrote in a tweet announcing that a suspect in the repeated burning of Kane's "Trump Won" yard sign had been identified.
"Evidence [is] being sent to @raleighpolice and a civil lawsuit [is] forthcoming," Kane added, attaching multiple photographs of White and his bicycle.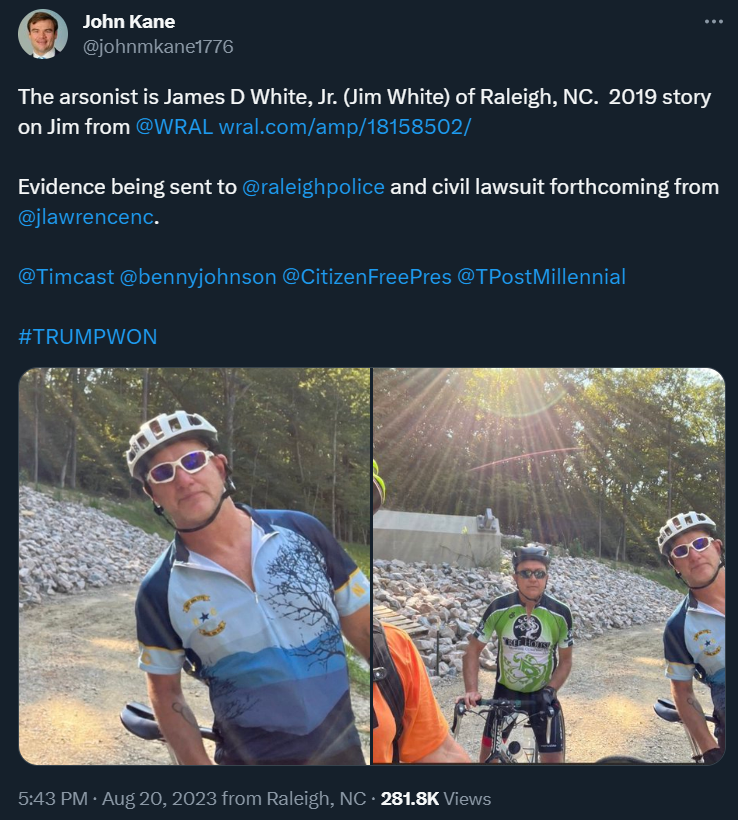 "A gentleman from Lodi, California who does not want his name made public first identified the arsonist, Jim White," Kane explained in a subsequent tweet.
According to Kane, the web sleuth and good Samaritan who identified White did so by way of "Jim's @Strava profile and GPS," as well as "timestamped maps of Jim's rides that correspond with the time stamps on the videos."

Ironically, considering his multiple attacks on John Kane's "Trump Won" lawn sign, Jim White has previously received local media coverage in Raleigh, NC for his own front lawn.
According to the previous story from Raleigh's WRAL News, after Hurricane Michael knocked over his favorite tree, White hired an artist to carve its remains into a bluegrass-playing forest animal-themed lawn art display, in hopes that the carved-up tree would "make people happy."
WRAL praised White and the chainsaw-wielding artist for "turning Hurricane Michael debris into [a] work of art".