Last Updated on December 21, 2022
GOP establishment leader Kevin McCarthy's refusal to staff Pelosi's J6 Committee with Republican members has now led to the unconstitutional criminal referral of President Donald J. Trump to the Biden DOJ, which openly admits it's goal is to kill the America First movement and make sure Trump never holds office again.
After his first two choices to sit on the J6 Committee were rejected by Democrat Speaker of the House Nancy Pelosi, McCarthy swore the committee off altogether, refusing to appoint any GOP legislators and leaving it as quite possibly the most hyper-partisan panel in US Congressional history.
Though McCarthy didn't appoint any Republicans to the J6 Committee himself, Nancy Pelosi and company made sure to leave slots available for Liz Cheney and Adam Kinzinger, two uni-party GOP'ers who'd worked with Democrats multiple times prior, in failed efforts to remove President Trump from office.
Now, the J6 Committee has moved to refer President Trump to the Biden DOJ, on claims that the 45th President obstructed an official proceeding, ran a conspiracy to defraud the government, and incited or assisted in an "insurrection" when he and millions of Americans challenged the results of the 2020 election.
In addition to President Trump, the committee has chased down Americans nationwide for questioning and, in many cases, imprisonment at the hands of the committee's DOJ allies.
Though constitutional scholars have pointed out that the "referral" to the DOJ is illegal, DC Democrats don't appear too concerned with abiding by the law in their attacks on President Trump.
That's led to renewed scrutiny over Kevin McCarthy's failure to appoint any pro-America Republicans to the J6 Committee, and the realization that McCarthy's decision paved the way for Democrats to illegally bring up charges against President Trump, in a naked effort to keep him from ever holding office again.
"If Trump is indicted then you can put the blame on Kevin McCarthy['s] shoulders," tweeted the popular Calvin Coolidge Project Twitter account.
"It was McCarthy['s] grand idea to not put Republicans on the J6 Commission," the tweet went on, above a headline from Business Insider, which dubbed McCarthy's decision a "huge tactical mistake."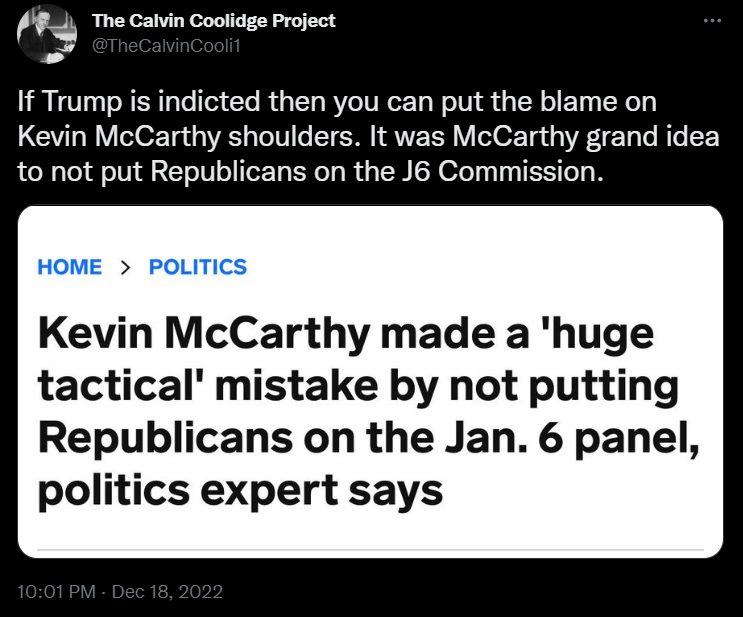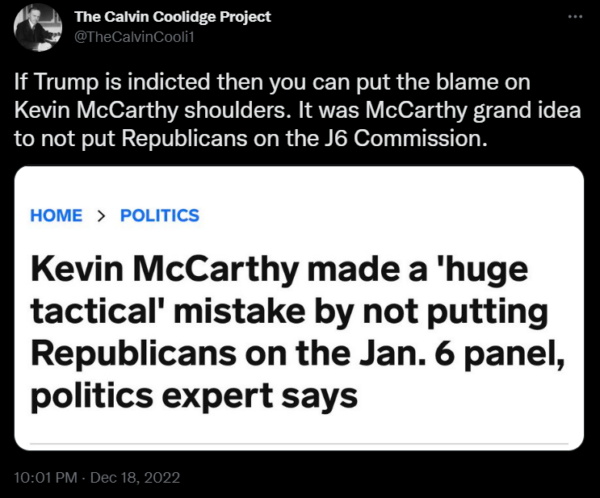 In the Business Insider report, which was published in October, prior to the midterms, Kevin McCarthy is lambasted for his refusal to appoint any Republican members of Congress to the J6 Committee, where they could have acted as a barrier between reality and the Democrat narrative.
Asher Hildebrand, an associate professor of politics at Duke University, told Business Insider that Kevin McCarthy has made "a huge tactical mistake" in not sending any GOP Reps. to join Pelosi's committee, and act as a safeguard of reason and Americanism.
"Whatever opportunity he had to affect the narrative that the committee has very effectively presented or to disrupt its proceedings, he relinquished when he decided not to take it seriously," Hildebrand told Business Insider.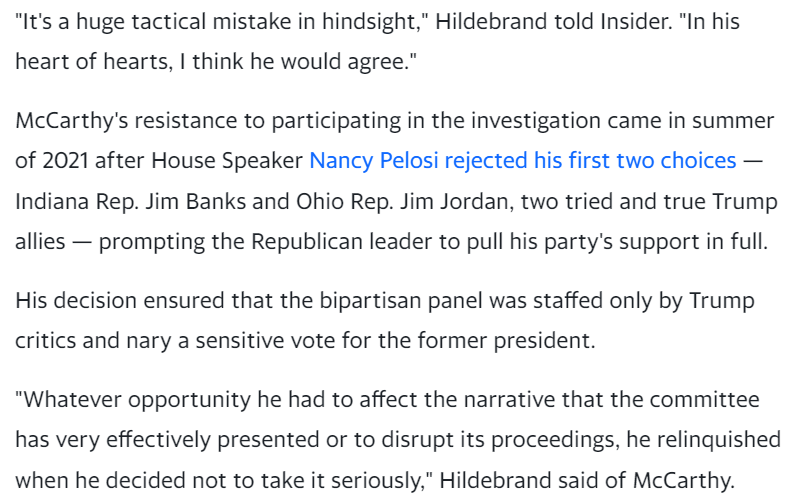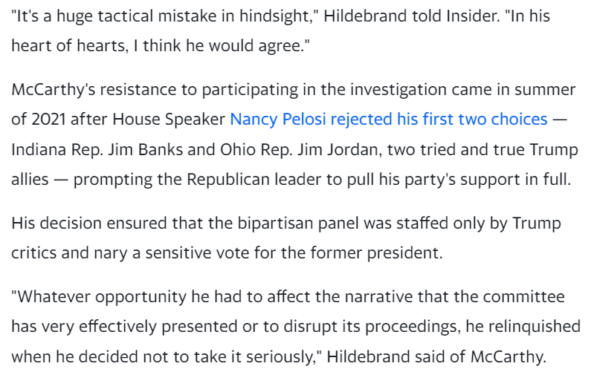 And it isn't just the pundits taking note of Kevin McCarthy's massive failure that led to President Trump's criminal referral to the Biden DOJ – a referral based solely on the left-wing narrative of the J6 Committee, that's gone totally unchallenged in Congress.
"Unfortunately, a bad decision was made, President Trump told radio host Wayne Allyn Root in June of this year. "It was a bad decision not to have representation on that committee. That was a very, very foolish decision."


McCarthy's actions, as they relate to the J6 Committee and otherwise, have fallen under intense scrutiny since the conclusion of 2022's midterm election cycle, in which Republicans failed to win a convincing House majority or secure the Senate.
The "red wave" he promised, presented itself as a mere "pink trickle" as a direct result of McCarthy's use of corrupt FTX money to sabotage America First campaigns on behalf of the uni-party elite.
Facing a stiff challenge from Arizona Freedom Caucus Rep. Andy Biggs, McCarthy appears to be at least 20 votes away from the gavel, and those who are openly opposing him say there's no way they'll cast a vote in his name.
It appears, that without significant Democrat support, Rep. Kevin McCarthy will never become Speaker of the House.