Last Updated on October 6, 2020
American civilians including parents are now blaming mask use for illnesses and hospital visits for their loved ones, including children who are developing a face rash called Impetigo at a rising rate.
Parents are now reporting that their children are suffering face rashes since the masking of society began.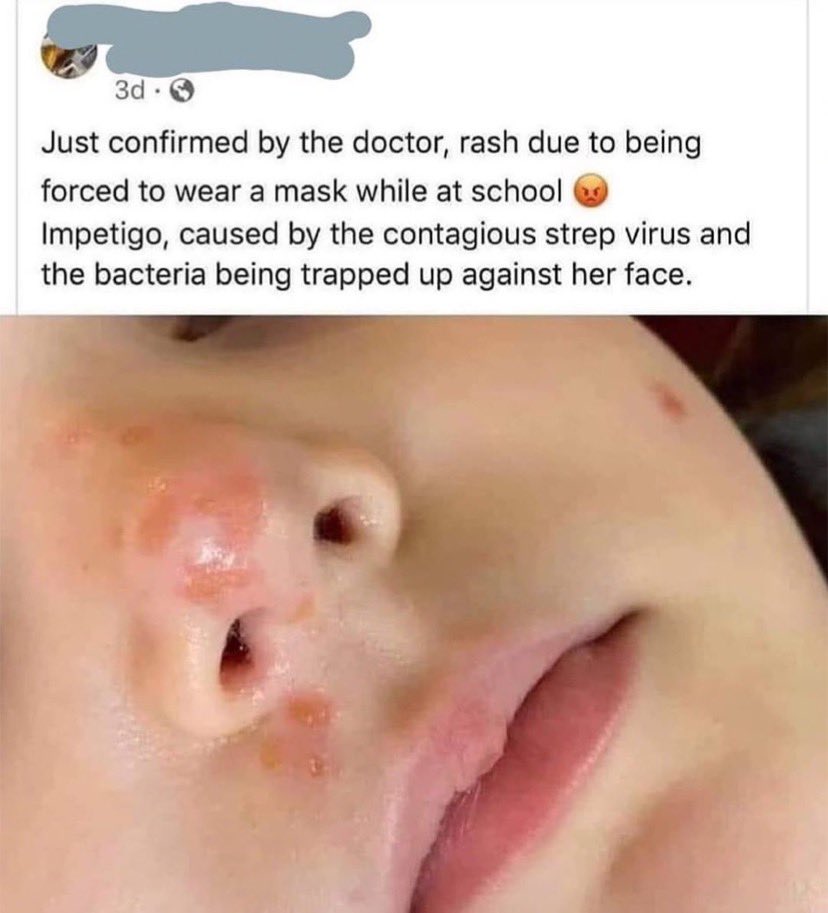 Fox 54 in Georgia recently reported:
"The Pediatric Emergency Department at Doctor's Hospital has been diagnosing and treating an increased number of children with rash on the face, extremities, neck ,and other areas of the body. This rash is called Impetigo, which is a highly contagious rash from a bacterial infection that can be worsened by wearing contaminated masks. The rash looks similar to a cigarette burn which contains a highly contagious honey colored fluid. This skin infection is usually acquired from other children since it can be easily transmitted by touching."
Thomas Cotten writes on Facebook: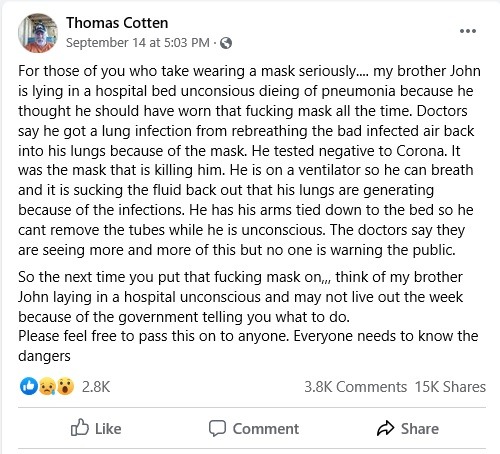 "For those of you who take wearing a mask seriously…. my brother John is lying in a hospital bed unconsious dieing of pneumonia because he thought he should have worn that fucking mask all the time. Doctors say he got a lung infection from rebreathing the bad infected air back into his lungs because of the mask. He tested negative to Corona. It was the mask that is killing him. He is on a ventilator so he can breath and it is sucking the fluid back out that his lungs are generating because of the infections. He has his arms tied down to the bed so he cant remove the tubes while he is unconscious. The doctors say they are seeing more and more of this but no one is warning the public," Thomas Cotten writes.
"So the next time you put that fucking mask on,,, think of my brother John laying in a hospital unconscious and may not live out the week because of the government telling you what to do," Cotten writes. "Please feel free to pass this on to anyone. Everyone needs to know the dangers"