Last Updated on February 9, 2023
Face Freedom supporters are vindicated as humanity realizes that Coronavirus masks are useless and preferred by ugly people, according to scientific data. How will people respond to future globalist power plays now that the Coronavirus psychological warfare operation is breaking down and people see that the Wizard of Oz is really a crooked cabal of tyrants working deceptively behind the television screen? Will people resist future tyranny? Will humans reject the status of "Pharma animal" and reclaim their divine mandate to breathe freely at all times?
A recent Cochraine study found that "Compared with wearing no mask in the community studies only, wearing a mask may make little to no difference in how many people caught a flu-like illness/COVID-like illness (9 studies; 276,917 people); and probably makes little or no difference in how many people have flu/COVID confirmed by a laboratory test (6 studies; 13,919 people)."
Meanwhile, a study that appeared in the publication Frontiers in Psychology found that people who identify themselves as "very attractive" were not as likely to wear a mask to a job interview as their uglier counterparts. This phenomenon should be obvious from the Scamdemic era, in which some of the ugliest people imaginable (inside and out) tried to coerce normal healthy people to cover their noses and mouths with masks. It was a very annoying development in the course of human history, and those who pushed for forced masking can never be trusted in the future.
The "Scamdemic" has been widely exposed, with massive scrutiny on Dr. Anthony Fauci for leading the NIAID when it funded dangerous Wuhan Institute of Virology bat coronavirus research prior to the outbreak. The Coronavirus outbreak has been blamed on a leak from the Wuhan lab. But the virus proved to be too ineffectual to fully mechanize the globalists' authoritarian "Great Reset" ambitions. So the systems of power in America inflated Coronavirus casualty numbers, manipulated testing data, and pushed upon the public an astronomical number of dangerous mRNA injections and suffocating face masks. Over a billion masks ended up polluting the Earth's oceans in 2020.
The topic of "Masks" has been Trending on Twitter as more people wake up to the globalist lies that suffocated humanity during the past few years.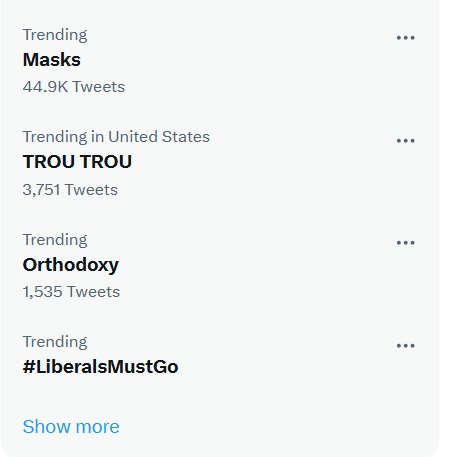 The CDC itself admitted that between March 1 and December 31 of 2020 the mask mandates, which were executed in the vast majority of United States counties, stopped COVID case growth rates by only one half of one percent after 20 days and by less than 2 percent after 100 days. Meanwhile, CDC inflated the COVID fatality number by at least 1,600 percent as the 2020 presidential election played out, according to a study published by the Public Health Initiative of the Institute for Pure and Applied Knowledge. The study, "COVID-19 Data Collection, Comorbidity & Federal Law: A Historical Retrospective," was authored by Henry Ealy, Michael McEvoy, Daniel Chong, John Nowicki , Monica Sava, Sandeep Gupta, David White, James Jordan , Daniel Simon, and Paul Anderson. (READ THE LANDMARK RESEARCH HERE).
As NATIONAL FILE reported, Dr. Anthony Fauci's NIAID, a division of NIH, funded Wuhan Institute of Virology research for a Bat Coronavirus project. The Wuhan lab has been identified by recent Secretary of State Mike Pompeo and others as the source of the Coronavirus outbreak. My reporting on Fauci's relationship with the Wuhan lab is featured in the trailer for Robert F. Kennedy Junior's documentary The Real Anthony Fauci: The Movie.
These are the masks you wore to "protect yourself" https://t.co/w1BAQAqEMm

— Rob Schneider (@RobSchneider) February 5, 2023
The Face Freedom movement has been going strong for years, even during some of the darkest days of Coronavirus tyranny. Do you remember how frenzied, how pervasive, how insidious the globalist propaganda was during the 2020 election? Do you remember how strident the mask-enforcers were, confronting Face Freedom believers in public? We must never forget. During the election, globalist propagandists filled the people's minds with fear and used Coronavirus to get increased numbers of paper absentee ballots into the voting system — paper ballots that ended up getting counted after Election Night in major cities in swing states.
Face Freedom protesters let their faces roam free in a Florida Target in September 2020, in the middle of presidential campaign season. Sadly, aging Twisted Sister frontman Dee Snider took the side of the globalist establishment and denounced the Face Freedom protesters who used his classic Twisted Sister anthem for their peaceful civil disobedience. But many people dug the protest vibes. Many people saw the protest, got inspired, and decided that they too were not going to take it.
An anti-mask group walk through a @target in #FortLauderdale #Florida, chanting, "We're not gonna take it." The group advising people to take off their masks. What do you make of this video? #Covid #Covid19 #coronavirus #Pandemic #Outbreak #Mask pic.twitter.com/HkxE0TEm8R

— Kirstin Delgado (@KirstinWFTV) September 17, 2020
Since the election, the World Health Organization admitted that PCR tests are not totally reliable on the first try and a second test might be needed. This corresponds with CDC's quiet admission that it blended viral and antibody test results for its case numbers and that people can test positive on an antibody test if they have antibodies from a family of viruses that cause the common cold. Hospitals in Florida had so many accuracy complications that Orlando Health had to admit that its 9.4 percent positivity rate got recorded at 98 percent. (READ: The TRUTH About NIH Owning A Stake in the Vaccine).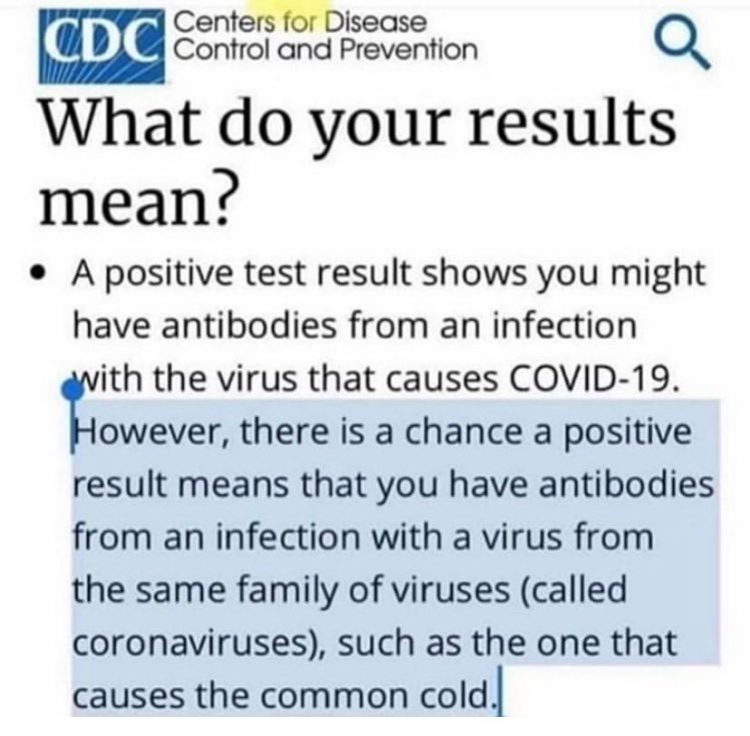 The PCR test was never really intended to be used to diagnose the Coronavirus, according to research and experts, but rather it is supposed to be used for crime scene forensic analysis and other kinds of research. Dr. Kary Mullis, the Nobel Prize-winning inventor of the PCR test, expressed a very dim view of Dr. Anthony Fauci. Mullis died shortly before the Coronavirus scamdemic. What would Kary Mullis have said about Fauci during the Great Reset, had Mullis lived?
A chemical that causes penile shrinkage was found in face masks, and Dr. Fauci famously said that Americans do not need to wear masks to guard themselves from Coronavirus before he changed his tune and fought for the extended masking of the human people. Christian actor Kirk Cameron defied the globalist establishment by hosting Maskless Christmas Caroling events.
President Donald Trump has said, "Dr. Fauci also said we didn't need to wear masks, then a few months later he said we needed to wear masks, and now, two or three of them. Fauci spent U.S. money on the Wuhan lab in China—and we now know how that worked out."
The "Million Maskless March" of 2021 happened nearly two years ago, bringing together Floridians sick of the suffocation.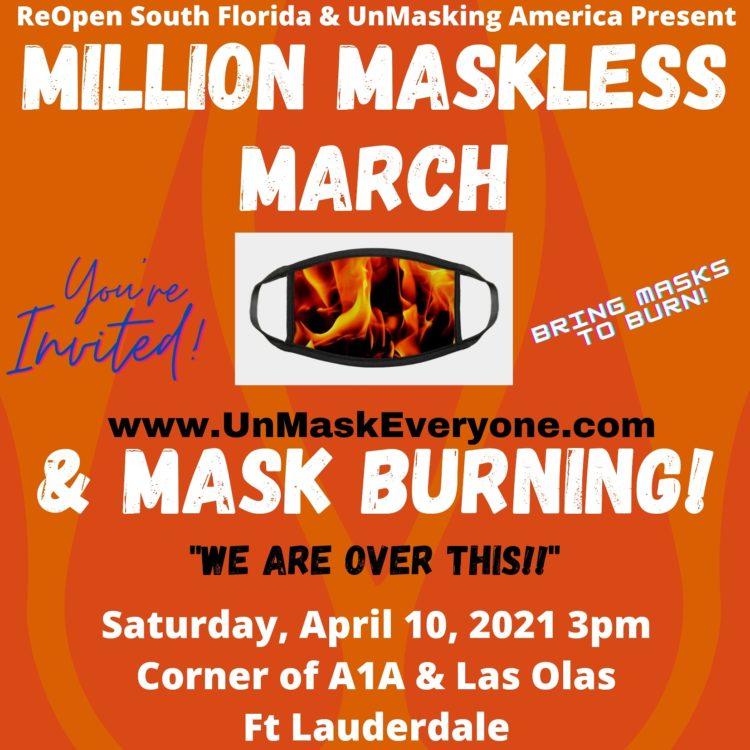 So how much damage have masks caused to people's health? The University of Florida laboratory known as the Mass Spectrometry Research and Education Center studied six children's Coronavirus facemasks, provided by parents, and discovered numerous dangerous pathogenic bacteria in the masks.
The pathogenic bacteria found on the masks cause such illnesses as pasthogenic pneumonia, blood stream infections, meningitis, urinary tract infections, strep throat, tuberculosis, "life threatening pneumonia," sepsis, Legionnaire's disease, and others.
The lab report (READ IT HERE) states that "21 pathogenic bacteria, were detected and highlighted in yellow. Some are quite dangerous." Here are passages from the lab report with the pathogenic bacteria highlighted.