Last Updated on February 10, 2023
The FBI has walked back the controversial contents of a leaked memo after outrage ensued over the bureau seemingly targeting "radical traditionalist Catholics."
An FBI whistleblower leaked a Jan. 23 report which claimed white supremacy "has found a home" amongst traditionalist Catholics. The leaked memo, titled "Interest of Racially or Ethnically Motivated Violent Extremists in Radical-Traditionalist Catholic Ideology Almost Certainly Presents New Mitigation Opportunities", pushed for an investigation into "radical" traditionalists for potential "far-right white nationalist" ties.
The FBI report alleges traditionalist Catholics hold "frequent adherence to anti-Semitic, anti-immigrant, anti-LGBTQ and white supremacist ideology" and espouse "more extremist ideological beliefs and violent rhetoric."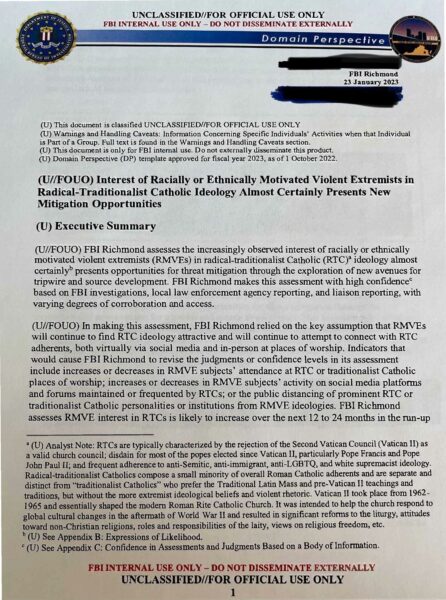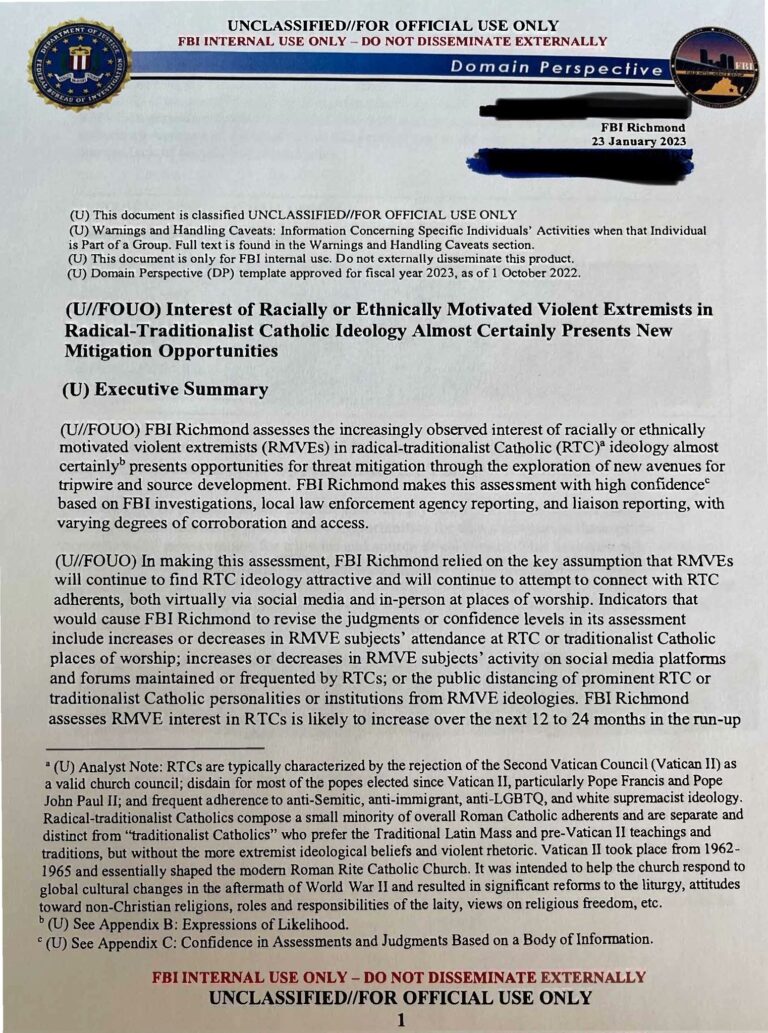 On Thursday, the FBI announced in a statement they would be retracting the document since "it does not meet our exacting standards."
"While our standard practice is to not comment on specific intelligence products, this particular field office product — disseminated only within the FBI — regarding racially or ethnically motivated violent extremism does not meet the exacting standards of the FBI," the statement reads.
"Upon learning of the document, FBI Headquarters quickly began taking action to remove the document from FBI systems and conduct a review of the basis for the document. The FBI is committed to sound analytic tradecraft and to investigating and preventing acts of violence and other crimes while upholding the constitutional rights of all Americans and will never conduct investigative activities or open an investigation based solely on First Amendment protected activity."
The FBI's report cited research from the far-Left Southern Poverty Law Center (SPLC) in the document's appendix.
RELATED: 'The Atlantic' Mocks Catholicism, Calls Rosary 'An Extremist Symbol'
"The whole document basically is written from the perspective of somebody who thinks there are significant abortion rights that need to be defended and also an LGBTQ agenda that has to be pushed down the American people's throats and these are antithetical to Catholicism," the leaker of the document, Kyle Seraphin, told Fox News' Tucker Carlson Thursday.
Carlson echoed Seraphin's comments, adding that the FBI "has joined in the hunt for Christians" and is working to "manufacture crimes against sincere Catholics.
The FBI is now targeting Christians: traditional Catholics who have the audacity to attend Latin Mass.

— Ian Miles Cheong (@stillgray) February 10, 2023
Stay tuned to National File for any updates.
RELATED: Democrats Pass Resolution Condemning 'White Religious Nationalism'
READ MORE: Rosary Sales Surge After 'The Atlantic' Calls Rosary 'An Extremist Symbol'