Last Updated on September 14, 2021
Arizona State Senator Michelle Ugenti-Rita, who is challenging State Representative Mark Finchem in the Republican primary for Secretary of State, whined in a post online about President Donald Trump's backing of her opponent, claiming without evidence that the endorsement had to be "rolled out" to save Finchem's campaign.
President Trump announced his endorsement of Representative Finchem on Monday, saying it was a "great honor" to be able to endorse Finchem, "a patriot who has fought for our Country right from his earliest moments in government," adding that he was always "willing to say what few others had the courage to say." He noted that not only is Finchem strong on election integrity issues, but he also is tough on crime, borders, and supports the 2nd Amendment and American veterans and military. "Mark Finchem has my Complete and Total Endorsement," he concluded. "He will never let the people of Arizona down!"
Unsurprisingly, Ugenti-Rita, who is challenging Finchem in the Republican primary, was not best pleased by the endorsement from President Trump. In a post on Facebook, she claimed that Finchem was apparently trying to cover up the fact that the Maricopa County forensic audit which Finchem strongly supported "has been grossly mismanaged and is now a disaster." She added that Finchem and his team had "no choice" but to "rollout" the endorsement from Trump "in order… to resuscitate his struggling singularly focused campaign."
Ugenti-Rita went on to argue that the only person who can beat a Democrat opponent, "restore confidence and integrity in our elections and prevent fraud" is her. However, in the statement, she also admitted her belief that President Trump "unfortunately lost Arizona and lost Maricopa County," despite branding herself in an election video as "a strong leader with a proven record of protecting election integrity."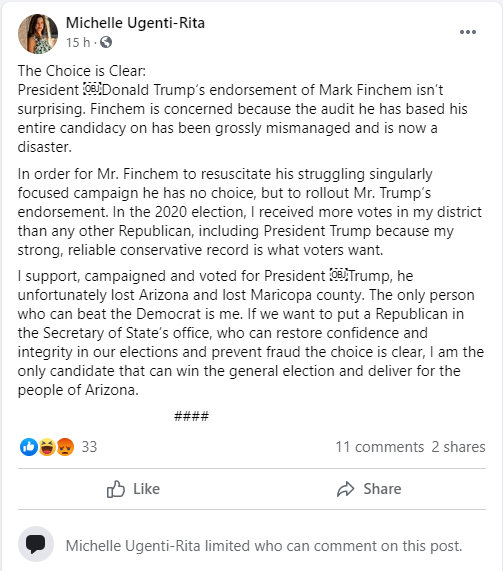 Frustrated supporters of President Trump expressed their annoyance with Ugenti-Rita in the comments below the post. "If you believe Trump actually legitimately lost Arizona, we can not vote for you," said one Arizonan, with another succinctly instructing her to "get lost!" At the time of writing, no more comments can be added to the post, with the comments section having been locked down by Ugenti-Rita. No other posts on the Facebook page have restrict comments.
The current Arizona State Senator came under fire earlier this year, after she killed a vital election integrity bill but forward by fellow State Senator Kelly Townsend. SB1241 contained over 34 various election integrity measures, but Ugenti-Rita announced that she would join the Democrats in voting against it, which Townsend implied was revenge for her own vote against Ugenti-Rita's SB1485. Although SB1485 included some election integrity measures, it would not have applied key revisions in time for the 2022 primaries, leaving them open to the same potential attacks that may have occurred in the 2020 election.
As National File reported, Ugenti-Rita was then booed off stage a month later at the Turning Point USA Chapter Leadership held in Phoenix at the end of July, begging the crowd multiple times to allow her to give her speech, but was met by a chorus of boos throughout. Eventually, she admitted defeat, and angrily stomped off stage after telling voters, "I will win my primary!" She was escorted out of the venue by police.