Last Updated on September 14, 2021
45th President Donald Trump has released a statement predicting that the California recall election will be rigged in favor of the incumbent, Democrat Gov. Gavin Newsom, and cited credible reports of voter fraud that have already made headlines before votes have been counted.
"People don't realize that, despite the Rigged voting in California (I call it the "Swarming Ballots"), I got 1.5 Million more votes in 2020 than I did in 2016," wrote President Trump. "The place is so Rigged, however, that a guy who can't even bring water into their State, which I got federal approval to do (that is the hard part), will probably win."
President Trump added, "Billions of gallons of water coming to California from the North is being sent out to sea, rather than being spread throughout the State. This is to protect the tiny delta smelt, which is doing far worse now without the water. In any event, it all doesn't matter because the California Election is totally Rigged. Many people are already complaining that when they go to vote they are told, 'I'm sorry, you already voted' (Just like 2020, among many other things). They then leave angry, but fortunately, even the Fake News Media has been reporting it."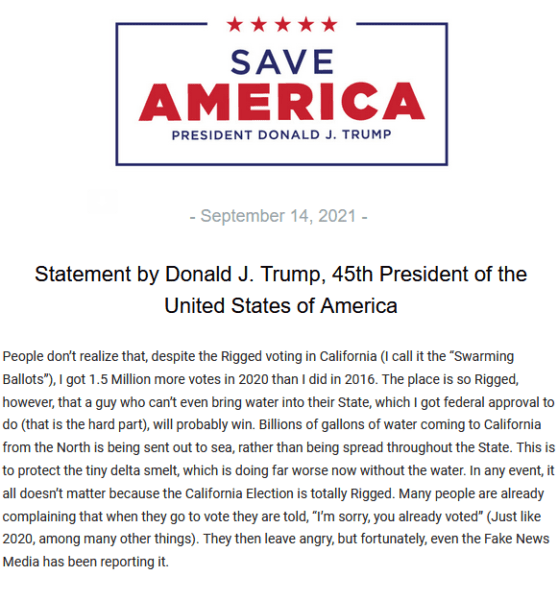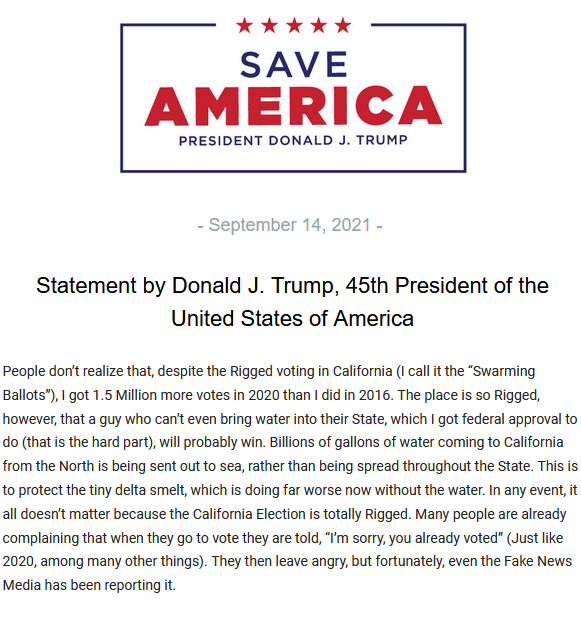 As National File reported, many Californians say they are experiencing issues with their mail in ballots. Other former California residents say they are receiving notifications that mail-in ballots were sent to them, despite in some cases not having lived in California for over 7 years. Another person was caught on video claiming that they voted "no" to the recall three separate times.
Additionally, last month 300 recall ballots and other mail were found in a felon's vehicle after he allegedly passed out in the vehicle while abusing drugs, sparking concern from police. Authorities say the recall ballots were found alongside other mail including driver's licenses, drugs, and a loaded firearm.