Last Updated on May 25, 2023
Radio host Mark Levin has betrayed President Trump, the man Levin regularly (and falsely) credits himself on air with getting elected in 2016 and is now apparently supporting the 2024 presidential campaign of Florida Governor Ron DeSantis, who trails Trump in the polls by whopping margins. The pivot by Levin has come as a surprise to some, but not to others, who remember his time as a major 2016 Never-Trumper and his big-money financial ties to the Koch Brothers.
Neo-con radio host and Fox Corp. personality Mark Levin took to Twitter on Wednesday night to post a WinRed fundraising link promoting the newly-announced presidential campaign of Florida Governor Ron DeSantis, who announced his run in a Twitter Space with Elon Musk.
"Support Ron DeSantis for President!" the link reads, along with a graphic asking voters to "Join The Fight For Freedom Today!"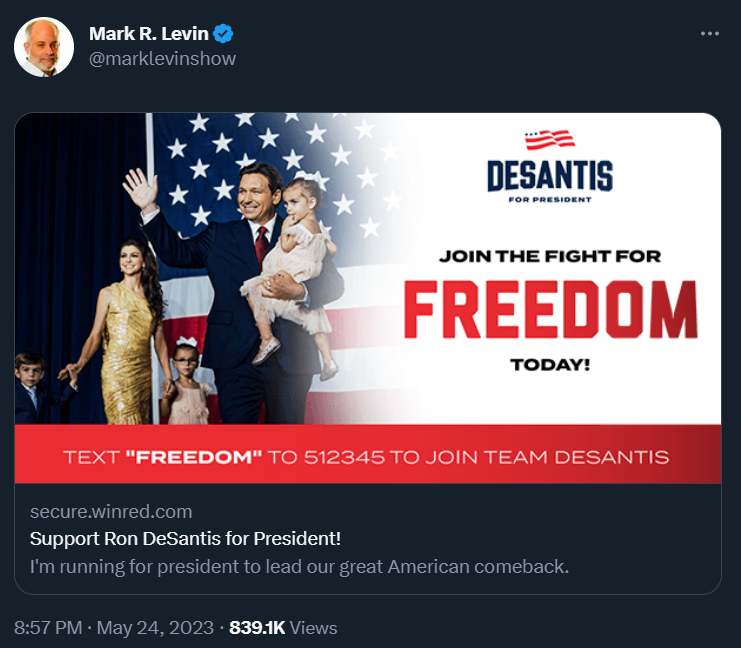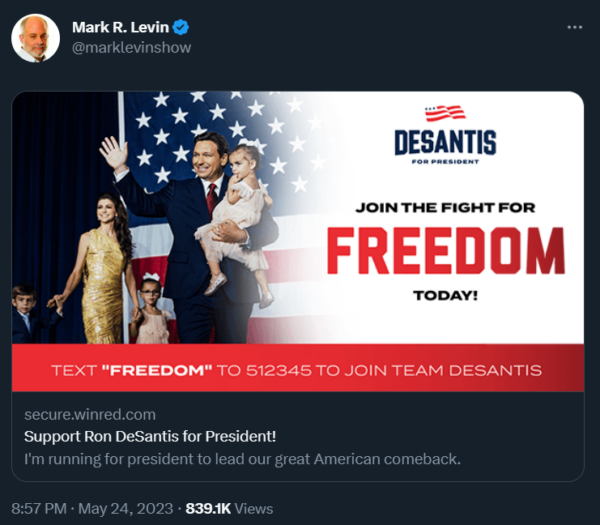 The link was posted just after Levin interviewed DeSantis on his evening radio show, an interview in which he's been blasted for tossing up softball questions, with Twitter users calling the interview, and the DeSantis announcement as a whole, "scripted".
"Do you actually want to hear a conservative interview a conservative?" Levin tweeted in advertising the interview. "Gov. Ron DeSantis will be on my radio show Live at 8:30 PM eastern, in his first radio interview since announcing for president."
Listen to the interview HERE


While Levin claims that the interview constituted a "conservative" interviewing a "conservative" it was more like a neo-conservative interviewing a neo-conservative.
Levin, who backs a Soros-supported constitutional convention to overhaul America, has been vocal in his support for Soros-backed Ukraine, going as far as to claim that there is a "Putin-wing" of the Republican Party, apparently full of folks who don't want to United States intervene in the Russo-Ukrainian War.
Like Levin, DeSantis has been supportive of the Ukrainian cause and of America's involvement in the theater, though he's repeatedly tried to straddle the fence.
As a member of Congress, DeSantis was a staunch supporter of American aid for and involvement in Ukraine, criticizing the pro-Ukraine Obama Administration for not doing enough to help out, even after the Administration helped overthrow Ukraine's democratically-elected, pro-Russia government.
In an interview with Fox News that preceded his radio interview with Levin, DeSantis dodged a question from former Congressman Trey Gowdy, when asked how he would "address the war in Ukraine".
Watch the video clip below:
Trey Gowdy: "If you're president, how would you address the war in Ukraine?"

Ron DeSantis: * dodges question

Donald Trump is the only candidate running for president that has promised to prevent World War 3.
pic.twitter.com/cmTmAfyRt1

— Charles R Downs (@TheCharlesDowns) May 25, 2023
Much like Mark Levin, the DeSantis camp has quickly become full of old Never-Trumpers, who apparently changed their stripes while President Trump was in the White House for their own benefit, only to turn on him when given the chance.
As National File reported, former Virginia Attorney General Ken Cuccinelli, who led a failed effort on the 2016 RNC floor to overturn the will of the voters and nominate Ted Cruz for President before going on to join the Trump Administration in a bureaucratic role, has launched a pro-DeSantis PAC for 2024.