Last Updated on April 10, 2020
Jeremy M. Jack, a sign language interpreter and businessman, called out CNN for using an image of him in footage about the Coronavirus outbreak in San Francisco.
But Jack says the footage actually shows Jack and others in Houston, Texas during Hurricane Harvey. Jack is not happy about it.
Jack posted on Facebook on March 13.
"Okay.. I have held my tongue about this COVID-19 insanity but after
#CNN
used MY face to report outright LIES that continue to incite the mass hysteria around this issue.. all bets are off! My son starts blowing up my phone today saying DAD you are on the news about the Corona Virus! I was completely confused.. so I find out that while reporting on the conditions in San Francisco as a result of th
e virus they used footage of ME and others during Hurricane Harvey in HOUSTON lined up outside of Kroger's on Westheimer near the Beltway! CNN is using MY face to present misleading journalism that continues to seriously impact our economy and the every day decision making of the public. This is not okay.. do actual research for yourself. Get info from Health Organizations and local/national government. Take general safety precautions. Ignore the news..," Jack wrote.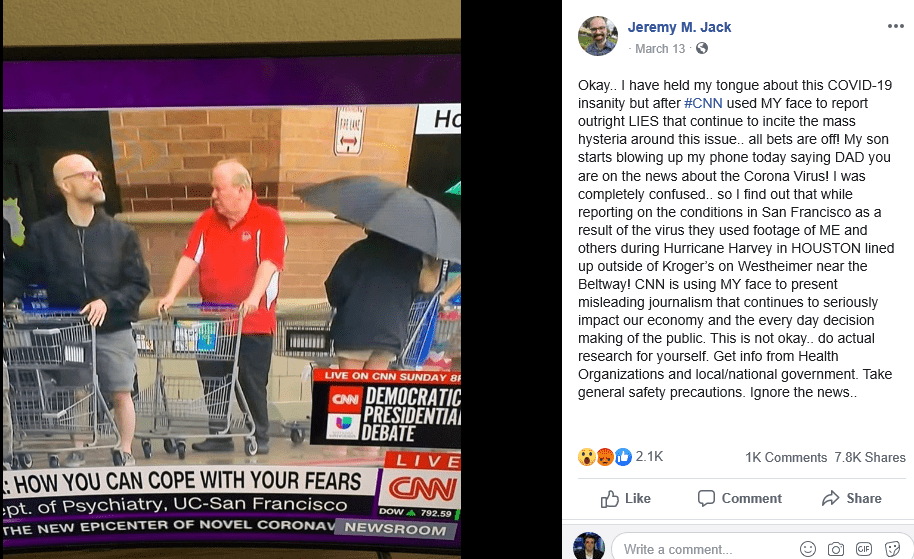 Recently, CNN was lambasted online when one of their on-air personalities appeared to suggest all Southerners are from Arkansas.
Female CNN pundit Ana Navarro, who is best known for attacking President Donald Trump and calling herself a "Nicaraguan-American," landed herself in hot water Thursday when she appeared to imply she thinks Jeff Sessions is from Arkansas.

"Have spent two days in Arkansas," Navarro wrote. "Had forgotten how dang warm, like-able and genuinely nice people from the South can be."

The female pundit continued, "For the life of me, I don't know how they gave us the likes of Jeff Sessions."

Navarro, who has "this is my country. I'm not going back anywhere" in her Twitter bio, was pilloried online for her apparent inability to distinguish people born across the South from being born in Arkansas.