Last Updated on August 26, 2019
French President Emmanuel Macron was visually upset at a press conference on Monday about a comment made by Brazilian President Jair Bolsonaro's official Facebook page.
Tensions have already flared between the two world leaders this week, as Brazil has been caught in a media blitz following reports of massive wildfires engulfing the Amazon rain forest.
Most of the viral photos claiming to show the hellish destruction of the Amazon have been proven to be fake, including one tweeted out by Macron on Saturday that was actually taken by a photographer who had been dead for sixteen years.
Many Bolsonaro supporters have been angered by what they perceive as meaningless virtue signalling by left-wing media and world leaders, with Macron becoming a lightning rod for memes and jokes poking fun at his ignorance.
One such meme was posted in the comments section of President Bolsonaro's official Facebook page. It featured a side-by-side comparison of President Bolsonaro and his wife Michelle, 37, against Emmanuel Macron and his wife Brigitte, 66.
Macron is 41, and the two met while he was still a student and she was his teacher.
The meme's caption implied Macron was jealous of President Bolsonaro's wife and masculine demeanor.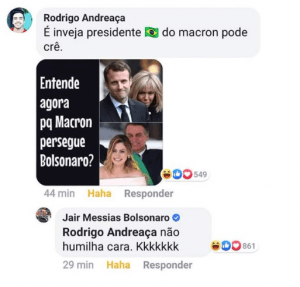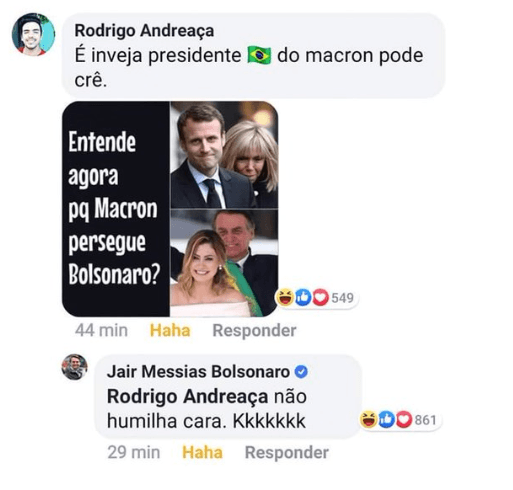 The official Facebook account for President Bolsonaro liked the comment and replied, "do not humiliate the guy. haha."
Macron appeared to be visibly shaken by this comment in a press conference Monday, where he said, "For him to have made incredibly disrespectful comments about my spouse — what can I say to you?" in response to a question about President Bolsonaro.
The French president added, "I think that Brazilian women are probably ashamed to read that their president has done that. I think that Brazilians, a great people, are a bit ashamed of this behavior. As I have a lot of friendship and respect for the Brazilian people, I hope that they will quickly have a president who is up to the job."
President Bolsonaro also criticized Macron in a tweet on Monday morning, claiming the latter was disguising his intentions "behind the idea of an 'alliance' of the G7 countries to 'save' the Amazon, as if we were a colony or no man's land."
– Não podemos aceitar que um presidente, Macron, dispare ataques descabidos e gratuitos à Amazônia, nem que disfarce suas intenções atrás da ideia de uma "aliança" dos países do G-7 para "salvar" a Amazônia, como se fôssemos uma colônia ou uma terra de ninguém.

— Jair M. Bolsonaro (@jairbolsonaro) August 26, 2019