Last Updated on August 27, 2019
DisArt, a non profit group founded by Betsy DeVos' son and previously sponsored by the Daniel and Pamella DeVos Foundation, is planning a drag queen event featuring individuals with Down Syndrome.
For the second year, a non profit group founded by Betsy DeVos's son that received funding from the DeVos family is organizing a "Drag Syndrome" event, in which men with Down Syndrome will wear provocative female clothing and dance for the entertainment of the people of Michigan.
On its website, event partner DisArt describes the event as "an event to celebrate the identity of disability within the context of an art performance-style that has for decades been a significant source of cultural commentary and celebration."
They also claim that "DisArt does not tolerate the exploitation of any Disabled person or artist. Indeed, our mission is to celebrate a culture of disability in order to create awareness, understanding, and belonging for all of us."
The organization acknowledges that not all individuals may support drag events, but claims that any opposition to their Drag Syndrome event constitutes "censorship" of their "artists' work based on their disability status."
DisArt is holding the event in conjunction with ArtPrize, a Grand Rapids, Michigan-based group founded by Rick DeVos, the son of Secretary of Education Betsy DeVos. Despite DeVos' support for Drag Syndrome events, he is still considered a villain by local media for his family ties.
In 2018, the group received money from the Daniel and Pamella DeVos Foundation, a group run by Betsy DeVos's brother-in-law.
The ArtPrize group also had a famous spat of drama with the DeVos family in 2017, as detailed by the New York Times:
Patricia Constantine thought hard about whether to use an image of the education secretary, Betsy DeVos, in her entry to this year's ArtPrize contest. The

mixed-media painting

depicts Ms. Constantine as a carnival freak suffering for the perceived misdeeds of Ms. DeVos and President Trump. But Ms. DeVos isn't just your everyday target in Michigan: She and her family provide major financial support to the ArtPrize awards that might honor the very works that skewer her.

"Am I going to back off because the DeVos family donates a lot of money to the city and her son founded ArtPrize?" Ms. Constantine, a professor of illustration at Ferris State University here. "What would that say to my students?"
Perhaps most interesting about DisArt's part in this event is their ever-changing website. As National File was researching members of the organization's board, they replaced all information relating to their board members on the DisArt website with a paragraph explaining their service to Americans with disabilities:
Both Jill and Chris visited during the event hours to experience the changes we had made, and provided us with thoughtful, constructive feedback for continued improvement. Since that first event, Local First consults with DisArt for each community event, and we look forward to continuing our partnership and doing our small part to make West Michigan a more welcoming community for our neighbors with disabilities."
Fortunately, National File was able to use Google's cache to find the names of their board members, which were previously public information.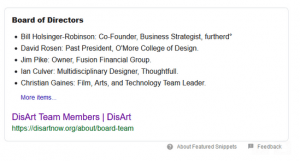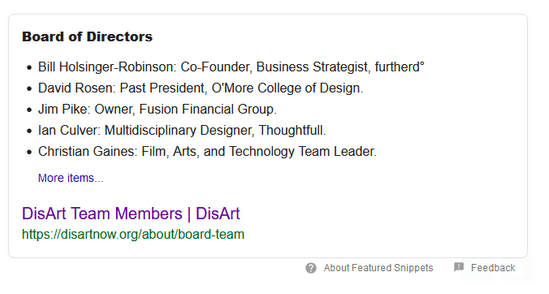 This year's Drag Syndrome event is scheduled for September 7, though the group is facing issues finding a venue willing to allow drag queens with Down Syndrome to perform, due to understandable fears of exploitation.