Last Updated on March 28, 2021
South Dakota Rep. Fred Deutsch, who has spearheaded legislative efforts to spare children from the transgender agenda for years, is calling on his constituents to pray for Governor Kristi Noem to stop taking advice from lawyers regarding a bill that would prevent biological men from competing in women's sports, and instead beseech God for advice.
"I ask you to please pray for Governor Noem. Tomorrow is Veto Day," wrote Deutsch on Facebook. "The day will probably define the rest of her political career."

Noem, who recently appeared on Tucker Carlson Tonight to defend caving to the NCAA, who she said would stop allowing the state to participate in national athletic events without transgender athletes, has been lambasted by the populist and Christian movements within the Republican Party for not fighting for her state's female athletes.
"She has had enough bad (and wrong) advice from lawyers about the Fairness in Women's Sports bill. I am praying she seek advice from a higher-up source, from the 'King of Kings,' on what is right to do," Deutsch continued. "This is a fundamental bill that defines what we believe as a people. It's been scrutinized by scores of legal experts from across SD and the nation."
"The bill is sound. It does exactly what the legislature intended. I pray she sees the wisdom in signing it and has the courage to do so."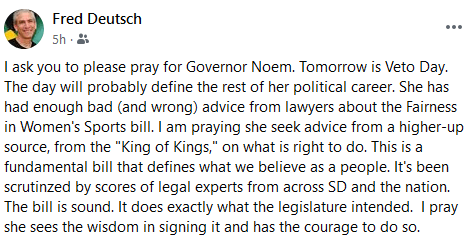 During Noem's appearance on Tucker Carlson Tonight, she claimed that she needed to form a coalition before she could advance legislation preventing transgender women – biological males – from competing in women's sports. On March 23, Deutsch noted that the coalition already seems to be in place, and is simply waiting for Noem to join.
"Today North Carolina becomes the 30th state to introduce a Save Women's Sports Act," wrote Deutsch. "If Governor Noem wants to build a coalition to take on the NCAA, might I suggest 30 state legislatures are way ahead of you."

"Governor Kristi Noem, please sign HB1217. That's how you best provide leadership to save women's sports."
Last year, Deutsch introduced legislation that would make it a felony for doctors to begin the gender "transition" process on minors. The legislation was defeated before it made it to Noem's desk.