Last Updated on February 17, 2022
On the heels of President Trump's visit to Kenosha, Wisconsin, Democratic Presidential nominee Joe Biden made a visit to the city yesterday, speaking to a small group of supporters and meeting with the family of Joe Blake, the accused sexual predator shot during an altercation with police last month.
"Vice President Joe Biden and Dr. Jill Biden today had a very engaging 90-minute in-person meeting with the Blake family," a statement from Blake's attorney Benjamin Crump reads.
"I joined the meeting by phone, as did Jacob's mother and Jacob himself from his hospital bed…The Bidens were so engaged and willing to really listen…They talked about changing the disparate treatment of minorities in police interactions, the impact of selecting Kamala Harris as a black woman as his running mate, and Vice President Biden's plans for change…Jacob shared about the pain he is enduring, and the Vice President commiserated. The Vice President told the family that he believes the best of America is in all of us…"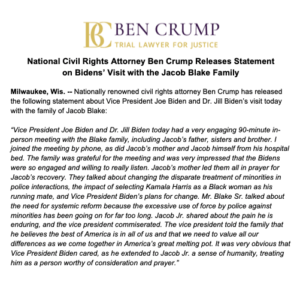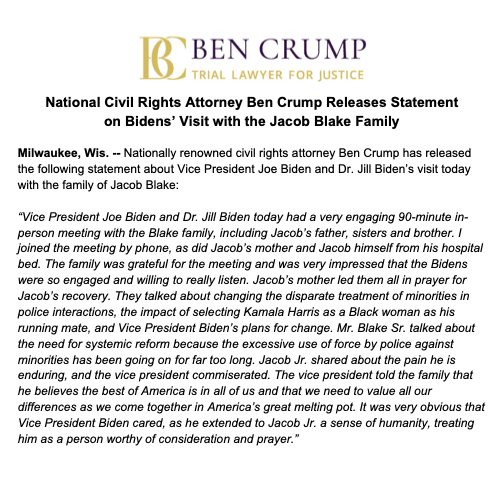 Following the meeting, Biden told reporters that Jacob Blake will not be defeated, citing the family's "optimism" about the largely violent response to Blake's shooting.
"He talked about how nothing was going to defeat him," Biden said. "What I came away with was the overwhelming sense of resilience and optimism that they have about the kind of response they're getting."
The visit to Kenosha was Biden's first appearance outside his home state of Delaware or neighboring Pennsylvania since primary season, as Biden has remained resigned to his home for much of the 2020 campaign, citing health and safety concerns over COVID-19.
While making a stop at Grace Lutheran Church, Biden spoke to supporters as well as leaders of Kenosha's black community, focusing much of the discussion around "racial justice." The sparse crowd in attendance was "socially distanced" from one another, with each member of the audience, as well as Biden, wearing face masks.
While explaining economic plans and policies to the audience, Biden attempted to explain away his reluctance to go into detail and gaffed, "they'll shoot me" for speaking any longer.