Last Updated on October 23, 2022
A black teenager has been arrested after he posed as a member of a fake white supremacist terror group online and made social media posts threatening to shoot every "negro" that he lays "eye contact on" at an Alabama county fair.
18-year-old Pharrell Smith was arrested earlier this month and faces terrorism charges after posing as a white supremacist gang member online and threatening to slaughter black people at an Alabama county fair.
In the post, which he made to Facebook on September 19th, Smith claimed that he and his fellow white supremacist gang members would be "coming to [the] Opelika Alabama fair to kill every NEGRO that we lay eye contact on so be prepared."
The fair that Smith was referencing was actually the Lee County Fair, which is held at the county's fairgrounds in the City of Opelika, the local seat of government.
"WHITE POWER," Smith's post said after his threat, causing public panic and leading to a rapid law enforcement response.
The hoax profile that Smith made the post from was reportedly decked out in Confederate flags.
"Early yesterday, 09/19/2022, the Opelika Police Department was made aware of a racially inflammatory post on Facebook where an individual threatened to shoot attendees of a certain demographic at the upcoming Lee County Fair," local law enforcement wrote in a public statement, announcing that they were launching an investigation into the threatening posts.
"Opelika Police take threats like these very seriously," the police assured the public, announcing that they would be beefing up security at the fair, which was held between October 4th and 8th.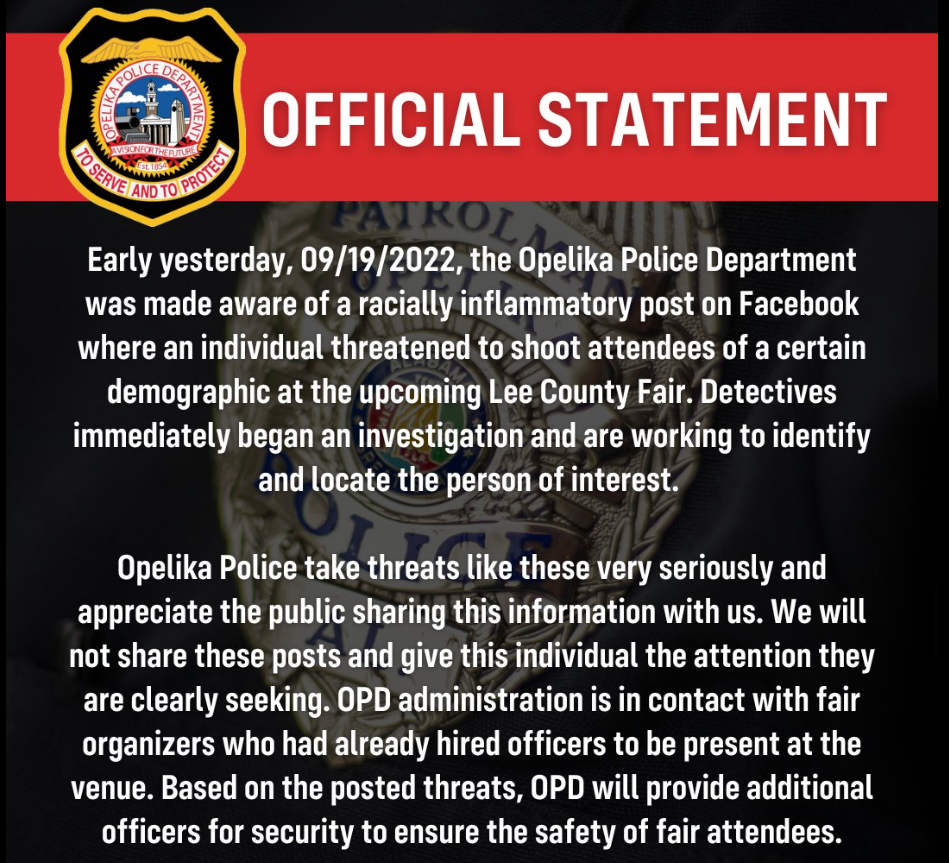 Within weeks of the hate hoax threats, Opelika Police updated the public on their investigation, announcing that they'd been able to "trace the social media account to a residence in Lafayette, AL. Through the investigation, 18-year-old Pharrell Smith was developed as a suspect."
Notably, nowhere in the police department's post do they reveal that Pharrell Smith is black himself, despite his being arrested and photographed on October 6th.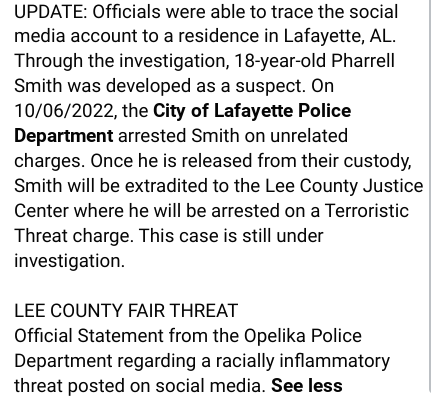 Pharrell Smith is now facing charges of making terroristic threats in Lee County and ranks among the laundry list of hate hoaxers busted in recent years across the country.
Fellow Alabaman, NASCAR driver Bubba Wallace, was caught up in a nationally-publicized hate hoax of his own when he falsely claimed that a threatening "noose" had been placed in his stall at Talladega Speedway.
While corporate media and Democrat politicians ran with the story for weeks, claiming that it was an indictment on white Americans and particularly white Trump-supporting Americans, Wallace's accusations were proven to be a total hoax – even by the FBI.
Media outlets have been quiet on the Lee County, Alabama hate hoax, with even local news only offering stub-style articles and very few details about the arrest of Pharrell Smith.