Virginia GOP Governor Glenn Youngkin took a $100,000 donation from Stephen A. Wynn, an alleged agent of Communist China.
Real estate developer and casino mogul Stephen "Steve" Wynn made the six-figure donation to Governor Youngkin on April 19th, 2023, as reported in campaign finance disclosures made available by the Virginia Public Access Project (VPAP). According to a VPAP overview of Youngkin's war chest, the Spirit of Virginia PAC has received more than $10.4 million in donations since 2021, often from out-of-state benefactors.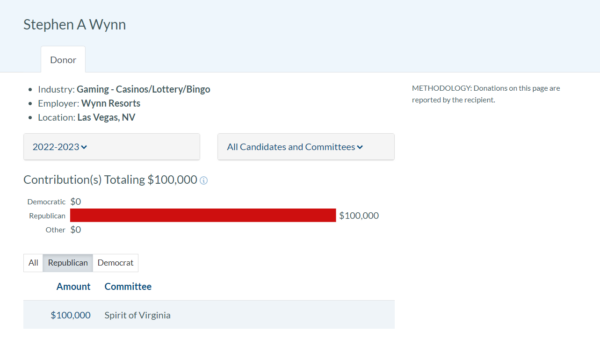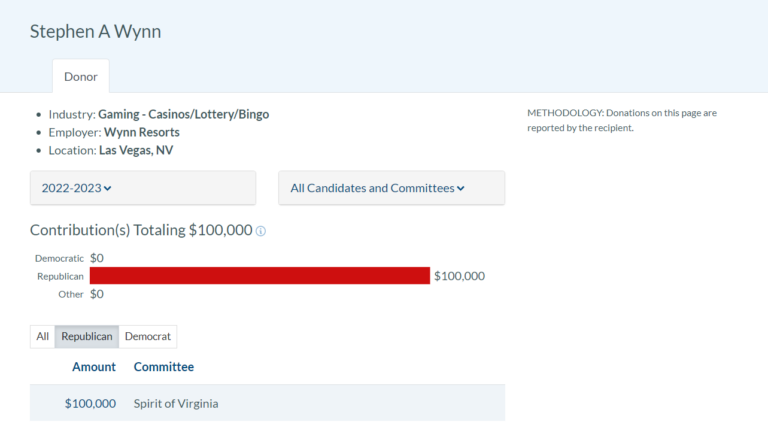 In 2017, Youngkin donor Steve Wynn was reportedly lobbying President Trump to deport anti-Communist Chinese dissent Miles Guo from the United States so that he could face punishment from the Chinese Communist Party, a request that President Trump denied.
In 2022, he was sued by the US Department of Justice for failing to register as a foreign agent of Communist China under the Foreign Agent Registration Act after refusing to do so and insisting that his pro-China lobbying efforts did not make him a foreign agent or a foreign lobbyist.
"The Department of Justice today filed a civil enforcement action in the U.S. District Court for the District of Columbia, seeking to compel Stephen A. Wynn, a U.S. businessperson and hotelier who previously served as the CEO of Wynn Resorts, to register under the Foreign Agents Registration Act (FARA) as the agent of the People's Republic of China (PRC) and a senior official of the PRC's Ministry of Public Security (MPS)," a DOJ statement, dated May 22nd, 2022 reads.
"Wynn was advised to register as an agent by the department but declined to do so," the statement revealed.
Months later, in October of 2022, Wynn's case was dismissed by a federal judge, who accepted Wynn's argument that because he hadn't worked on behalf of China and its communist government since 2017, the DOJ could not retroactively force him to register as a foreign agent.
The news of Youngkin's six-figure donation from an alleged Chinese foreign agent isn't the first time that the Virginia Governor has been linked to the CCP.
As previously reported by National File, in 2019 and 2020, the two years prior to his run for Governor of Virginia, Youngkin joined Chinese Communist Party members, and the World Economic Forum, in Davos, Switzerland, for the WEF's annual globalist summit.
According to a Chinese-language WEF webpage, at the 2019 Davos meetings, Youngkin, then a co-CEO of the Carlyle Investment Group, sat on a WEF panel alongside high-ranking CCP member Fang Xinghai.

On Chinese government websites, Fang is listed as the Vice Chairman of the China Securities Regulatory Commission, a centralized, CCP-dominated governing body.

…

In 2020, Youngkin joined the World Economic Forum again at Davos where he touted the Carlyle Group's adoption of woke capital ESG ideology under his watch. Short for "Environmental, Social, and corporate Governance," ESG has been described as a massive "left-wing corporate power grab."

During his tenure at the Carlyle Group, Youngkin said at Davos, the firm has been "driving ESG initiatives."