Following the ouster of Tucker Carlson from Fox News, many online personalities are calling for an outright boycott of the network and recent polling from the Vince Dao YouTube channel allowed over 13,000 users to express their support for the move. This comes amid a dramatic decline in viewership at Fox News across all demographics.
The poll, posted to Vince Dao's Youtube channel after the announcement that Tucker Carlson was removed as prime time anchor at Fox News, asks users, "Will you be BOYCOTTING Fox News after the Tucker Carlson removal?" With over 13,000 responses, 74% of respondents agree with the boycott.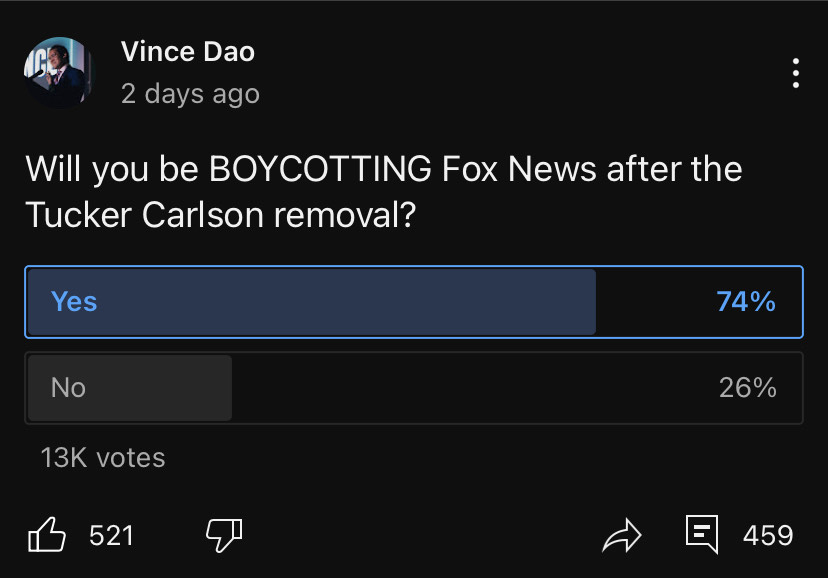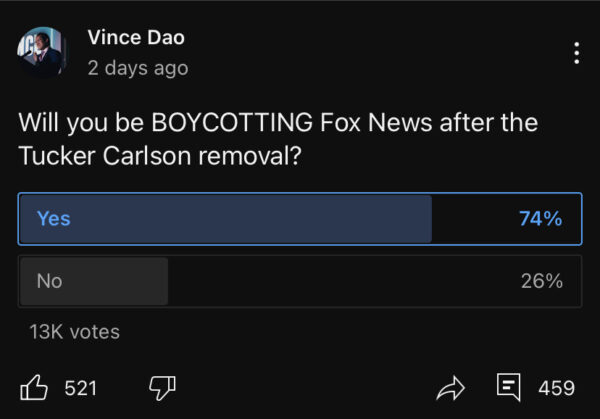 Others are also piling on. Brigitte Gabriel, of ACT for America, took to twitter to declare, "Stand with Tucker Carlson and Dan Bongino! Boycott fox News." Dan Bongino was also removed as a Fox News contributor just hours prior to Carlson's ouster.
https://twitter.com/ACTBrigitte/status/1650942825997955083?s=20
Jenna Ellis, host of the Jenna Ellis Show and Former Senior Adviser & Counsel to President Donald J. Trump also expressed support for the effort, declaring, "They deserve a complete boycott from the right."
They deserve a complete boycott from the right. https://t.co/4xGOmyRNAC

— Jenna Ellis 🐊🇺🇸 (@JennaEllisEsq) April 27, 2023
National File previously reported on the backlash to Fox News' decision to fire Tucker Carlson and the devastating toll that took on their ratings Tuesday night. Fox News lost in the prime time ratings in the 25-to-54 year old demographic without Tucker Carlson hosting the 8 PM Eastern slot, with both CNN and MSNBC topping Carlson's interim replacement in the demo on Tuesday.
But overall viewership also fell from an historic high of 2.3 million to a paltry 1.7 million. The loss, of over 600,000 viewers, is greater than the populations of both Wyoming and Vermont.
The Boycott is only beginning, however, as Tucker Carlson signaled Wednesday evening that he was gearing up to challenge the network directly, posting a video to his Twitter account at 8:00 PM that directly competed with Fox News' prime time show. The video garnered nearly 75 million views, destroying all of his records at Fox News by significant margins.
Watch the video below:
Good evening pic.twitter.com/SPrsYKWKCE

— Tucker Carlson (@TuckerCarlson) April 27, 2023