Last Updated on January 26, 2022
The highly unpopular Dr. Anthony Fauci said it would take "a year to a year and a half to know if we have a [COVID-19] vaccine that we can use" during an interview with Meta CEO Mark Zuckerberg in March 2020, where the two discussed the need for clinical testing and studies before bringing a vaccine to market during the pandemic.
The US Food and Drug Administration issued the first Emergency Use Authorization for the Pfizer and Moderna vaccines in about half that time – just 9 months after Fauci's interview.
A clip of Biden regime medical advisor Dr. Anthony Fauci has resurfaced online, where the unpopular COVID-19 pandemic Czar discussed the subject of coronavirus vaccines with Meta CEO Mark Zuckerberg during a virtual interview on March 19, 2020.
In the video, an eager and fidgety Zuckerberg asked Fauci about how the United States government was positioned when it came to the ongoing development of the now-controversial injections that have ultimately failed to prevent individuals from catching or spreading COVID-19.
Fauci responded, "If this were, you know, 10, 15, 20 years ago, and it was for any vaccine that we wanted to make, you would say a vaccine, from the time you start to the time its approved to be safe and effective, is several years – Five, six, seven years. That's unacceptable for now."
"So what happened, is that as soon as we got the sequence of the virus from the Chinese, we pulled it out of the public database and stuck the gene into a vaccine platform and worked on it literally within a day of when it came out. 65 days later, namely two days ago, we gave the first injection to a normal volunteer for a phase 1 trial to see if it's safe. That's the fastest it's ever been done. That's the good news," he continued.
Then, Fauci made a series of statements that may come as a shock to some today, given that as of January 25, 2022, vaccinated people continue to be infected with COVID-19, and adverse reactions to the injections, such as myocarditis, continue to be observed.
What was Fauci really saying?
"The challenging news is that even at that rocket speed, it's going to take a few months to show that the initial safety is okay. Then, you go into a phase 2 trial, which instead of involving 45 people, which we have in the phase 1 trial, it involves hundreds if not thousands of people. That will take another six to eight months to even know if it works," he said, perhaps referring to the development of Moderna's COVID-19 vaccines, which appear to have begun phase 1 trials in mid-March 2020 just days before the interview took place.
The Pfizer COVID-19 vaccine phase 1 trials in the US appear to have started on May 4, 2020.
A "few" can be described as any number as low as two, meaning that phase 1 trials for Pfizer would have taken until early July of 2020, or later, to determine if the injections were safe for Americans, according to Fauci's claims. Utilizing Fauci's reasoning, at a minimum, it would have taken until at least early January 2021 for Pfizer's phase 2 trials to know if the injections worked – ultimately surpassing the timeline laid out by Fauci by weeks.
Moderna's phase 1 vaccine trials, using the same logic, would have taken until mid-May, or later, to ensure that the injections were safe. From there, according to Fauci's claims in March 2020, phase 2 trials would have been going on, to ensure that the injections worked, until at least November 2020.
Phase 3 clinical trial results for Pfizer's "Comirnaty" vaccine, which isn't even available in the US, as well as Moderna's vaccine, demonstrated "94% to 95%" of "protection from the disease," according to "peer reviewed data" released in early January 2021.
However, it is unclear how vaccines that are nearly 100% effective at "protecting" people from COVID-19 manage to fail at preventing people from being infected with, and spreading, coronavirus – or why USA Today had linked to a study regarding injections that zero US-based Americans have received in a "fact check" article about the controversial vaccines.
Did Fauci lie or did the FDA rush the approval of the COVID-19 vaccines?
Despite all of this, Fauci then immediately told Zuckerberg that it would take 12-18 months for the US government to know if the vaccines could be used. According to him, it was the "fastest" rate they could possibly go with respect to COVID-19 vaccine development.
"So at the fastest we can go, it's going to take a year to a year and a half to know if we have a vaccine that we can use," Fauci told Zuckerberg in March 2020. Emphasis added by National File.
If Fauci's professional expertise was accurate or honest during the interview, it would mean that the US would not have really known if they manufactured a useful vaccine until at least mid-March 2021, over three months after the Food and Drug Administration (FDA) granted Moderna's injections Emergency Use Authorization (EUA). At most, it would have taken until mid-September 2021, and Fauci would be a whopping nine months off.
In the case of Pfizer, Fauci's estimate seems even more inaccurate. As the Pfizer vaccine phase 1 trials appear to have begun in early May 2020, it would mean, using Fauci's reasoning at the time, that US government would not have really known if the injections were to be used until at least May 2021, a staggering 5 months after the FDA granted Pfizer injections EUA.
At the latest, Fauci's statements suggested that Pfizer's imminent vaccine trials would have taken until November 2021 to be complete. His claims were ultimately off by nearly a full year – about 11 months after the FDA granted Pfizer injections EUA.
To be fair, Pfizer's trials had not begun at the time of the interview. Though, seeing as Moderna and Pfizer are both messenger RNA vaccines (mRNA), it begs the question of how it would make any difference.
Fauci then explained to Zuckerberg that if "we cycle to another season, that's when a vaccine is going to be very relevant." This claim would coincide with the aforementioned logic, suggesting that Fauci at the time expected the injections to be given EUA several months into the year 2021.
Fauci explained how vaccines can sometimes "enhance" the infection that they were supposed to stop
After discussing clinical trials and safety, Zuckerberg than asked Fauci, "Why not push harder on rolling [the vaccines] out more aggressively even if you don't know exactly how effective it is? What's the public health rationale and thinking behind needing to prove it's extremely effective before rolling out something that you know is safe?"
Fauci's reply may come as a shock to some. The remarks were so explosive that it prompted "fact checkers" to do damage control in December 2021 when clips of the reaction resurfaced online.
"Okay, that's a good question. The initial safety study, Mark, is to see if I inject it in their arm, does it have some sort of idiosyncratic or bad reaction. There's another element to safety," Fauci explained.
"And that is, if you vaccinate someone, and they make an antibody response, and then they get exposed and infected, does the response that you induce actually enhance the infection and make it worse. And the only way you'll know that is if you do an extended study, not in a normal volunteer who has no risk of infection, but in people who are out there in a risk situation. This would not be the first time, if it happened, that a vaccine that looked good in initial safety actually made people worse." Emphasis added by National File.
Then, Fauci explained the history of the 1966 respiratory syncytial virus vaccine for children, which he admitted "paradoxically made the children worse."
Fauci further described how "one of the HIV vaccines that we tested several years ago actually made individuals more likely to get infected." Emphasis added by National File.
"So you can't just go out there and give it, unless you feel that in the field, when someone is getting infected and exposed, being vaccinated doesn't make them worse. That's why you have got to do a trial," Fauci concluded.
"Yeah, that's important to get out there," Zuckerberg concurred.
Is myocarditis safe?
On May 24, 2021 National File published a report titled "BREAKING: CDC Investigating Multiple Reports Of COVID Vaccine Causing Heart Inflammation In Adolescents" and subsequently posted a link to the report on Twitter. The big tech giant ultimately attempted to censor the story by falsely labelling it "misleading" and eliminated the ability to like or reply to the tweet containing the link.
Less than 24 hours later, National File reported on an 18-year-old in Kenmore, Washington who had been hospitalized with a case of myocarditis – a potentially fatal inflammation of the heart – after taking a second dose of the Pfizer vaccine, thus confirming National File's previous reporting on the subject.
On June 21, 2021, National File reported that 13-year-old boy died three days after taking a second Pfizer injection. Preliminary autopsy results indicated that following vaccination, the boy's heart had become enlarged and surrounded by fluid, a symptom similar to what had previously been reported.
"The @CDCgov needs to investigate this," the deceased child's aunt wrote on Twitter. "There have been other cases of myocarditis in young men receiving their 2nd @pfizer shot. Have others died from it in the United States or is my nephew the first?"
After the story was posted to Twitter, once more, the social media company attempted to censor it by suspending National File's Twitter account for 12 hours for supposedly "spreading misleading and potentially harmful information related to COVID-19."
Five days later on June 26, 2021, the FDA added a warning to patient and provider fact sheets to the Moderna and Pfizer vaccines, indicating that they in fact may cause increased risk of myocarditis and pericarditis heart inflammation.
The CDC maintains that myocarditis is a rare side effect after vaccination.
False promises, "waning immunity," definition changes, and more COVID-19 deaths
In the early months of Joe Biden's mass vaccination campaign, government health officials and media pundits insisted that the vaccines would prevent the transmission of COVID-19. In the end, they were proven wrong.
Let's go back in time to 3/29/21

"No we know that the vaccines work well enough that the virus stops with every vaccinated person… The virus does not infect them…It cannot use a vaccinated person as a host to get more people." pic.twitter.com/kwsDIPYl2E

— Aaron Ginn (@aginnt) December 26, 2021
On July 9, 2021, Pfizer admitted that the immunity provided by their injections was "waning" after six months, prompting the need for "booster" injections amid a surge in Delta variant cases.
"As seen in real world data released from the Israel Ministry of Health, vaccine efficacy in preventing both infection and symptomatic disease has declined six months post-vaccination," they admitted to the media in a statement.
Meanwhile, during a CNN Town Hall on July 21, Biden claimed that "You're not going to — you're not going to get COVID if you have these vaccinations," as he urged Americans to get injected.
August 5, 2021, the Moderna admitted that their injections only lasted for 6 months. Like Pfizer, they insisted that "booster" injections would be necessary to curb the Delta variant.
As Americans continued to be infected with COVID-19 despite being vaccinated, the CDC subtly changed the definition of the word "vaccine" from "a product that stimulates a person's immune system to produce immunity to a specific disease," to "a preparation that is used to stimulate the body's immune response against diseases" – disappearing the word "immunity" from the definition completely.
The government and their mouthpieces in the media then pivoted their language, insisting that while the injections do not prevent individuals from catching or spreading the virus, they still "protect" people from hospitalization and death.
This can be observed in the case CDC Director Rochelle Walensky, who in early October 2021 confessed "Our vaccines are working exceptionally well. They continue to work well for Delta with regard to severe illness and death, but what they can't do anymore is prevent transmission."
(READ MORE: Could AIDS Be Considered A 'Vaccine' Under CDC's New Definition?)
According to vaccine data from Statista, over 313 million Pfizer-BioNTech COVID-19 vaccine doses have been administered in the United States since the injections were granted EUA by the FDA on December 11, 2020, making them the most popular vaccine in the country. Moderna is in second place, with over 200 million doses administered to Americans since the FDA granted the injections EUA on December 18, 2020.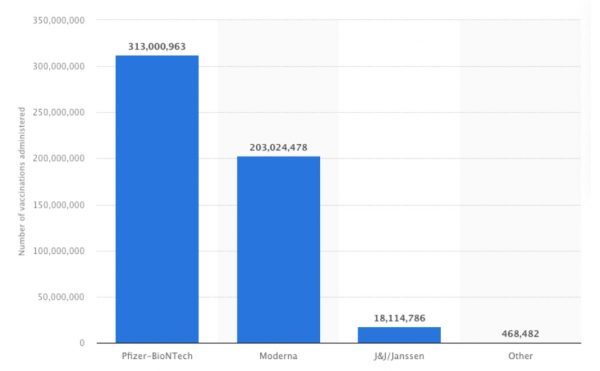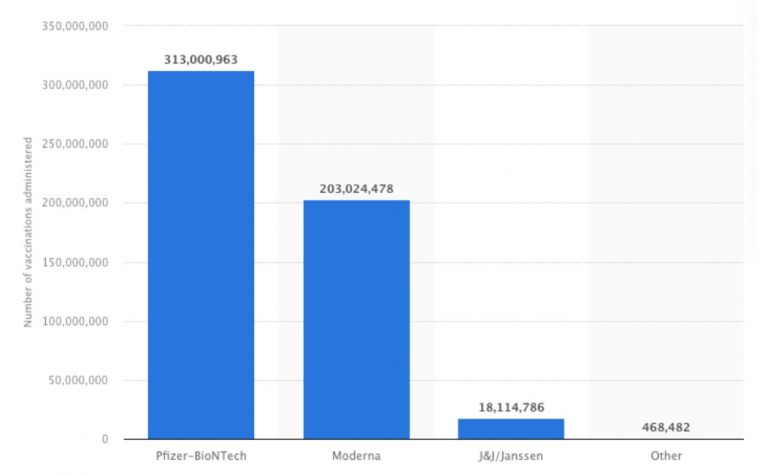 Despite the Biden regime's mass vaccination campaign effort, encouraged by Fauci, who is currently floating the idea of Americans receiving a fourth booster injection, COVID-19 deaths in the year 2021 surpassed the total for 2020.
While Biden mistakenly maintains that the ongoing pandemic is one of the "unvaccinated," fully vaccinated Americans continue to be infected with COVID-19 amid the newly discovered Omicron variant.
This comes as European Union regulators, as well as Israeli government health panel experts, warn that COVID-19 booster injections may cause what was described as "immune system fatigue," compromising the body's ability to fight the coronavirus, and ostensibly, other diseases.