Last Updated on November 9, 2020
Media reports that Brits are setting fireworks to celebrate Joe Biden's "victory" are massively overstated, with Bonfire Night being celebrated this week.
Mainstream news outlets prematurely called the election for Biden on Saturday, despite there being a number of states that are going to recounts, like Georgia and Pennyslvania, and with other states, such as Arizona and Nevada, being too close to call at the time of writing.
These same mainstream news outlets then also declared the rest of the world was celebrating the apparently imminent departure of President Trump from the White House.
"Fireworks lit up the night sky over London, England, after Joe Biden was characterized to be the apparent winner of the presidential election," wrote ABC, while The Hill declared that "fireworks [were seen] in London, Edinburgh, as Biden win celebrated abroad." Slate collated some of the "best celebrations of Donald Trump's electoral defeat," arguing that "the rest of the world is also glad to get rid of Trump."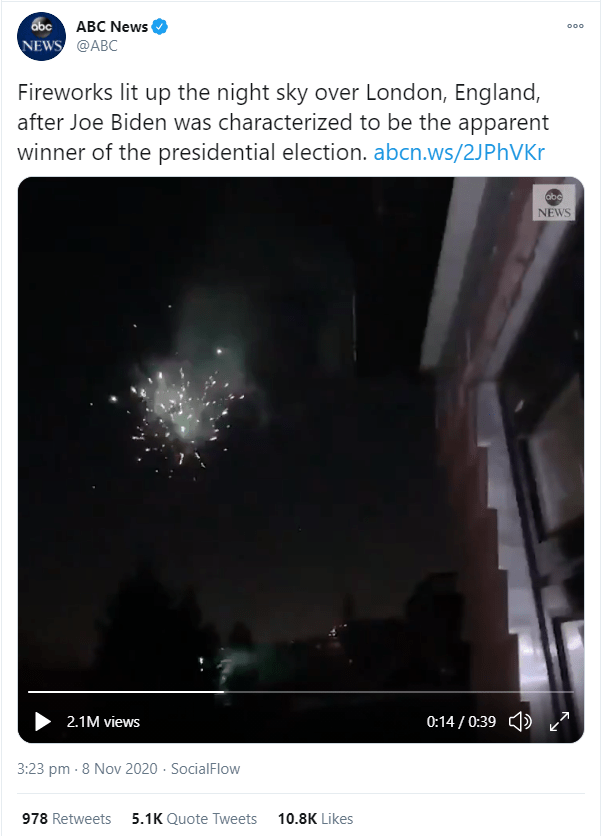 WATCH: Fireworks in London, Edinburgh as Biden win celebrated abroad https://t.co/dqPLRPso6i pic.twitter.com/xAOzXP79AU

— The Hill (@thehill) November 8, 2020
They included a few tweets from Brits with videos and reports of fireworks supposedly celebrating Biden's ascension:
Fireworks in London. This isn't a US celebration, it's a worldwide one. Let the healing begin.

— Lauren S. Hissrich (@LHissrich) November 7, 2020
Fireworks for #bidenharis2020 here in SW London. We're celebrating with you, America. It's a much longer for win for us, too. pic.twitter.com/2UiPW5Ftyq

— Nikki Baughan (@NikkiBaughan) November 7, 2020
Even here in the UK my neighbours are setting of fireworks and shouting in celebration of Biden's win pic.twitter.com/5GVv3HokHe

— N.B 🥔 (@Eternal_Stress) November 7, 2020
Fireworks in London. We're celebrating with you, congratulations America! #bidenharis2020 pic.twitter.com/fbUhiDnnTX

— ✪ Sara ✪ (@SaraGuitaray) November 7, 2020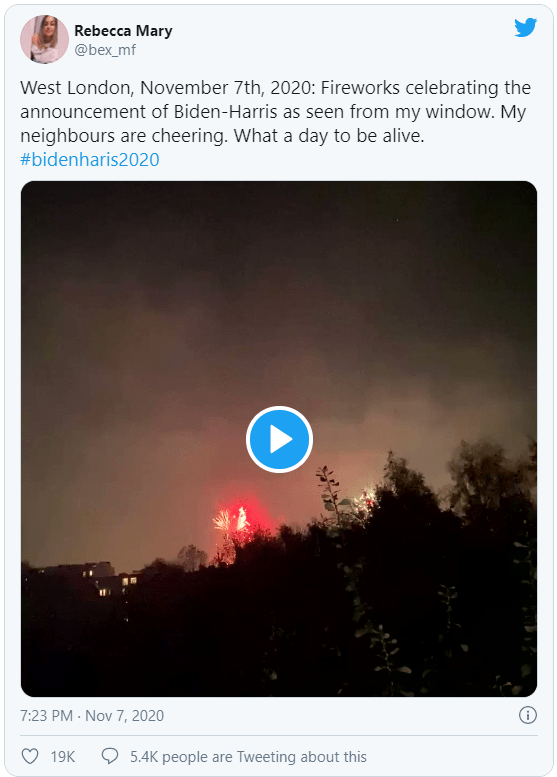 I'm not sure what Edinburgh is celebrating, but I'm claiming it's for Biden and Harris! 🥳 #bidenharis2020 pic.twitter.com/Baovybu4XN

— Sebastian Pohl (@SebastianPohl) November 7, 2020
However, what these outlets failed to mention is that it is highly unlikely any of the firework displays included in their reporting had anything to do with the American election.
November 5th is Bonfire Night in the United Kingdom, where Brits celebrate the foiling of the Gunpowder Plot to blow up Parliament and assassinate King James I in 1605 by Guy Fawkes and his co-conspirators. Traditionally, bonfires would be built, and a model of Guy burned on the 5th, and the celebrations would be complete with fireworks.
READ MOREL FACT CHECK: No, The English Language is Not More Likely to Spread Coronavirus
In modern times, the party is sometimes shifted to the Friday or Saturday if the 5th falls on a work day, so people have time to celebrate properly. Others celebrate at any point during the week, especially if they have spare fireworks. Brits would have seen fireworks go off across the country all from at least Monday through Saturday last week, this author included.
It didn't take long therefore, for Brits to pick up on the reporting, and begin mocking it:
https://twitter.com/GerardBattenUK/status/1325548292273561600
Umm… you guys should deffo google what happens around this time in November in London every year… https://t.co/L8wyCBZ29b

— Tom Harwood (@tomhfh) November 7, 2020
Sixteen million followers. And they now all know you're thick as mince. 😂😂😂

— Dick Delingpole (@DickDelingpole) November 8, 2020
Oh honey, this is to celebrate something quite different. Google it: it's crazy.

— Tim Stanley (@timothy_stanley) November 8, 2020
IT's CALLED BON FIRE NIGHT!!!

Or do you yanks eat turkey in November in celebration of our Christmas light switch ons???…

— Donella Frump (@Rogers_Forager) November 8, 2020
Fun fact: #BonfireNight was widely celebrated in the 13 colonies, and was an especially big deal in Massachusetts. George Washington ordered people to stop marking it because he hoped to win Canada, with its sizeable Catholic population, to the revolution. pic.twitter.com/s60mNBci4U

— Daniel Hannan (@DanielJHannan) November 8, 2020
Certified Brit @JackHadders tells me the fireworks are for "bonfire week" (some monarchist holiday) in Britain and that this story is bullshit. https://t.co/OPBwj8DNT3

— Pete D'Abrosca (@pdabrosca) November 8, 2020
After facing much ridicule from the British public, many outlets then swiftly deleted their tweets, Facebook posts, and articles, or updated them to better reflect reality, without any corrections.
An earlier version of the story from The Hill, which was also reported in Slate, included a claim that church bells in Paris were ringing to celebrate, but this was also untrue.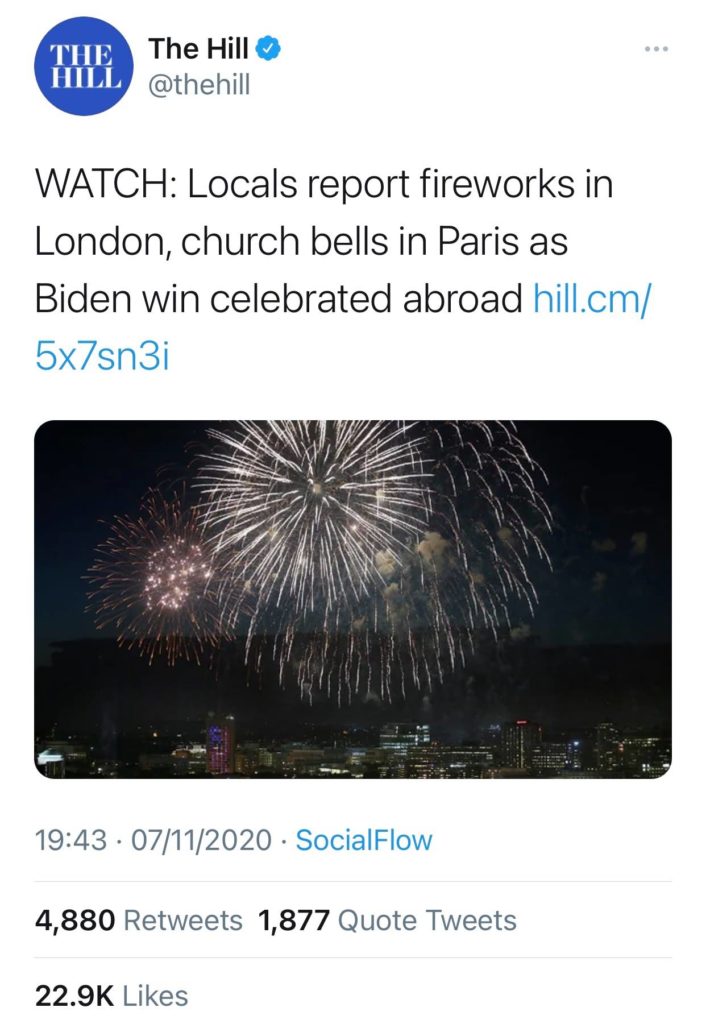 "I live in Paris, I didn't hear a single bell ringing, I went to check the news to see if it was me who heard nothing, not one article about a single bell ringing, so it's either a very isolated church no one gives a shit about or it's plain old storytelling," one commentor said.
Another added that due to the strong French separation of Church and State, "we'd never ring the bells of any church for an election, especially not a foreign one." Someone else replied that there is a video circulating showing ringing bells, but that they're "obviously not for Biden. It's either Vespers or some say it was in remembrance of the victimes of the attack in the church in Nice."
https://twitter.com/CentristeModere/status/1325373322444615680
"In any case, it's infuriating to see Americans once again think the world revolve around them and that we would ring bells for their election," they added.