Last Updated on October 20, 2020
In what could be seen as collusion to commit election interference, the Biden campaign has hired former social media giant executives to marshal their campaign for the presidency into the final stretch.
Twitter is still blocking the New York Post over its coverage of Hunter Biden's laptop contents even as new and more damaging information looms. This coincides with the hiring of Jessica Hertz from Facebook and Carlos Monje from Twitter by the Biden campaign.
Hertz was an executive focused on government relations with Facebook. Prior to her tenure with Facebook, she served as principal deputy counsel in the Office of the Vice President from 2012 to 2014, years the office was held by Biden.
As for Monje, he was Twitter's director of public policy before being reunited with Biden. Monje worked on the Obama White House's Domestic Policy Council.
Both would have influential relationships with former colleagues at the two social media companies.
But the connection that truly shoots up a red flag is the one between Anna Makanju and the Biden campaign.
Makanju is "a public policy and legal expert working at Facebook, where she leads efforts to ensure election integrity on the platform," this according to her bio at the Atlantic Council. It was the position she held prior to this that is of concern.
According to that same bio, prior to working at Facebook, Makanju "was the special policy adviser for Europe and Eurasia to former US Vice President Joe Biden, senior policy adviser to Ambassador Samantha Power at the United States Mission to the United Nations, director for Russia at the National Security Council, and the chief of staff for European and NATO Policy in the Office of the Secretary of Defense."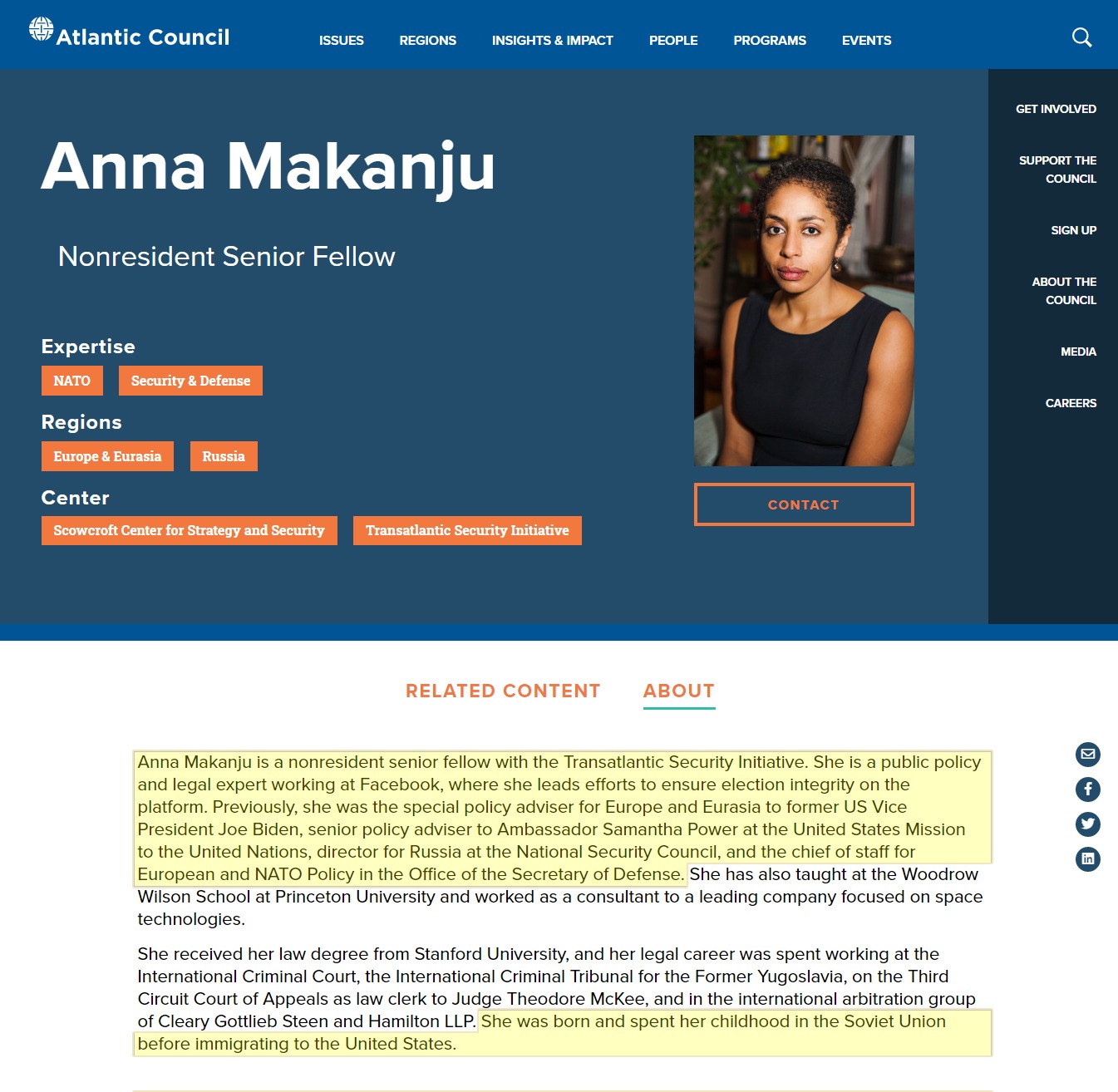 Makanju was born in the Soviet Union, where she spent her childhood, before immigrating to the United States.
Makanju's triangulated connections to Biden, Facebook, and her Soviet Russian roots raises questions not only about the censorship of Hunter Biden's laptop information, but influence Russian and Ukrainian oligarchs may have with the former-Vice President outside of their relationships with his son.