Last Updated on September 1, 2021
A Facebook and Google partner that uses artificial intelligence to compile data from tracking people's web history has put together a report that outlines ways to mentally program people to get the Coronavirus vaccine. NATIONAL FILE has obtained a copy of the cynical report from Resonate, a company based in Reston, Virginia in the Washington, D.C. area that goes out of its way to denounce "racism" and employs executives who previously worked for the Washington Post, AOL and other corporations. The report is called Moving The Needle: How To Reach The Vaccine-Hesitant And Resistant. The report gives tips on how to manipulate people's values of "safety," "reputation and public image," "social clout," and even their religion and shopping habits to coerce them to get the vaccine. The report explicitly states, "DRAW THEM TO VACCINATION SITES BASED ON THEIR SHOPPING PREFERENCES." The report also compiles information on the children of vaccine-hesitant people and vaccine resisters.
Resonate's listed partners include Facebook and Google. Resonate acknowledges that its data collection allows its clients to "gain a deeper understanding of every consumer who engages with your digital media presence across all platforms including Facebook, Linkedin, etc." This Facebook and Google partner has used people's personal information to build an extremely creepy profile of the "Vaccine-Hesitant" community. And Resonate makes it clear that they are tracking people's "web traffic" in order to build their research. Here are some screenshots from Resonate's website describing how they get their information from "web traffic" and how they partner with Facebook, Google, Oracle, and others.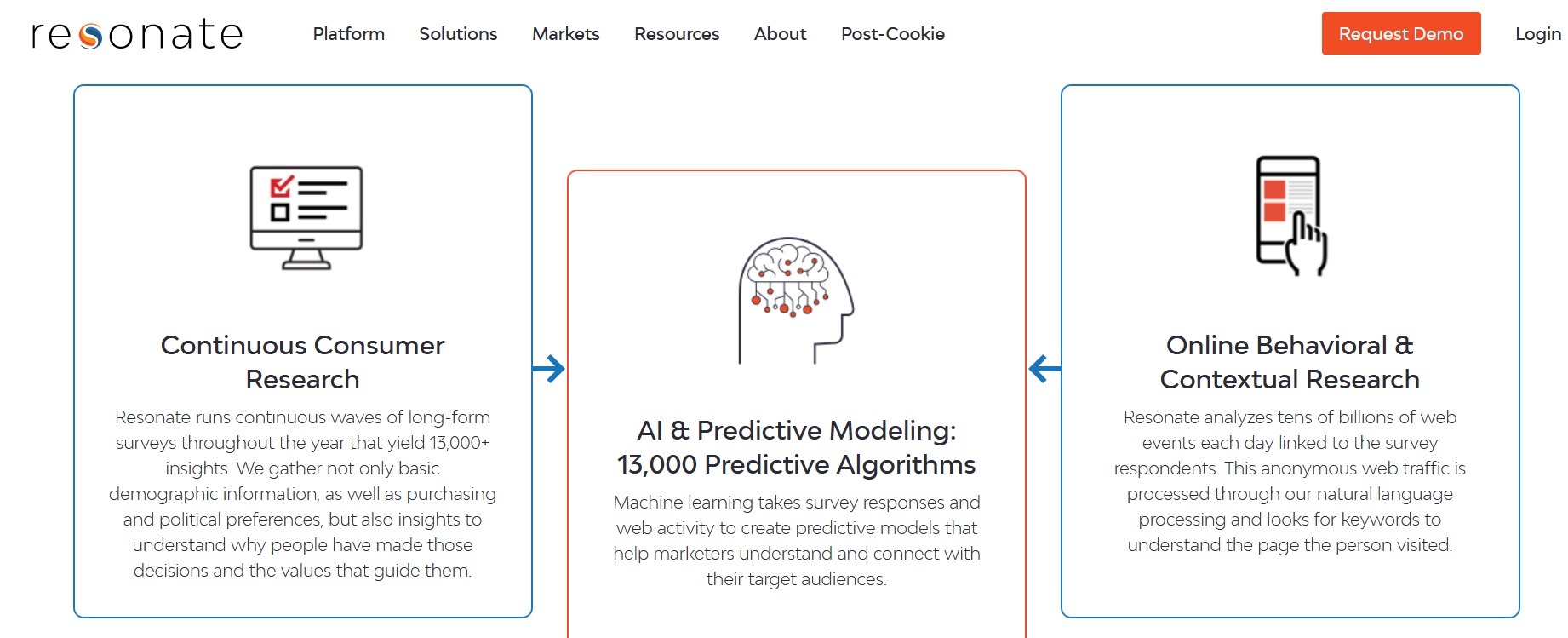 Here are some pages from Resonate's Vaccine Hesistancy Report: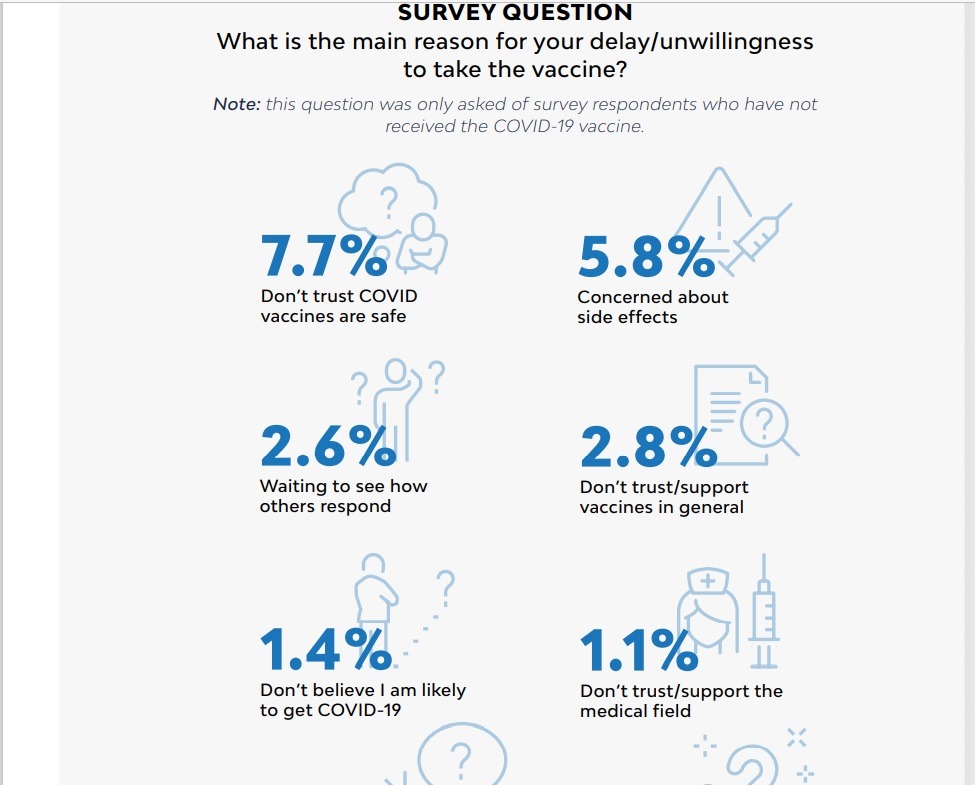 Resonate is profiling people who don't want to take the vaccine, and paying attention to the number of children they have.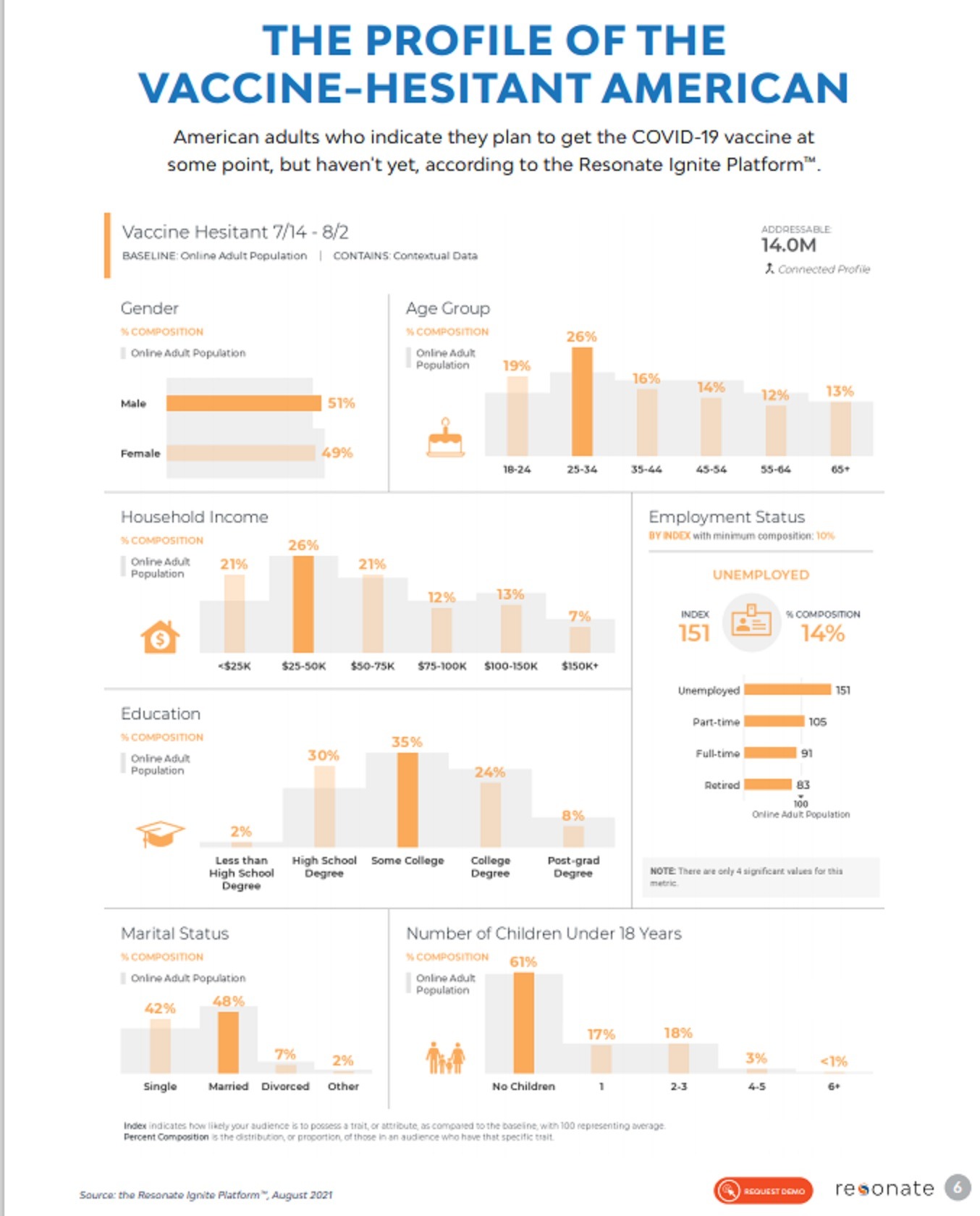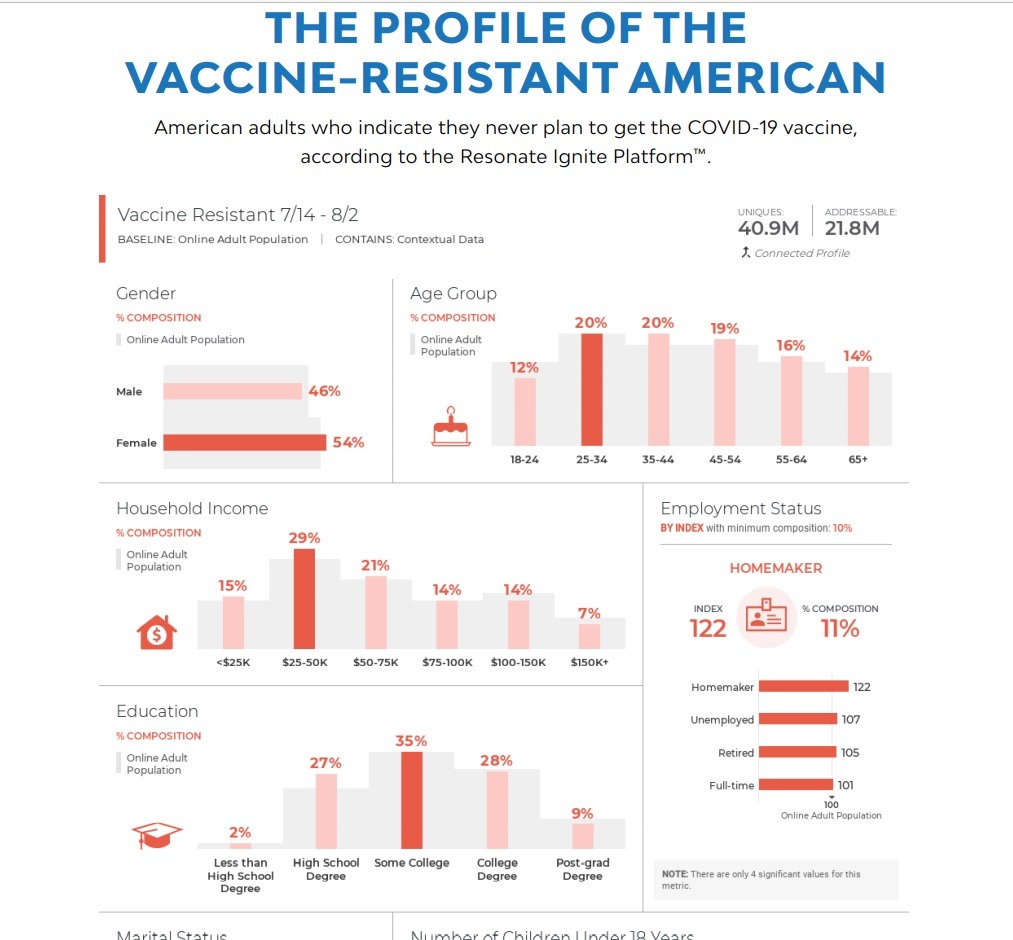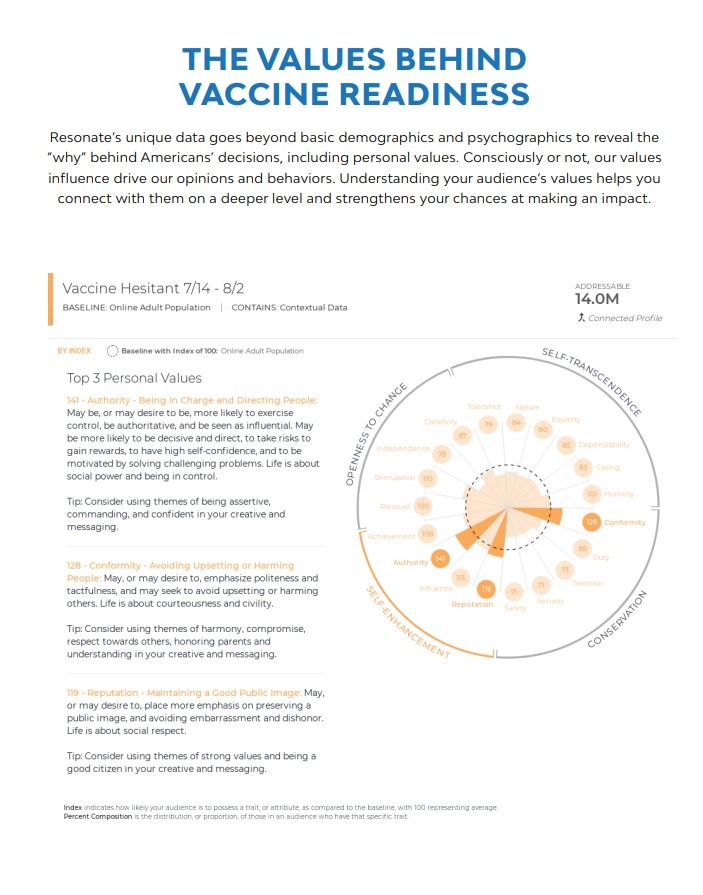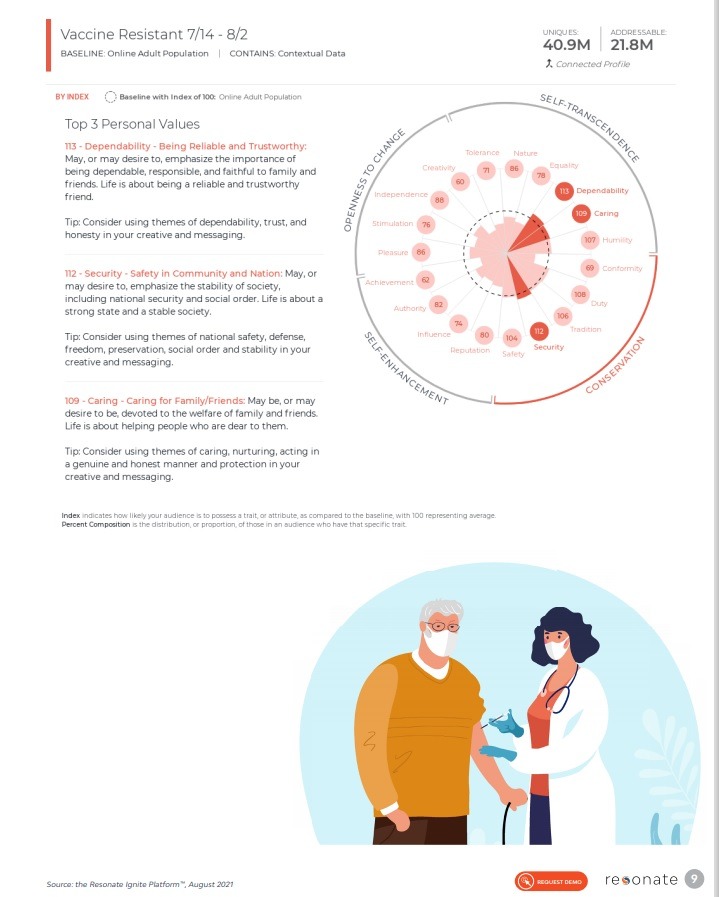 Resonate offers "5 TIPS FOR REACHING THE UNVACCINATED" including "APPEAL TO THEIR CORE VALUES AND DRIVERS," stating, "consider emphasizing the social clout from getting vaccinated" and "DRAW THEM TO VACCINATION SITES BASED ON THEIR SHOPPING PREFERENCES."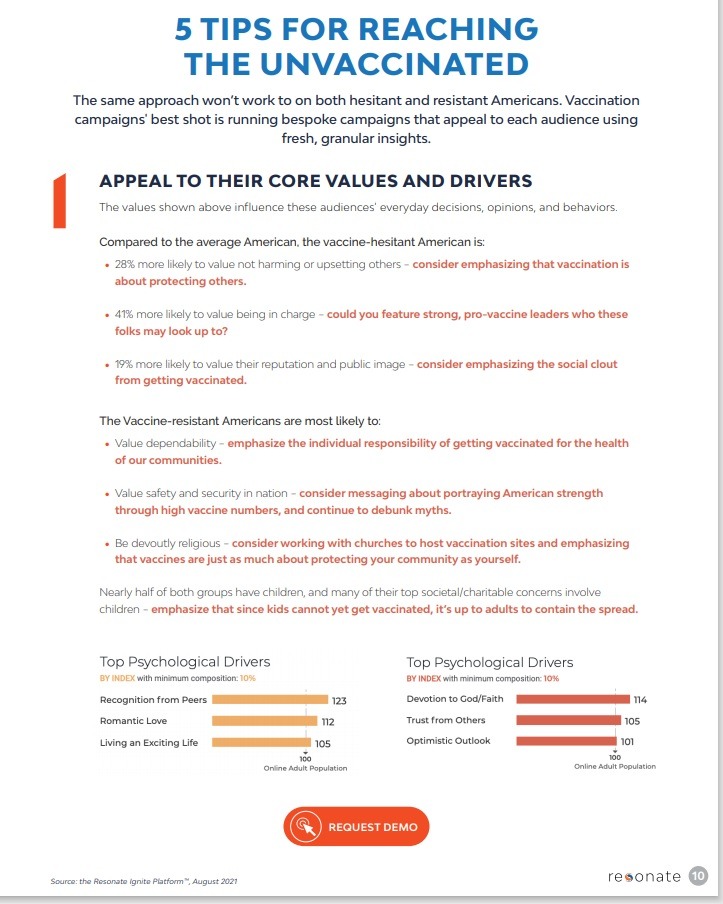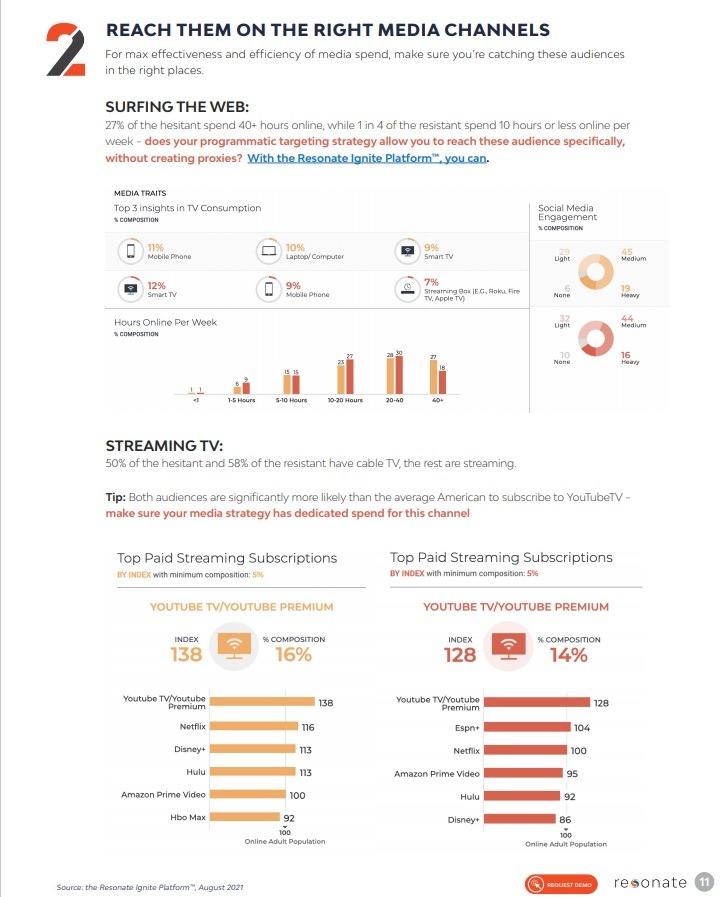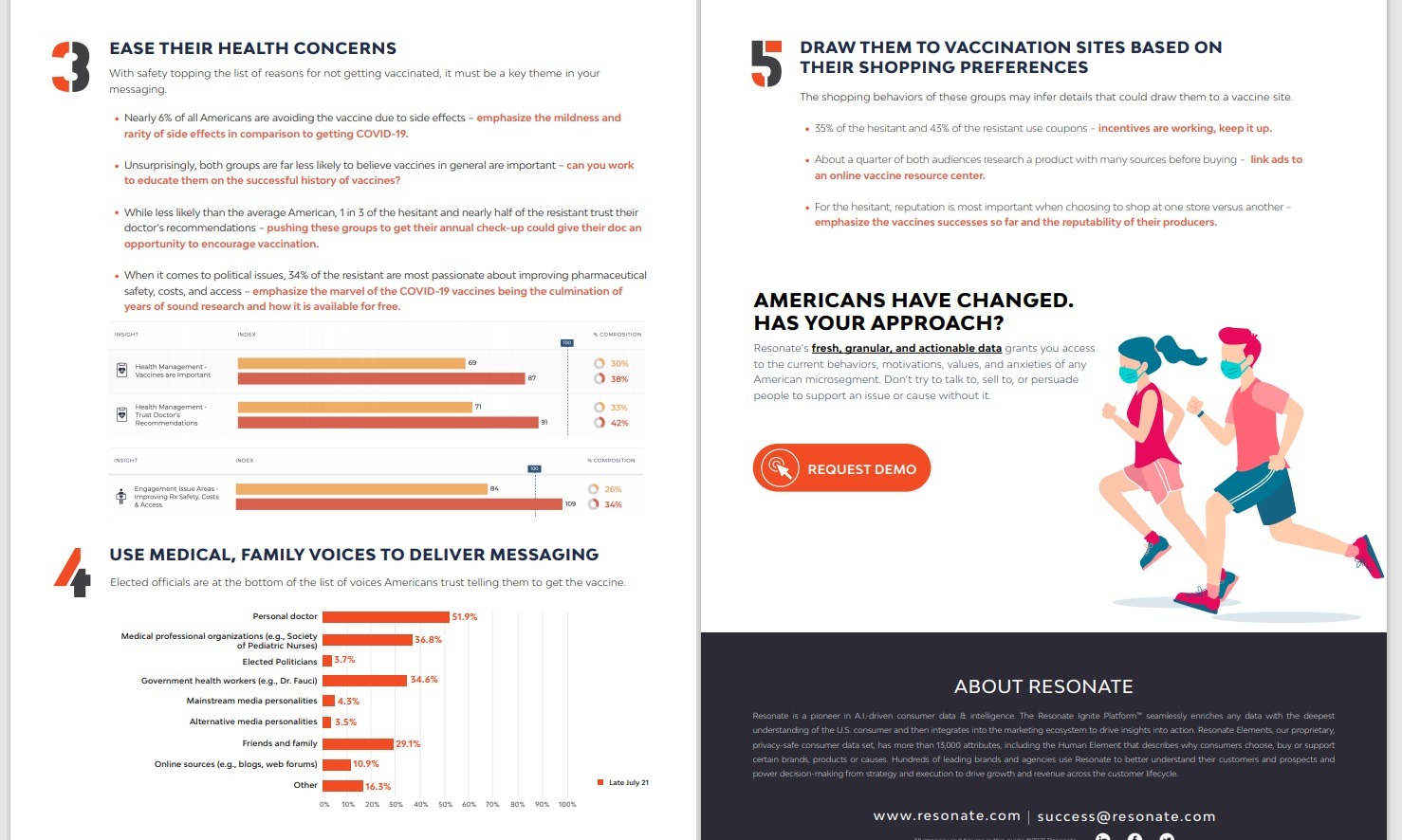 The Resonate company is drenched in social justice activism. On its website the company Resonate states, "We denounce prejudice by embracing diversity. We support the equal rights and equal treatment of all people. We recognize each of us needs to be a catalyst for change, to illuminate the best in all of us, to help build a better country, where intolerance of any race, religion, or culture will not be allowed to stand."
On June 4, 2020, the company's CEO stated: I am appalled by the tragic and gut-wrenching events that unfolded this week. Respect, inclusion and diversity serve as a foundation of our company's culture, the basis of our strength and the fuel for our innovation and shared success. We don't tolerate racism and we stand against racism in any form. We believe the only path forward is an inclusive society that treats all people equally, with dignity and respect. As a company, our emphasis has always been on understanding people and the richness of who we are as unique individuals. With this central to our culture, we stand for the equality of all people, for our freedom of expression and for the pursuit of liberty. We denounce prejudice by embracing diversity. We support the equal rights and equal treatment of all people. We recognize each of us needs to be a catalyst for change, to illuminate the best in all of us, to help build a better country, where intolerance of any race, religion, or culture will not be allowed to stand."