Last Updated on October 14, 2019
A Twitter user going by the name Suzannah Pierce faced an enormous Twitter backlash after posting a picture of her dog with a sign reading, "If I can be vegan, so can you #vdog."
Pierce, the Twitter user, sparked an uproar after revealing her carnivorous quadruped's supposedly voluntarily vegan diet.
The dog appears to be thin in the unflattering photo.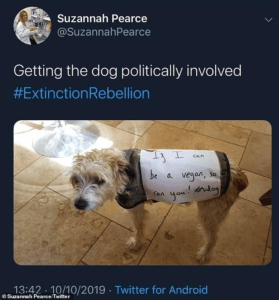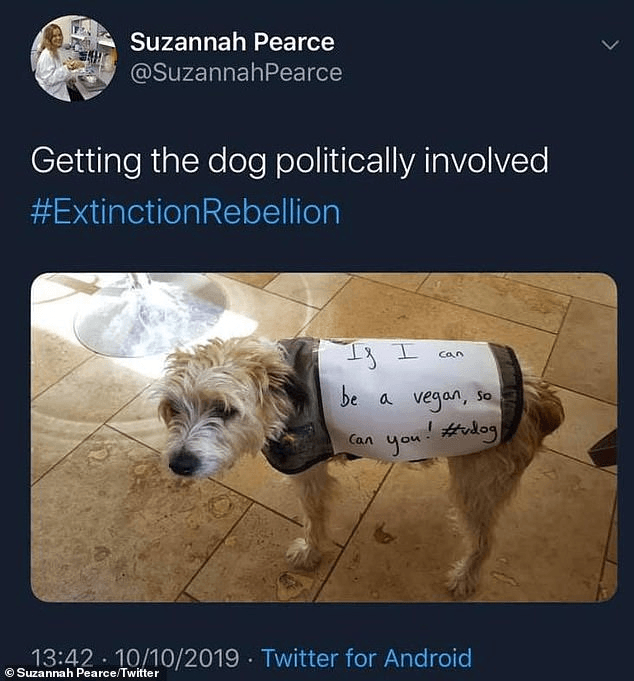 Twitter users didn't take too kindly to the miserable looking dog, who would probably gorge on meat if given the opportunity.
— Richard Negus (@TrooperSnooks) October 12, 2019
Pierce, who writes "Crazy plant lady and proud" on her bio received several pics from Twitter users posting images of their hounds with signs in response to the original post.
— Noam Blum (@neontaster) October 12, 2019
The dog in question, according to its owner, eats the food 'willingly.' However, Twitter users were dubious at this claim.
— Battle Beagle (@HarmlessYardDog) October 12, 2019
Sadly, this isn't the first time vegan pet owners have come to light attempting to impose a vegan diet on their naturally carnivorous pets.
Last year, cat owners were advised that they could be breaking the law if they were feeding their pet an exclusively vegan diet.
Another pet owner faced a massive backlash after placing their cat on a vegan diet.
In August, a baby was left severely malnourished after her parents fed her an exclusively vegan diet. Her parents were sentenced to an 18-month jail term, served as a community order.
In recent years, a moral question arising both meat consumption and 'speciesism' has irrupted into the mainstream.
First, meat consumption has been associated with climate change and population growth, with pundits and politicians calling for a curbing of global meat consumption.
Second, speciesism, in part, seeks to include the welfare of all creatures in moral questions.
Spanish vegan transfeminist anti-speciesist activists stormed a farm out of concerns that chicken hens were incapable of consenting to sex from roosters, and were, therefore, being raped.
Vegan Activists Segregate Hens From Roosters 'So The Hens Aren't Raped'