Last Updated on July 21, 2021
In an email obtained by National File, Wrenzie Rice, the wife of U.S. Rep. Tom Rice (R-SC), described supporters of President Donald Trump as members of the "Trump cult" and likened the 45th President to genocidal dictator Adolf Hitler, one of the most evil villains in history.
Just days after Rep. Tom Rice voted to impeach President Trump for his alleged role in the mostly peaceful protests that erupted at the U.S. Capitol on January 6, his wife received a note of support for her husband's planned vote, and in response referred to President Trump's supporters as the "Trump cult" and likened the 45th President to Hitler. Wrenzie Rice also promised that he would not waiver in his support for impeachment. National File also understands the person Wrenzie Rice communicated with was not a constituent of her husband. National File obtained the email from a senior South Carolina Republican Party official.
"Thank you [REDACTED]," wrote Wrenzie Rice. "Thank you for the nice note of support and encouragement. Tom has not waivered one bit on his vote, but the Trump cult runs strong. Sometimes I wonder if this is how Hitler came to power – we very much appreciate your prayers! Note will be sent to Tom. Thanks again, Wrenzie (his wife)".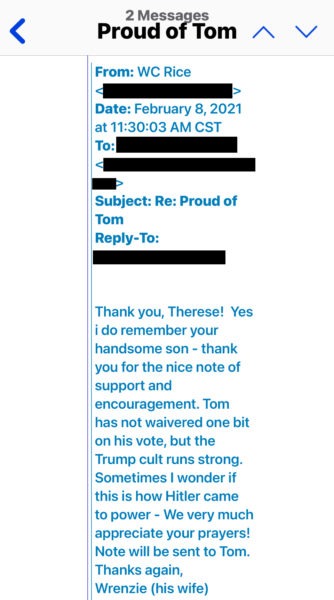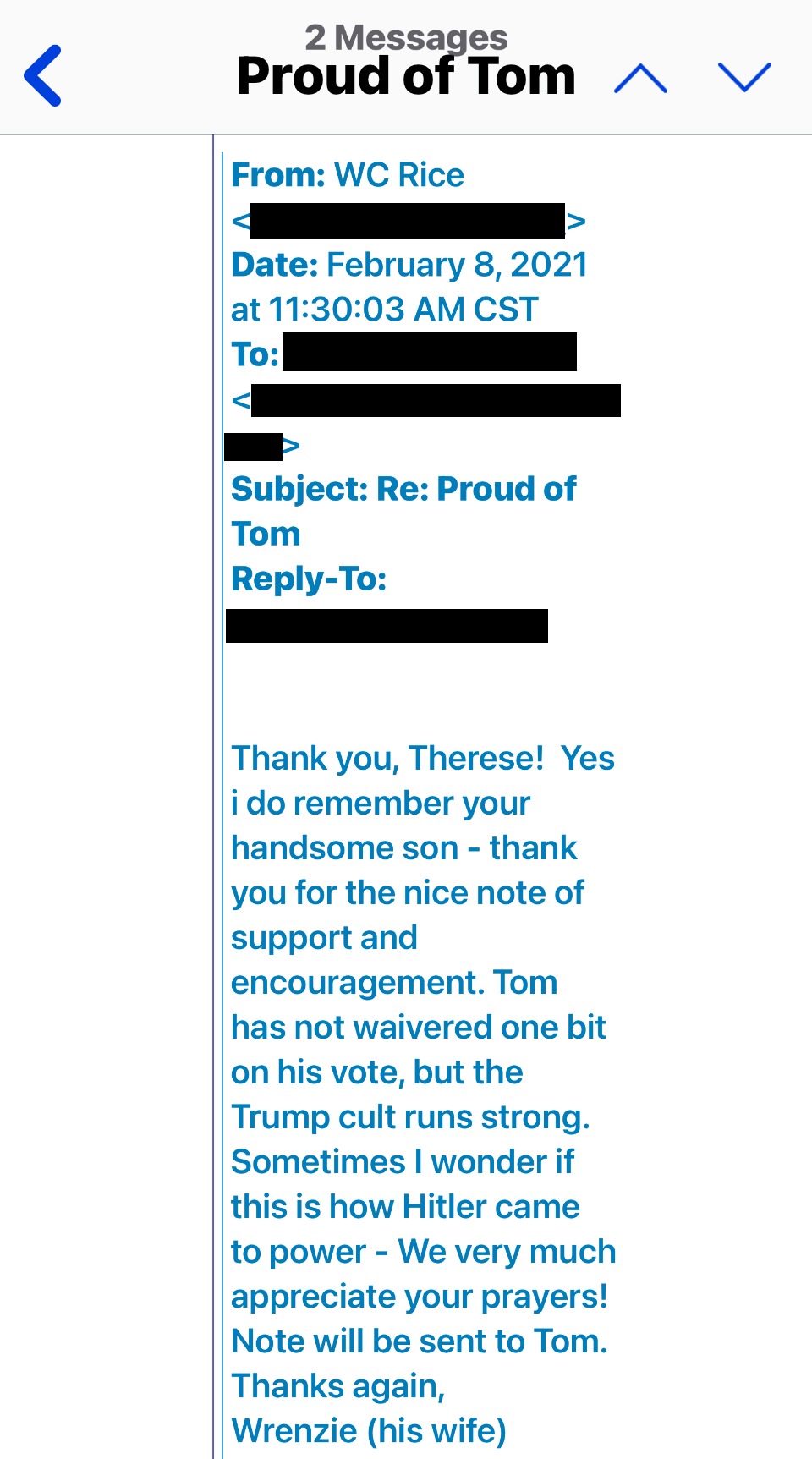 Tom Rice, who was one of only a handful of Republicans who voted to impeach the 45th President at his second impeachment trial, later defended his decision to vote to impeach President Trump in an interview with The Washington Post. "I took an oath to defend the Constitution. I didn't take an oath to defend Donald Trump," said Rice. The sitting House Representative went on to suggest that President Trump was behaving like a "dictator", but unlike his wife, stopped short of comparing him to Hitler. "What he did in my mind is what dictators do," said Rice.
Rep. Rice was censured by the South Carolina Republican Party for his vote to impeach President Trump only days after it was cast, with South Carolina GOP Chair Drew McKissick releasing a statement describing Rice as "disappointing the Party and our Seventh Congressional District." McKissick added, "We made our disappointment clear the night of the impeachment vote. Trying to impeach a president, with a week left in his term, is never legitimate and is nothing more than a political kick on the way out the door." He added, "Congressman Rice's vote unfortunately played right into the Democrats' game, and the people in his district, and ultimately our State Executive Committee, wanted him to know they wholeheartedly disagree with his decision."
Today the SCGOP Executive Committee voted to formally censure Congressman Rice for his impeachment vote. See below for SCGOP Chairman @DrewMcKissick's full statement: pic.twitter.com/lNzDW80ljl

— South Carolina Republican Party (@SCGOP) January 30, 2021
National File contacted both Wrenzie Rice and Rep. Rice's press office via email to ask whether Tom Rice feels it is fair to characterize Trump's supporters – many likely also his supporters – as members of a "Trump cult", and whether the Congressman believes it is appropriate to compare the popular former Republican president to Adolf Hitler, who murdered 6 million Jews and millions of other minorities, and did not receive an immediate response. Likewise, National File asked Wrenzie Rice if she stands by her written words of February 8, and did not receive an immediate response. National File also contacted Rep. Rice's press office via phone and did not receive an immediate response.