Last Updated on July 21, 2021
Though she's running for the GOP nomination to Congress in Virginia's 7th District as a "conservative outsider" capable of taking on the radical left and career politicians, Taylor Keeney has a long history of aligning herself with both, having shown support for the never-Trump wing of the GOP establishment since 2016. Keeney even backed efforts to remove Trump from office just months before announcing her run for Congress, and has previously worked as an aide to Cindy McCain.
Taylor Keeney recently announced her run for Congress, releasing a campaign ad parroting high priority conservative talking points and vowing to fight against the "extreme agenda" of the far-left and House Speaker Nancy Pelosi. In the ad, Keeney also promises to "restore integrity" to America's elections and fight for voter-ID while taking on career politicians though notably absent from the ad were mentions of immigration control and border security.
Though she casts herself as a "conservative outsider," Keeney appears to be anything but, having worked as a press assistant for Cindy McCain during John McCain's failed 2008 presidential campaign and going on to work as press secretary for former Virginia Governor Bob McDonnell during his time in office.
As early as 2016, Keeney was showing support for anti-Trump content over Twitter, having "liked" dozens of anti-Trump tweets from the so-called never-Trump wing of the GOP establishment. In one of her Tweets from 2016, Keeney supported calls from ex-GOP Senator Jeff Flake for then-candidate Trump to drop out of the Presidential race, just a month ahead of Election Day, a move that would have guaranteed a Clinton victory. Keeney also showed support for anti-Trump tweets from the Lincoln Project's Rick Wilson, and never-Trump CNN contributor Ana Navarro when she called Trump and his supporters "delusional."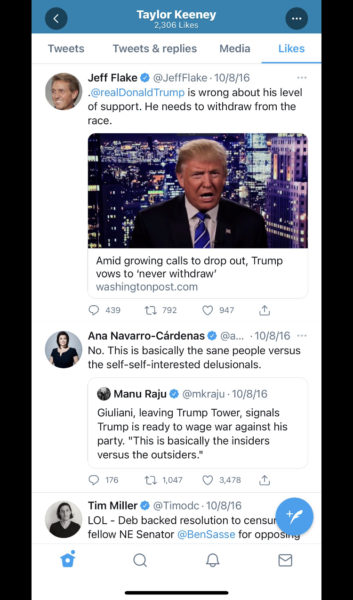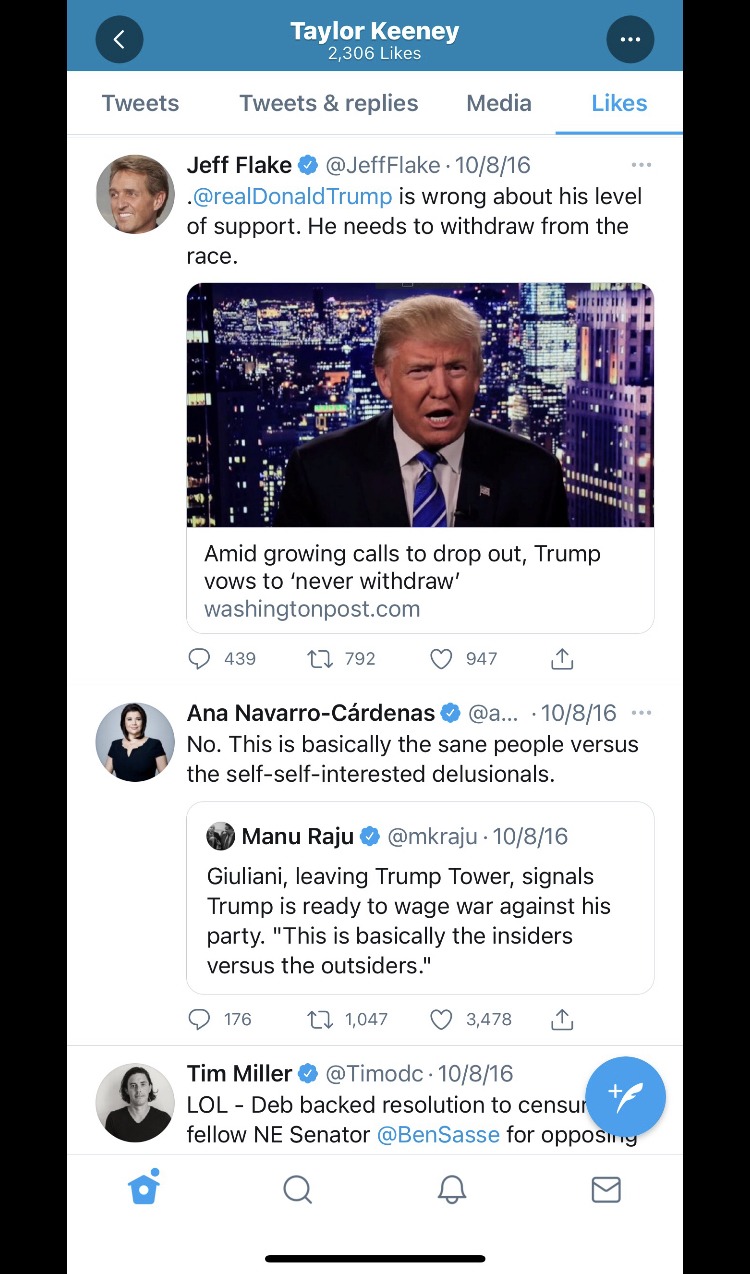 Four years later, Keeney's support for the attacks on Trump continued as she retweeted Mitt Romney's efforts to virtue signal to Democrats and hurt the Trump campaign just weeks ahead of Election Day.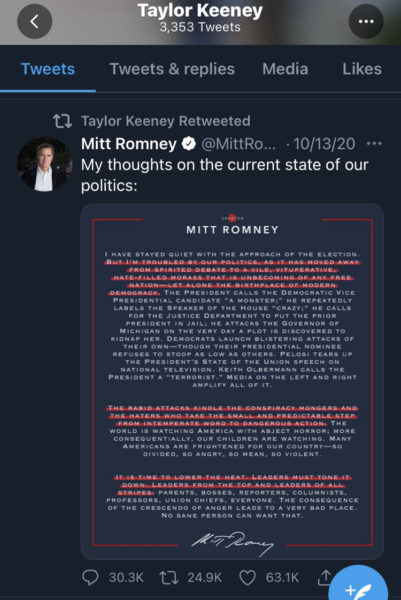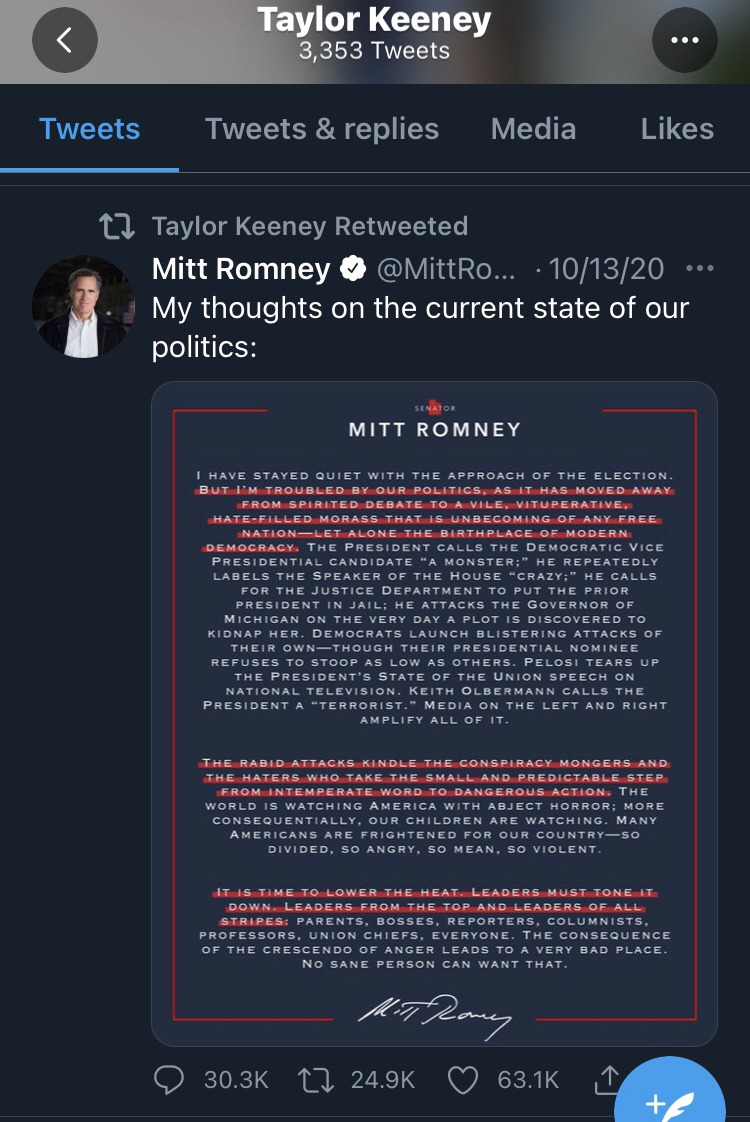 Keeney sat silent for months as Republican voters, elected officials, and the Trump campaign fought for election integrity – supposedly a top campaign issue for Keeney – amidst historic allegations and documented evidence of Democrat electioneering and flat-out election fraud. Instead, Keeney liked multiple tweets congratulating Joe Biden on his election "victory" before all the votes were even counted.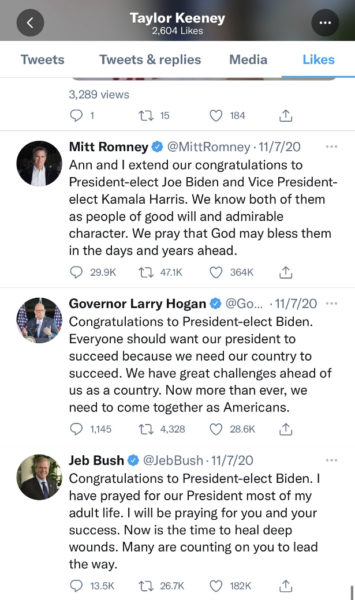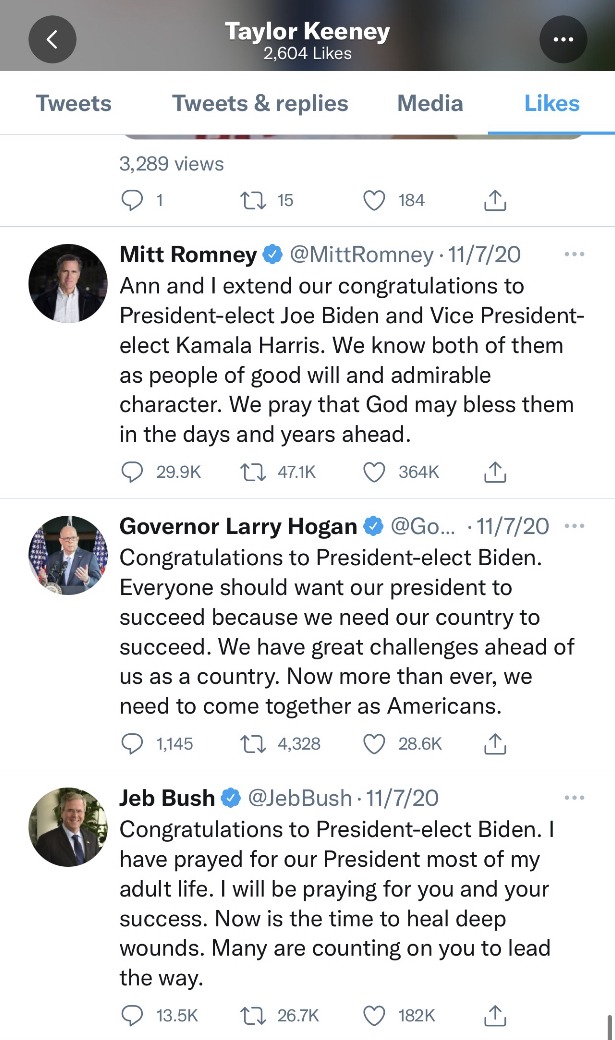 When the far-left Democrats and members of the never-Trump GOP establishment attempted to impeach the President in the closing days of his administration, Keeney showed them support over Twitter yet again, liking a post from ex-GOP Congresswoman Barbara Comstock as she wrote that was "so proud" of GOP Rep. Liz Cheney "and her support for impeachment."
"It is long past time for principled conservatives to make their stand," another anti-Trump, pro-impeachment Tweet liked by Keeney reads. "Liz Cheney is a fearless leader and we need more like her in office."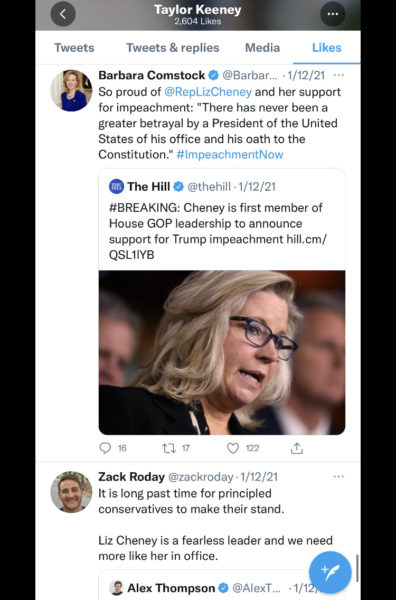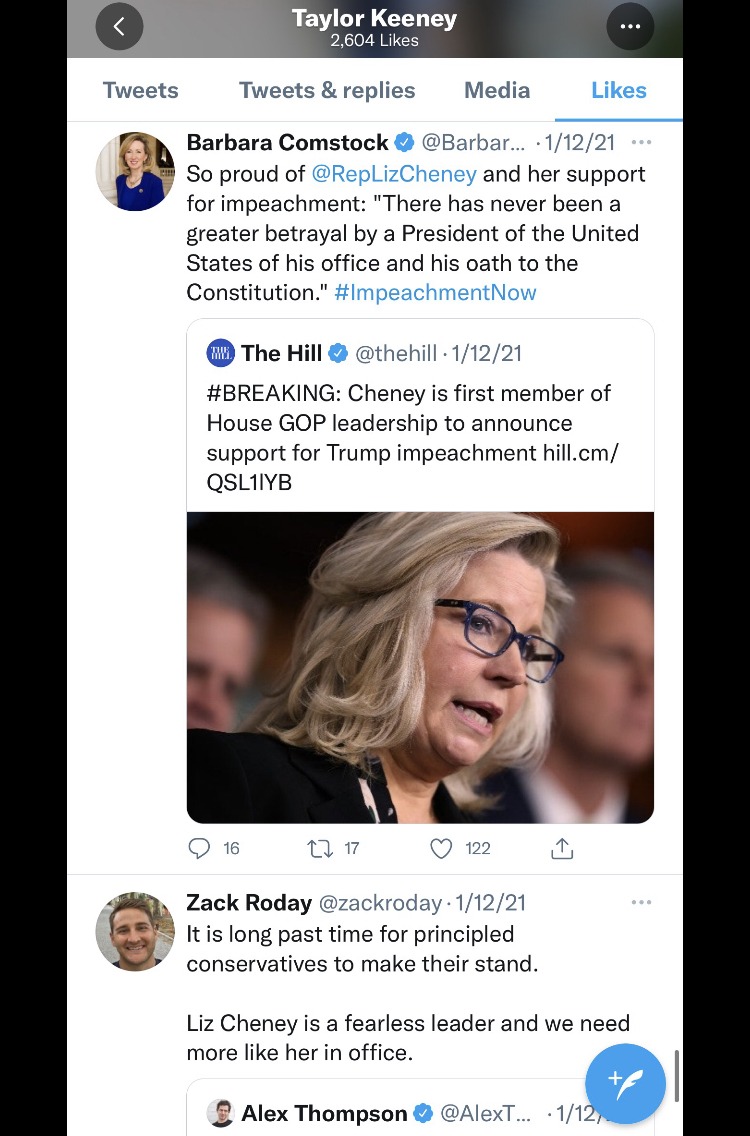 Beyond impeachment, Keeney again showed support for the never-Trump GOP establishment and their collective battle against America First conservatives and election integrity, liking a post from her former boss, Cindy McCain, as she led a coup attempt within the Arizona GOP against Chairwoman Kelli Ward over her efforts to ensure that every legal vote was counted in Arizona's 2020 Presidential Election.
"Future Republican candidates really have to question if the current party leadership represents their philosophy and values. Time for some soul searching in the Arizona GOP," McCain's tweet read above a report announcing that she had drafted a censure resolution against Chairwoman Ward. Ultimately, the censure effort was unsuccessful, as was McCain's attempt to challenge Ward for the party's chairmanship, and McCain herself was ultimately censured by the Arizona GOP alongside never-Trump ex-Senator Jeff Flake.