Last Updated on December 9, 2021
National File can reveal, through an exclusively obtained FBI document relaying an interview with "Person 10" of the Oath Keepers, that the organization had no plan to storm the U.S. Capitol on January 6, and the government knew this as it repeatedly charged Oath Keepers with conspiring to enter the Capitol. Now, a January 6 defense attorney says this could see entire cases dismissed.
Following the protests on Capitol Hill on January 6, 2021, many in the Department of Justice, media, and Democrat Party were quick to label what happened as being a pre-planned, violent insurrection. Subsequently, members of the controversial Oath Keepers militia founded by Stewart Rhodes were charged with conspiring to "corruptly obstruct, influence, and impede an official proceeding," namely the certification of the Electoral College votes on 1/6.
FBI sources told Reuters earlier this year that there was little to zero evidence of any plans to take hostages in the Capitol and stop the count of the electoral votes, they did claim that members of the Oath Keepers and the Proud Boys had planned to storm the Capitol, even though there may have not known what to do inside.
However, in a May 4 interview with the FBI, the individual in charge of planning the Oath Keepers' security detail on January 6 – known in court documents as Person 10 – denied repeatedly that the group had any plan to enter the Capitol.
Person 10 is most well known from a bombshell article published by Revolver News, which claimed that Person One was Oath Keepers leader Stewart Rhodes. In Department of Justice indictments, that in turn cite Oath Keepers group chats, text messages, and video calls, Person 10 was described as the "leader of operations" in D.C. that day by Rhodes.
Contrary to the government's narrative and charging documents, Person 10 repeatedly told the FBI that the Oath Keepers had no plan to enter the Capitol, and responded negatively to a total of six questions on the subject:
"To your knowledge, was there was [sic] ever any discussion, by you or anyone you know (to include OKs), to take violent action on January 6, 2021, or after, if the Presidential election did not produce the desired result?"
"Was there ever any pre-planning, or planning on January 6th, by the OKs to incite riots at the U.S. Capitol… forcibly enter the U.S. Capitol… [or] disrupt the transition of the Presidency?"
"To your knowledge, did you… or any members of the OKs take any of these actions on January 6th?"
Person 10 told the FBI that he, Rhodes, and others had dinner at Olive Garden on the night of January 6. "At that time, Person 10 was still [sic] could not believe people went into the Capitol," the FBI noted, further suggesting that Person 10 – in his capacity as the leader of operations in Washington, D.C. on that day – had no knowledge of a plan to enter the Capitol.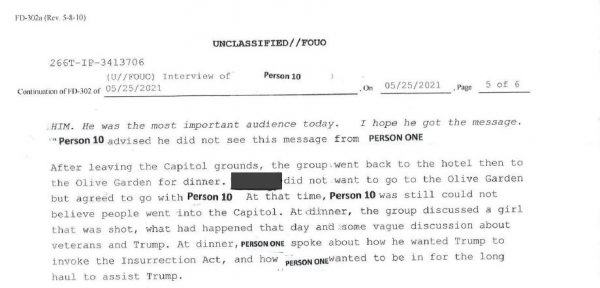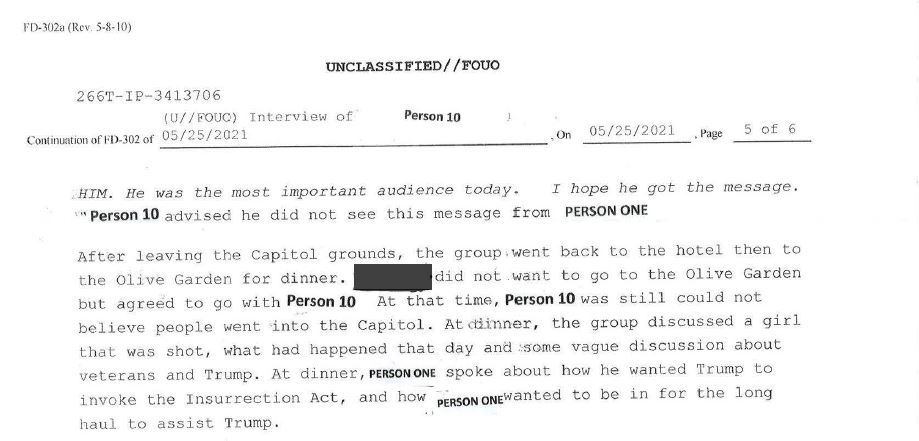 Attorney Jon Moseley, who represents Oath Keepers member Kelly Meggs, told National File that the most recent superseding indictment against his client – which claims that there was a well-plotted Oath Keepers conspiracy to take over the Capitol on January 6 – is the government "doubling down on things they knew were false."
Moseley has confirmed that Meggs will be asking the Court to examine whether the information gained from the FBI interview with Person 10 was given to the grand jury.
"We've got lots of things we're going to do," Moseley continued, suggesting other witnesses have likely confirmed Person 10's story to the FBI. "I understand that there's other witnesses who would confirm this," he explained.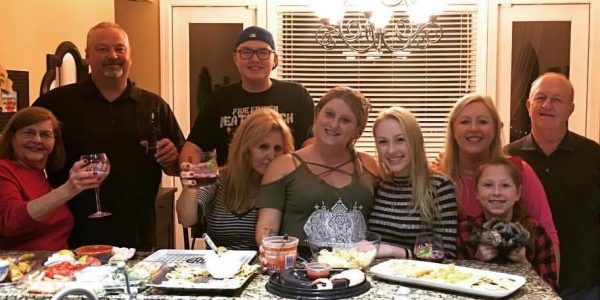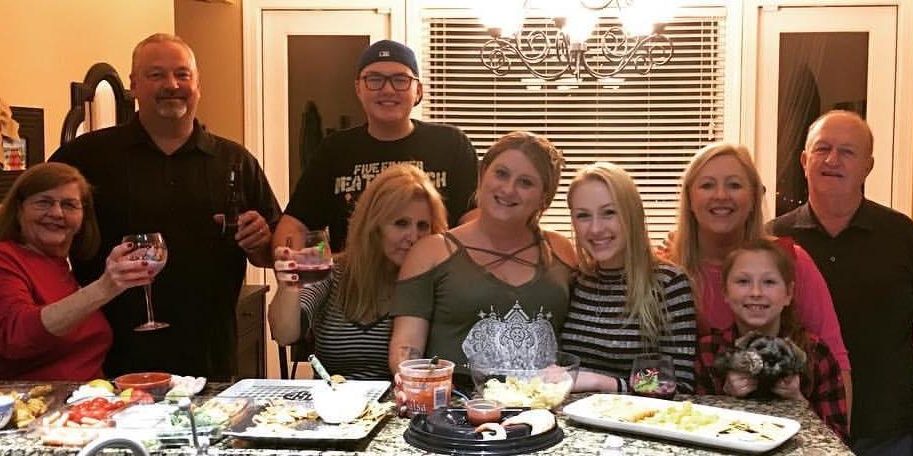 Moseley told National File, "We're going to get the grand jury notes to find out if they told them this."
"That starts to get us to, well, it's called prosecutorial misconduct," he added. "This could be a case dismissed situation."
Person 10's Texts Taken Out Of Context
Previously, it was revealed that Person 10 sent a message to the Oath Keepers Signal leader chat informing those in the chat that at 2:15 p.m., "the [sic] have taken ground at the capital [sic]. We need to regroup any members who are not on mission."
The interview with Person 10 now makes clear that he sought to remove Oath Keepers from any danger at the Capitol, and stop fights between protestors and police officers.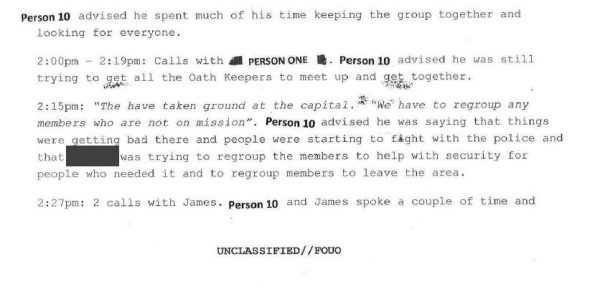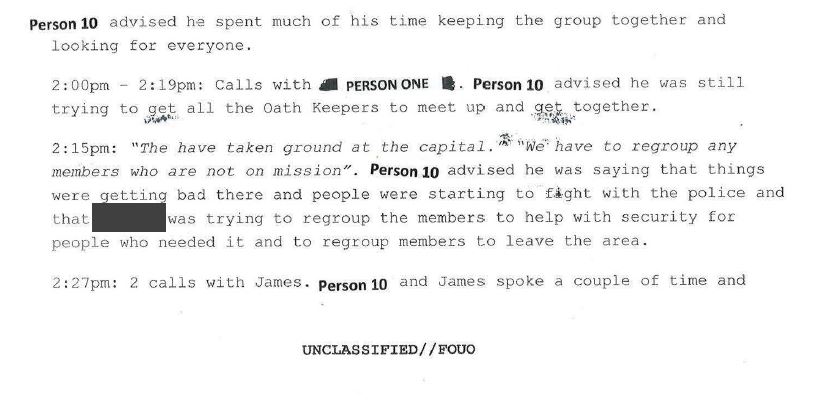 According to the FBI, "Person 10 advised he was saying that things were getting bad there and people were starting to fight with the police" and wanted instead to "regroup the members to help with security for people who needed it and to regroup members to leave the area."
It was previously, incorrectly claimed that Person 10 was urging people to participate in the unrest.
"QRF" Was To Protect Republican VIPs, Not Sack The Capitol
As noted by Revolver, Person 10 was put in charge of the Oath Keepers's "Quick Reaction Force" (QRF), which has been likened to a military-style force ready to storm the Capitol.
Yet, Person 10 instead told the FBI that the QRF, which was stationed in a hotel in Virginia, were not meant to be understood as a military unit. Person 10 relayed to investigators that the QRF was there for a worse-case scenario, and was ready to evacuate "protectees, the injured, and/or assist in the extraction of [Oath Keepers] if attacked by antifa or others."


National File understands that some of the individuals the Oath Keepers sought to protect that day included Republican politicians, pundits, and high profile election integrity advocates.
Person 10 and Rhodes discussed the QRF at the Olive Garden dinner held after the Capitol protests, and Person 10 confirmed to the FBI a second time that the QRF's purpose was "not like those in a military mission or operation but was just about security and protection for people." The QRF was never activated.
Why Did Feds Ignore An FBI Interview?
Revolver News suggested that Oath Keepers leader Stewart Rhodes – and potentially other Oath Keepers – are being protected by the federal government. This, according to Revolver News founder Darren Beattie, suggests that there is federal involvement in the organization. Revolver published:
But therein lies the bind: if Stewart Rhodes (as we strongly suspect) is a federal operative, or was in communication with federal operatives, or was under the surveillance of Feds, the entire artifice of 1/6 lies comes crumbling down.

They need Stewart Rhodes's communications if they really want to figure out what happened on 1/6, but if those communications become part of the Discovery Production of the trial case, and Stewart Rhodes was in communications with Federal assets, then it's game over for the Justice Department.

They look ridiculous if they don't prosecute Stewart Rhodes, but if they do, and he's a Fed, then he has leverage to squeal on them.
The publication's suggestion that the prosecution is willfully ignoring evidence that makes it look bad seems to have struck a chord with defense attorney John Moseley.
"I think there's no justifiable reason for this, I think they're afraid to buck the political narrative," said Moseley. "And I hope they would realize that it's time to do the right thing and drop the charges."
Moseley added, "There's no way to explain this prosecution other than following a political narrative."
"It's the political class and the Congress, there's no legal justification for this that I could even possibly imagine."