Last Updated on September 18, 2021
In the bombshell felony indictment made public this week, Special Prosecutor John Durham alleged that agents of the 2016 Clinton campaign knowingly concocted false allegations that President Donald Trump was receiving secret hi-tech communications from the Kremlin-linked Alfa Bank. The Durham indictment further alleged that Clinton campaign lawyer Michael Sussmann intentionally spread that hoax to the FBI, Democrat-friendly media and another undisclosed federal agency under false pretenses.
Moreover, the Durham indictment identifies the mastermind of the operation to create spread and spread the Alfa Bank Hoax as a Big Tech executive, who allegedly "exploited" privately-held data of several large tech companies to create a false "narrative" about Trump-Russia collusion. This person may be Eric Schmidt, the former Executive Chairman of Alphabet, the parent company of Google.
The conspiracy theory that Donald J. Trump's 2016 campaign was secretly communicating with Russia-based Alfa Bank through a secret server has been an obsession of Anti-Trump circles for years, despite being debunked by both the FBI and the Mueller Investigation. Proponents still insist that, despite being repeatedly found baseless, federal authorities have simply failed to muster the technical expertise to expose the dastardly Russian plot.
However, according to the Durham indictment, the team which initially drafted the white paper outlining the conspiracy theory knew full well that it was nonsense – but disseminated it anyway to craft a "narrative" to trigger a federal investigation and publicly undermine President Trump.
Shortly after the felony indictment for making false statements to the FBI went public, Sussmann's law firm – Perkins Coie – issued this statement: "In light of the Special Counsel's action today, Michael Sussmann, who has been on leave from the firm, offered his resignation from the firm in order to focus on his legal defense, and the firm accepted it."
Perkins Coie represented both the Clinton campaign and the Democratic National Committee in 2016. The firm served a vital role in the fabrication and dissemination of the debunked Steele Dossier – a document which alleged, among other things, that Trump had urinated on Russian prostitutes in a hotel room the where the Obama family stayed.
More recently, Perkins Coie represented Senator Mark Kelly (D-AZ) in a failed lawsuit against National File, which claimed that Kelly had not dressed as Adolf Hitler and a Perkins Coie attorney argued in front of a judge to stop the upcoming Arizona Election Audit. (READ MORE: Mark Kelly Drops Lawsuit Claiming He Didn't Dress As Hitler, National File Report Stands)
The white paper was allegedly the brainchild of one Clinton campaign confidant, who the Durham indictment refers to as Tech Executive-1, who "claimed to have been previously offered a position in government in the event Hillary Clinton won the Presidency" and "exploited his access to non-public data at multiple Internet companies to conduct opposition research concerning Trump … By virtue of his position at Internet Company-1 and other companies, Tech Executive-1 maintained direct or indirect access to, and the ability to provide others access to, large amounts of internet and cybersecurity data, including DNS data," emphasis added by National File.
The Durham indictment refers to three tech companies which Tech Executive-1 leveraged influence over on behalf of the Clinton campaign:
Internet Company-1 "offers various Internet-related services and products, including Domain Name System ("DNS") resolution services"; Internet Company-2 "among other things, collected DNS data from various points on the internet"; and Internet Company-3 "received data that had been collected by Internet Company-2 or its parent company, and then used and analyzed that data in order to advise its private sector customers on cybersecurity and business risks."
It is unclear who the executive is, but Eric Schmidt seems to fit the description. At the time, he was Executive Chairman of Alphabet Inc, the parent company of Google, and an unofficial advisor to the Clinton campaign, who founded start-up The Groundwork to serve as a top-tier tech contractor for the campaign.
Alphabet is the parent company of Google, which owns the largest public DNS service in the world. Alphabet also had an ownership stake in Crowdstrike, which provided cybersecurity services to the DNC and took a leading role in investigating alleged Russian cyber-attacks against the DNC as well as the Clinton campaign.
Emails from 2014 published by Wikileaks revealed that John Podesta, chairman of the Clinton campaign, believed that Schmidt "clearly wants to be head outside advisor".
Google/Alphabet Chairman Eric Schmidt ready "fund, advise, recruit" for Clinton campaign https://t.co/vy3lHcft3n & https://t.co/sdK9j0dUnR pic.twitter.com/FUlYqsitmJ

— WikiLeaks (@wikileaks) November 1, 2016
National File spoke to Google whistleblower Zach Vorhies to scrutinize the document. "I strongly suspect that 'Internet Company-1' mentioned in the Durham indictment is Alphabet, 'Internet Company-2' is Google, and 'Tech Executive-1' is Eric Schmidt," said Vorhies. "That would certainly fit the facts of the indictment, but I could be wrong. And, since we are speculating, could 'Internet Company-3' be CrowdStrike?"
Vorhies shot to prominence when, as a Google employee, he collected and released 950 pages of documents he says prove Google's use of an "AI-Censorship" system called "Machine Learning Fairness" that merges Critical Race Theory and artificial intelligence to shape the views of Google users on its various platforms, including YouTube and its eponymous search engine. Vorhies followed up this conversation by speaking out on Twitter:
It's beginning to look like Google meddled in the 2016 election by whoring out privileged access to its user's private data, in order to fabricate evidence against Trump to support Clinton's Russian-collusion hoax.https://t.co/IONzpqscUV

— Zach Vorhies (@Perpetualmaniac) September 17, 2021
Another key allegation, and the foundation of the Durham indictment's sole criminal charge, is that Sussmann lied to then-FBI General Counsel James Baker by claiming not to have been disseminating this information on behalf of any client – but he was billing the Clinton campaign for time spent drafting the white paper, speaking with Tech Executive 1 and pitching the story to reporters.
Sussmann even billed his meeting with Baker to the Clinton campaign, along with the description, "work and communications regarding confidential project."
Baker later claimed in sworn congressional testimony to not remember whether Sussmann had identified a client he was working for. Sussmann also denied this under oath to Congress in 2017, claiming to have been working on behalf of an unnamed cybersecurity expert. This may have been technically true in 2017 because, after the end of the Clinton campaign in 2016, Sussmann started billing hours worked on the disinformation project to Tech Executive-1.
Sussmann's testimony took place on December 18th, 2017. Just four days later, Eric Schmidt resigned from his position as the executive chairman of Alphabet Inc. and, to date, nobody has given a detailed explanation why.
Regardless, the Durham indictment features an apparent smoking gun: a contemporaneous note taken by Bill Priestap, who was the assistant director of the FBI's Counterintelligence Division. Priestap's notes explain that Sussmann explicitly said that he was not doing this on behalf of the Clinton campaign, the DNC or any other of his firm's clients.
The notes further say that Sussmann identified the source of the Alfa Bank hoax as three concerned citizens in the tech sector – which was an apparent lie, as none of them seem to have had anything to do with the research or drafting of the white paper. According to Durham, the actual authors of the paper were Tech Executive-1, the originator of the hoax, two computer researchers and Sussmann himself.
The Durham indictment alleges that Tech Executive-1 assembled a massive tranche of private data from the technology companies he had influence over, then tasked researchers at a U.S. university to mine it for dirt on Trump. Tech Executive-1 also apparently leveraged his corporate authority to help the same U.S. university with a federal government contract.
Unfortunately for Tech Executive-1, the two researchers came up with nothing to substantiate the original Alfa Bank conspiracy theory and generally agreed that the specific allegations were probably nonsense – specifically, a "red herring" that should be "ignored".
So the researchers, as the Durham indictment details, suggested by email that they could just fake the documentation to validate the Alfa Bank hoax.
On the same day, "Tech Executive-1 clarified in an email to [them] that the 'task' he had given them was 'indeed broad'", going on further to seemingly suggest that "the VIPS would be happy" for any evidence – even fake evidence – that would justify "closer examination" of an otherwise "true story".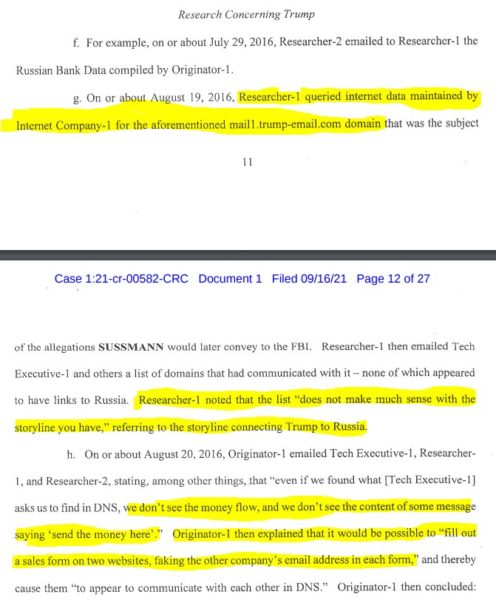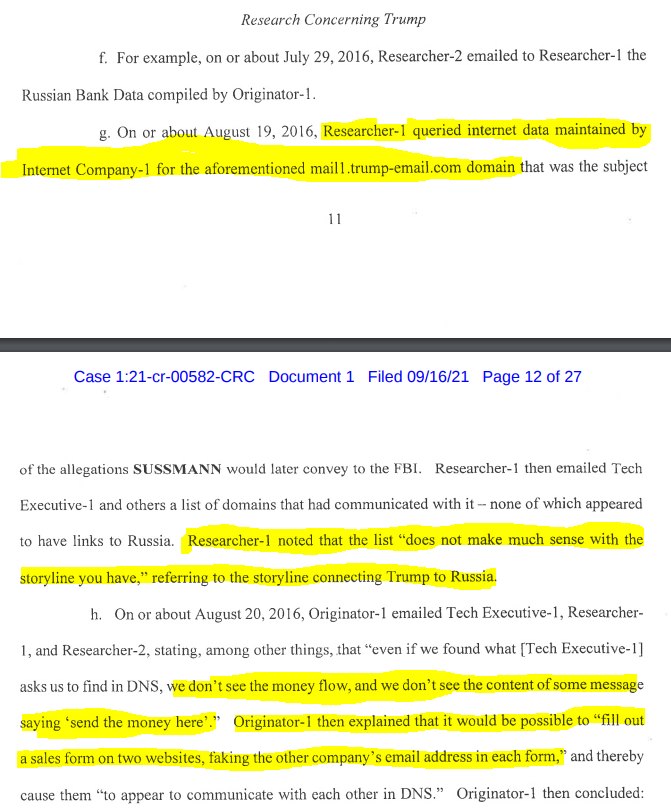 After the white paper was drafted, an email from Tech Executive-1 asked the team to review it critically from the lens of a "security expert (NOT a dns expert)", specifying that the paper did not have to pass muster to an expert in the relevant field – let alone be accurate in the first place – but simply be believable to a cybersecurity expert who didn't have enough time to actually invest effort into researching DNS security and discovering the glaring flaws in their argument.
The respondents agreed that the white paper did a great job of falsely establishing itself as authoritative:
"A DNS expert would poke several holes to [sic] this hypothesis (primarily around visibility, about which very smartly you do not talk about). That being said, I do not think even the top security (non-DNS) researchers can refute your statements. Nice!" (Emphasis in original.)
Coverage of the Durham indictment has been scant, but a few savvy commentators on the political Right, such as law professor and Epoch Times commentator Hans Mahncke, have flagged it as a bombshell.
The Sussmann indictment is dynamite: The TLDR is that a lawyer acting on behalf of Hillary Clinton used fabricated evidence to get the FBI to investigate Trump.

No wonder the NYT was scrambling last night to spin this as being about a billing mistake.https://t.co/a8M7KGUHXM

— Hans Mahncke (@HansMahncke) September 16, 2021
In an exclusive interview with National File, the constitutional lawyer and former Green Beret commander Ivan Raiklin – mostly known for his plan from December to contest the 2020 election for Trump – spoke to National File about the severity of Durham's indictment.
"Anything from John Durham needs to be looked at in the context of his relationships with current and former members of the House and Senate Judiciary Committees, particularly Mike Pence and Lindsey Graham – alongside his relationships with current and former officials in the FBI and DOJ: particularly Comey, Rosenstein, McCabe, Peter Strock, Joe Pientka, and Andrew Weissman," said Raiklin. "His prosecution path like a 'sacrificial lamb' situation like with [former FBI attorney] Kevin Clinesmith where [Sussmann] is just going to get a slap on the wrist to satisfy conservatives who rightly feel betrayed." Raiklin added:
This could be a prelude to getting [Sussmann] into a plea to cooperate against the others, but I'm not holding my breath.

At the very least, this opens up the Department of Justice and everyone named in this indictment to a lawsuit from anyone indicted as a result of Crossfire Hurricane (the federal spying on the Trump Campaign), including: Donald J. Trump, Roger Stone, Michael Cohen, Carter Page, General Flynn and others.

The real question I'm asking is "Why isn't he being charged with conspiracy?" That's what this indictment reads like. Maybe there are other conspirators who could be charged in the future and it's worth keeping in mind that the statute of limitations for conspiracy doesn't begin until the conspiracy is over.
National File is continuing to discuss the revelations with tech experts and top lawyers. We will continue our reporting as the story develops.