Last Updated on August 14, 2019
Former senator Joe Biden disparaged the concept of "free enterprise" in an October 1976 speech at the University of Houston. Biden was campaigning for Jimmy Carter at a small UH Young Democrats event in the campus' World Affairs Lounge.
"Jimmy Carter does not support price controls. There is already too much red tape due to bureaucracy. Neither does he support the Ford method of bailing out Lockheed or Penn Central Railroad in the name of free enterprise," Biden said in the speech, according to an article in the University of Houston's The Daily Cougar on October 14, 1976.
"What the hell does free enterprise mean anyway? When I first took office in 1972, the oil companies sent their lobbyists to me to plead for free enterprise. Then when the oil boycott came, they decided they needed government intervention and support. And you know, those crawling bastards came back to me asking for support," Biden was quoted as saying.
Biden took questions from a former Ku Klux Klan Grand Wizard and a Socialist Workers Party official, taking a confrontational tone with each according to the newspaper's account. Biden revealed that he took meetings with members of the Socialist Workers Party.
"They would call to meet with me on certain issues, then turn around and tell the press that I had called them and told them such-and-such about the Foreign Affairs Committee on which I serve. They lied, screwed and tattooed me and I will never talk to you people again," Biden said to a member of the Socialist Workers Party.
In response to another socialist's question about getting equal time in the presidential debates, Biden said, "But I also believe it would be better for us all if the debates included third parties. The more access we have to the media the better off we are. I'm a bit of a Jeffersonian in that I believe that all ideas should be heard so the best can rise to the surface."
Here is a small clip from the article, courtesy of the World Archives database of newspapers: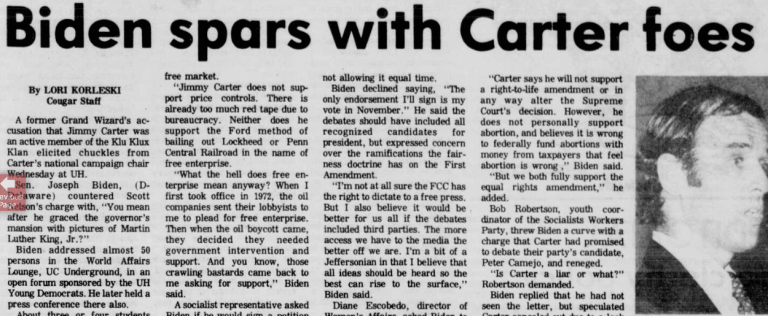 Biden recently came under scrutiny for his past comments on race.
As I reported for The Epoch Times:
Biden argued that diversity is not America's strength in a speech at the National Bank of Auburn's fourth annual business forecast luncheon, according to the Feb. 17, 1976 edition of The Syracuse Post Standard. Biden was speaking at New York's Springside Inn.
"We hear time and again that we are uniquely a melting pot. Because we're black, white, rich and poor, therefore we're strong," Biden stated in his speech, according to the newspaper.
"The fact that we are black and white, rich and poor drives us apart in America," Biden said.
The newspaper noted that Biden was "dissenting" from the notion that diversity makes us strong.
"Who the hell is an American? If you don't think we're as different here as Belgium and France, then travel with me a bit. We're a diverse nation," Biden said.
According to the Syracuse Post Standard: "He said he doubted if France would change if its government fell, but said the result would be different in the United States, because there is "no ethnic identity" and "we're a product of our political institutions.'"
Follow Patrick on Twitter: @howleyreporter