Last Updated on August 18, 2022
Michael Hayden — a retired four star general and longtime intelligence chief — believes Trump supporters are more dangerous than foreign terrorist organizations and hostile governments. Hayden agreed with a journalist that Americans who vote differently are worse than ISIS, the Taliban and Iran, some of the groups and governments Hayden focused on during his career.
On Wednesday, August 12, Hayden enthusiastically agreed with a tweet from Financial Times editor Edward Luce that read: "I've covered extremism and violent ideologies around the world over my career. Have never come across a political force more nihilistic, dangerous & contemptible than today's Republicans. Nothing close."
"I agree," Hayden wrote in a quote tweet. "And I was the CIA Director."
I agree. And I was the CIA Director https://t.co/LRAHDDyy4n

— Gen Michael Hayden (@GenMhayden) August 17, 2022
Hayden served as CIA director from 2006-2009 under the George W. Bush Administration. He previously served as NSA director from 1999-2005 under presidents Clinton and George W. Bush.
During the lead-up to the 2020 election, Hayden was one of 51 former intelligence officials who cast doubt on the New York Post's Hunter Biden laptop story. Hayden, and several other high-level intelligence operatives, infamously labelled the laptop story as "Russian disinformation." This was debunked by several outlets, including the New York Times, who confirmed the laptop is real earlier this year.
Last week, Hayden appeared to imply that Trump should be executed for taking classified documents to Mar-a-Lago following the FBI's raid on the 45th president's Florida resort. That remark was in response to historian Michael Beschloss, who posted an image of notorious spies Julius and Ethel Rosenberg — who Beschloss noted were "convicted for giving U.S. nuclear secrets to Moscow, and were executed June 1953."
"Sounds about right," Hayden wrote.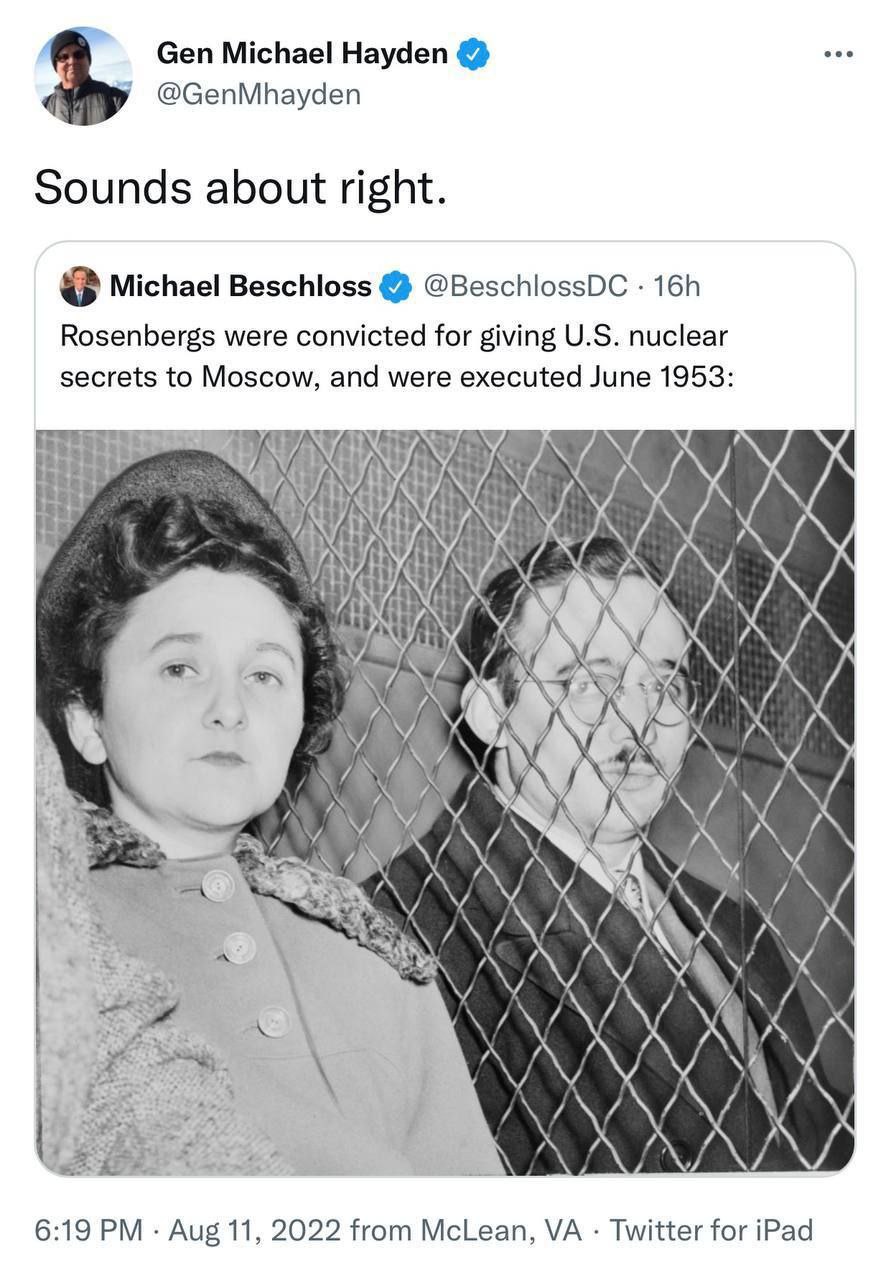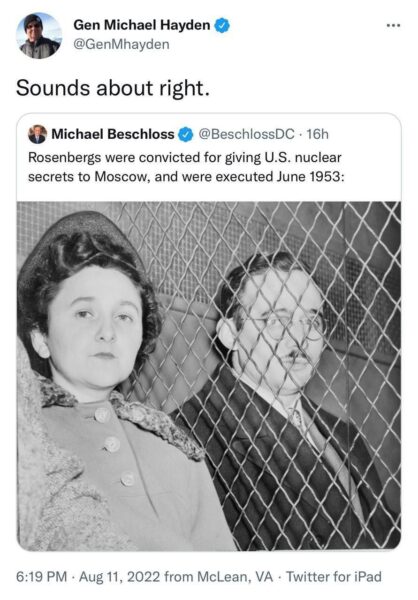 Hayden's extremist remarks have been condemned by right-leaning and pro-Trump figures, though many of his fellow anti-Trump Twitter users whole heartedly agreed. The former CIA director's tweet comparing Republicans to terrorists has over 105,000 likes as of Thursday, August 18.