Last Updated on November 8, 2022
Election irregularities are again plaguing Virginia's battleground 7th District as Democrat Abigail Spanberger, a former CIA agent, has benefited from the sudden tallying of early votes late in the game, tipping the results from red to blue.
After a long pause in vote counting, Democrat incumbent Abigail Spanberger took a reported lead over conservative challenger Yesli Vega in Virginia's 7th District, thanks to the late counting of thousands of early votes in Prince William County, where Joe Biden's DOJ sent agents to "monitor" the election.
Spanberger took the lead in the 7th District after trailing all night and losing all but two of the district's cities or counties and has now declared victory.
The race was one of the nation's closest watched.
Though conservative challenger Yesli Vega carried the rest of the 7th District by big margins, Spanberger closed the gap in Northern Virginia's blue Prince William County, Vega's home base.
Earlier this year, the county's former elections chief was charged with 2020 fraud and the Biden DOJ announced just ahead of the midterms that they'd be sending agents to the county to "monitor" the election.
Even after nearly every other vote in the 7th District had been reported, Prince William County still had tens of thousands of votes left to count and appeared to have taken an extended pause.
According to a New York Times election map, at 9:01 PM, Prince William County had yet to tally nearly half of their votes.
Almost every other county was reporting almost all of theirs, and the polls had been closed for two hours.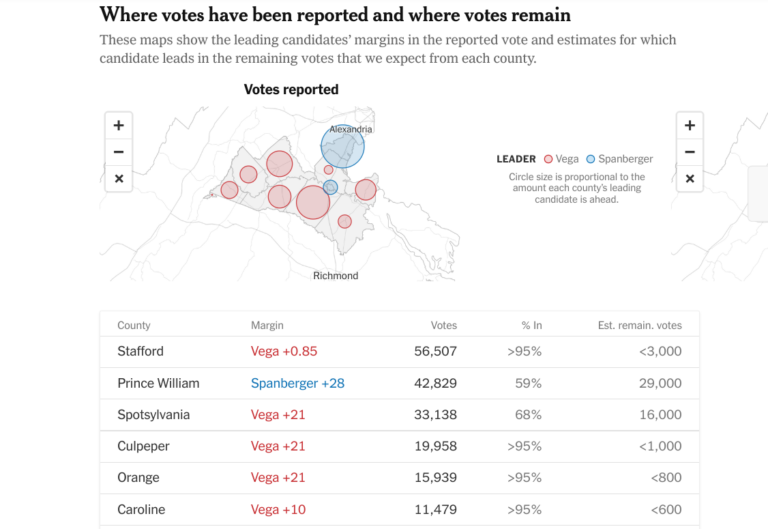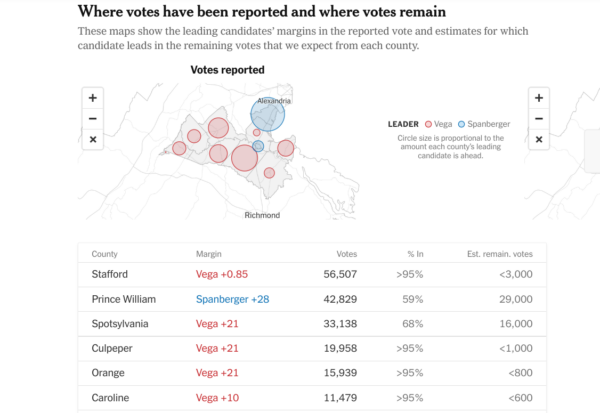 Roughly half an hour later, the Virginia Public Access Project (VPAP) was reporting that the race had tightened, but Vega was still hanging on to a narrow lead of fewer than 3,000 votes, with 97.4% of precincts reporting.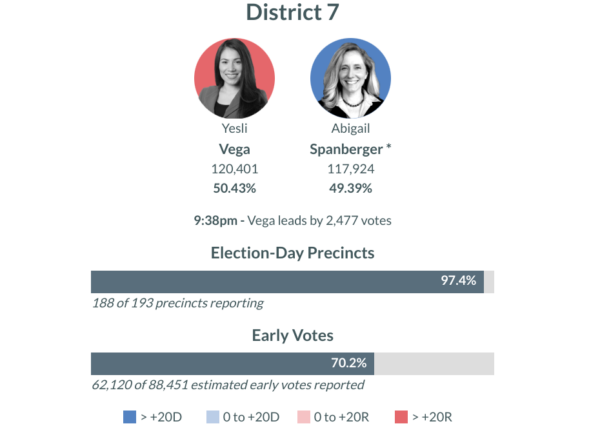 But those precincts were in blue Prince William County, where more than 26,000 early votes remained to be counted.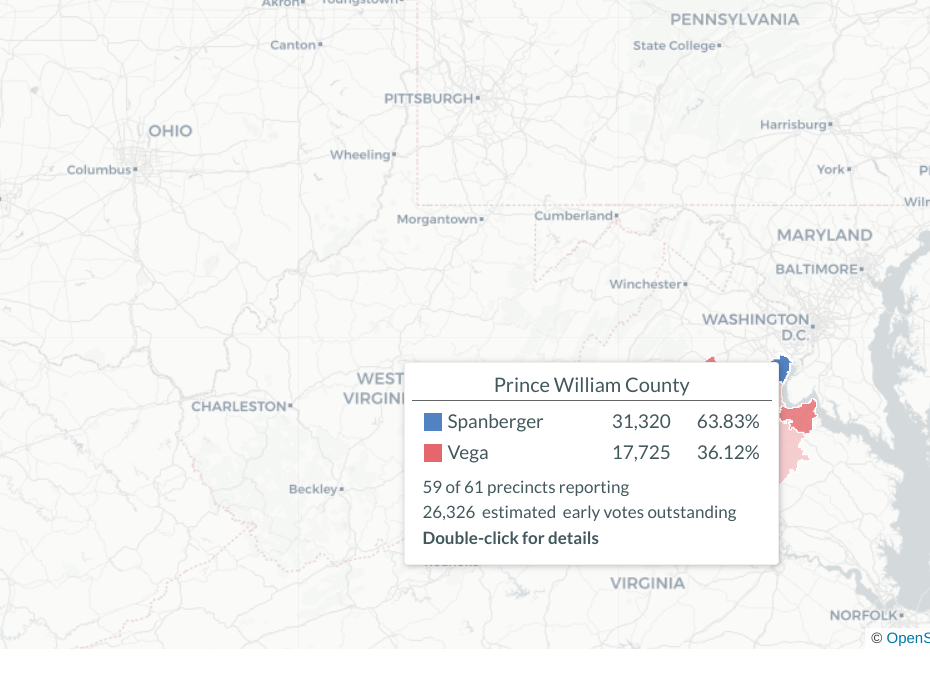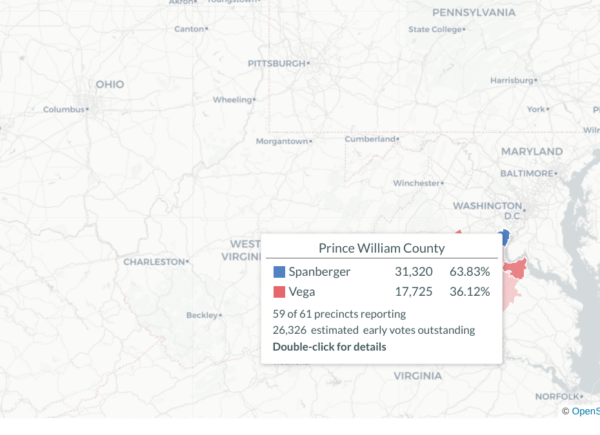 Minutes later, Spanberger was carried over the finish line by the tallying of thousands of early and mail-in ballots, taking a lead she never relinquished, as more and more Democrat votes were added to the totals.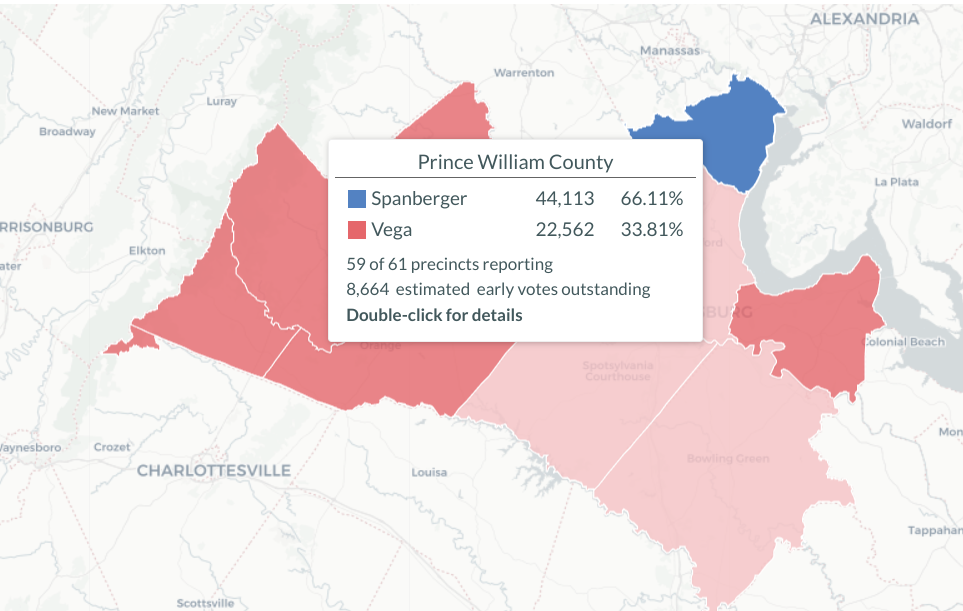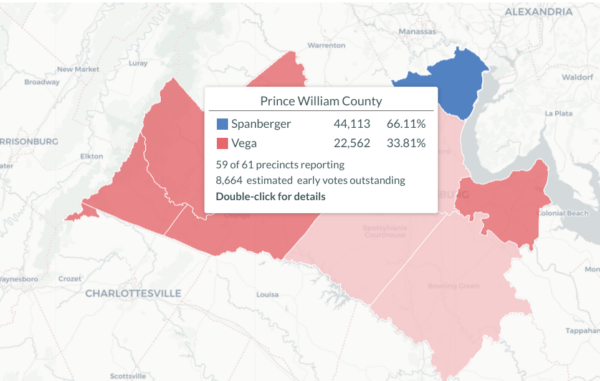 As documented in the screenshots of the 7th District's reported election results, Democrat Abigail Spanberger closed the gap thanks to the late counting of early Democrat votes, something that's become increasingly common in battleground races.
Corporate media even appears to be conditioning voters to get used to Republican candidates leading all night before suddenly losing, blaming it on what they claim is an electoral phenomenon called the "red mirage."
Spanberger's early vote "win" over Yesli Vega compares to her 2020 "win" over GOP challenger Nick Freitas.
In that race, after Spanberger trailed all night, thousands of Democrat votes were miraculously discovered on a discarded thumb drive, propelling her to victory.