Last Updated on September 15, 2020
In a 2015 DCCC internal document obtained by NATIONAL FILE entitled "BRL Meeting Notes Compilation," (BRL refers to then-DCCC chairman Ben Ray Lujan) the DCCC took detailed notes on its meetings with organizations including labor unions and Goldman Sachs, revealing that some of the unions were angry at the Democrats for bad fiscal policies and Obamacare while Goldman Sachs was angry about progressive anti-elitist rhetoric in the party. In at least three of these meetings, the DCCC discussed their plot to use re-districting to change the "landscape" of American politics. Here are some highlights (emphasis added):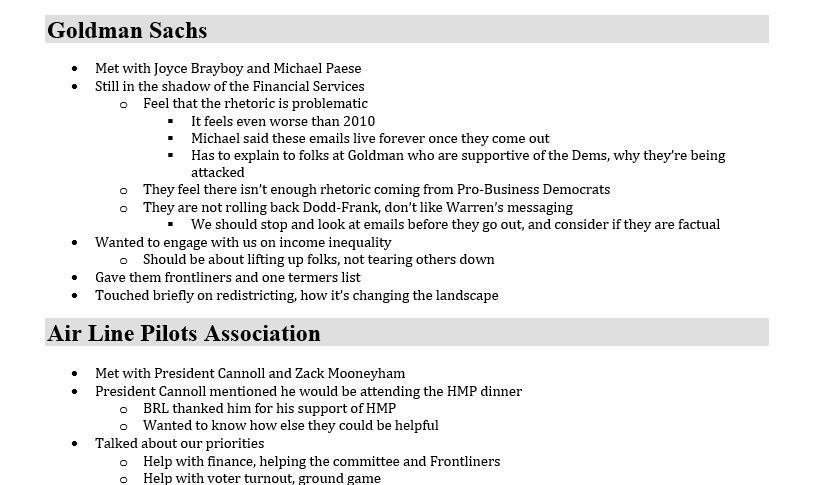 Securities Industry and Financial Markets Association (SIFMA): "Upset around messaging demonizing Wall Street…Understand that Wall Street isn't popular, but the message won't win the day…Turns off Dems in Financial Services world when they are attacked just for working in the industry…Creates a larger problem when people don't trust banks and financial institutions…Chairman talked about Clinton messaging around "bad actors" which is more palatable and crosses industries…BRL mentioned the article where Leader Pelosi said that Sen. Warren doesn't speak for the party…Andy and Joseph thought this was an encouraging sign, but hadn't seen this article before…SIFMA cannot support the DCCC right now, in large part due to messaging"
LUNA (Laborers International Union of North America): "Met with President Terence O'Sullivan, Yvette Pena and David Mallino…NOT supportive of the administration…Membership is general upset with Democrats…Very disappointed with the Executive Order on Project Labor Agreements…Only 3% of projects are using Union Labor…Many issues with the Affordable Care Act…One of 4 Unions who didn't support it…Hurting their Health and Welfare funds…Costing them millions of dollars a year…Feel it's unfair, they've played by the rules, and did the right thing all along…Will force retirees to purchase health insurance off the exchanges, pay out of their pensions…Supportive of Keystone…Hate that members refer to construction jobs as "temporary jobs"…They do over $30 billion in work on pipelines…Feel that Keystone was the beginning, this will lead to attacks on all pipelines and eventually natural gas projects…Feel Democrats should be supportive of Union jobs in MT, ND, NE…Entire process has been way too drawn out…Should take 18 months, just want the President to make a decision, not play politics…Feel that environmentalists are taking over the Democratic Party...Are more supportive of Republicans…Feel Republicans are with them on Obamacare…LiUNA would be happy with total repeal…With them on Keystone"
IUPAT (International Union of Painters and Allied Trades): "Talked about their problems with trade…In the past products have shipped from other countries, but have come completely assembled…Flooded the market with these cheaper, finished products, hurting their folks"
NARFE (National Active & Retired Federal Employees): BRL mentioned the races that will be most competitive…Mentioned Gwen Graham (FL-02) and Brad Ashford (NE-02), open Capps seat(CA-24),
Taddeo (FL-26) and Cain (ME-02), Gibson (NY-19), Fitzpatrick (PA-08), King (NY02),Guinta (NH-01)…Mentioned the opportunities with redistricting in CA, VA and playing defense in AZ"
NARFE — National Minority Quality Forum: "Does Target marketing…There are 38,000 zip codes in the US, minorities are concentrated in 6,000 of them…Database has over 900,000,000 records…Tracking Medicare information, can track patients over the years…Noted that Rep. Chris Smith (NJ) has most Medicare spending per Congressional district in the US…Data can help with messaging…Buy a lot of their data…The information is highly predictive"
APWU (American Postal Workers Union): "President Dimonstein is not enamored with Democrats…Said that many are good allies, but doesn't feel Democrats are the party of the working people anymore"
International Union of Operating Engineers: "Some frustration with the party right now…Need to stop referring to construction jobs as temporary
Service Employees International Union (SEIU): "SEIU is interested in building up infrastructure in safe, majority minority districts…Need to organize and turn out low propensity voters, especially in communities of color…Need to get local buy in from folks"
Goldman Sachs: "Met with Joyce Brayboy and Michael Paese…Still in the shadow of the Financial Services…Feel that the rhetoric is problematic…It feels even worse than 2010…Michael said these emails live forever once they come out…Has to explain to folks at Goldman who are supportive of the Dems, why they're being attacked…They feel there isn't enough rhetoric coming from Pro-Business Democrats…They are not rolling back Dodd-Frank, don't like Warren's messaging...We should stop and look at emails before they go out, and consider if they are factual…Wanted to engage with us on income inequality…Should be about lifting up folks, not tearing others down…Gave them frontliners and one termers list…Touched briefly on redistricting, how it's changing the landscape"
General Electric: "Walked through races we are looking at (CA, NY, IL, PA, IA)…Touched on redistricting (FL, NC, AL, etc.) Noted the efforts to get CBC involved in redistricting ahead of time…GE asked about how we plan to win back Southern District in particular (mentioned Shuler and Cramer as examples)
Planned Parenthood: "Met with Amy Taylor and Wendi Wallace…Amy offered to have Cecile as a surrogate for candidates if that would be helpful…Want to set up a meeting with BRL and Cecile Richards. Mentioned that he is going to be in NYC the weekend of May 4 – 5, and wanted to see if it might be possible to set up a coffee while he was there…Gave background on PPFA, 97% of what they do is preventative care. They spent $15 million in the 2014 cycle on elections, mostly on Governors raced, along with targeted Congressional races that mixed with
their Gubernatorial targets…They gave out $850,000 in contributions last cycle, maxed out to Frontliners, Red to Blue and others. Wanting to know who folks are they should be helping early (sending over Frontline list)…Willing to help candidates and members with messaging around choice issues…Offered to see if Cecile could speak at the WomenLead Event (they are checking her availability, then BRL wants to check in w/ Frankel)…Mentioned interest in BRL's July weekend trip w/ Heinrich (though they aren't sure they can give to Heinrich off cycle) Mentioned that Vickie Cowart, the CEO of Planned Parenthood of the Rocky Mountains might be interested in attending."
NATIONAL FILE REPORTED:
Former Democrat legislator and gubernatorial candidate Stacey Abrams in 2014 revealed her plan to change the racial demographics of the electorate heading into the 2021 congressional and legislative re-districting efforts (based on the 2020 Census). Abrams planned to prevent a "minority white conservative coalition" from governing in the South. Abrams said: "My eye is on 2021. Because when we do re-districting in 2021, if we have not changed the electorate, especially in the South, we will have a majority minority population that is governed by a minority white conservative coalition. And that's the most dangerous precedent that we can possibly set for the South in the next 20 years," Stacey Abrams said at the 2014 Power PAC + National Conference, which was themed, "Race Will Win The Race: The Progressive Path To Victory."
Abrams is emerging as a leading contender to be Joe Biden's running mate in the 2020 election, particularly after Biden vowed to select a female for the ticket. Abrams is using her race to bolster her running-mate credentials, saying, "I believe a woman of color could help Vice President Biden turn out voters who want to see themselves reflected in the ticket itself."
Abrams, who attended the elite globalist Bilderberg conference in 2019, has faced criticism for her participation in a racially-motivated 1992 burning of the Georgia flag on the state Capitol steps during an activism-heavy stint at Spelman College.
Abrams' post-Election Day agitation in the 2018 Georgia gubernatorial race, which she lost to Republican Brian Kemp, set a new standard for Democrat gamesmanship surrounding election results, indicating that similar manipulations can be expected in the 2020 presidential election. Team Abrams sued to challenge results and ran a search — via text, phone calls, and emails — for people who allegedly cast provisional ballots. Abrams herself disparaged Kemp's victory, sowing discord and attacking the credibility of the American election system.
Since the Coronavirus outbreak, Abrams has championed the cause of Mail-In Voting, which President Donald Trump has criticized for its perceived susceptibility to fraud. Democrats led by Nancy Pelosi failed to force a mandatory national vote-by-mail option into the Coronavirus stimulus package, as they desired, but nevertheless gained federal funding for states to spend on undefined election security initiatives.
As I reported on November 11, 2018, numbers from the Abrams stronghold of Fulton County, Georgia showed concerning irregularities. 49 percent of Fulton County provisional ballots were duplicate ballots, 42 percent of the provisional ballots were rejected, non-citizens tried to vote, and votes were attempted by people from outside the county as well as people who are not registered to vote.
I published the numbers from the Fulton County Department of Registration and Elections Registration Office: