Last Updated on April 13, 2023
Corporate media is still lying about the "Slugger Trump" photo created by National File and published in an article exposing the fact that Alvin Bragg became Manhattan's District Attorney by winning the support of just 10% of Manhattan residents – a story that President Trump himself called "very exculpatory" and "very good" after he shared it to his Truth Social profile.
In a Truth Social post made in late March, President Trump shared the National File article, titled "Just 10% of Manhattan Residents Voted for Anti-Trump DA in 2021 Election," as he prepared to face the political persecution effort being led by Soros-funded prosecutor Alvin Bragg in New York City. Almost immediately after the 45th President shared the write-up, the uni-party press pounced, accusing Trump of issuing a violent threat towards Bragg and of himself creating an image that showed him "hitting" Alvin Bragg with a baseball bat.
Even New York City's supposedly center-right news publication, The New York Post, joined in on the disinformation campaign, accusing President Trump of "posting an image of himself holding a baseball bat next to Manhattan District Attorney Alvin Bragg's head."
In reality, the photo was not an image of President Trump "holding a baseball bat next to Alvin Bragg's head," but a side-by-side shot of two separate images, symbolizing Trump knocking Bragg's phony case against him out of the park.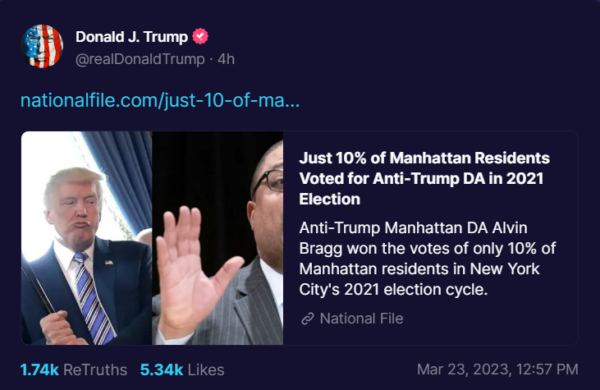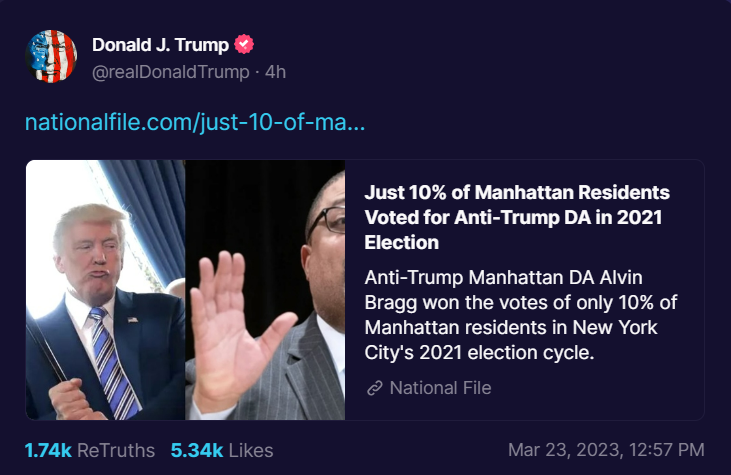 Like the corporate media, Manhattan prosecutors as well are lying about President Trump and the "Slugger Trump" image in an open attempt to slander Trump and encourage the Democrat judge overseeing his trial to implement an unconstitutional gag order against him.
According to a recounting of the prosecution team's courtroom arguments from NBC News, the prosecution is claiming that President Trump has made "public statements to the District Attorney, which included a photo of [him] swinging a baseball bat toward the District Attorney's head."
The photo, the prosecutors claimed, "was very concerning."
Listen to NBC News describing Manhattan prosecutors' "Slugger Trump" disinformation campaign below:
Manhattan prosecutors are already lying about Trump. Big surprise, I know.

Our pal @stockes76 created the "Slugger Trump" meme.

It wasn't Trump. https://t.co/FBYAMFdEgn

— Stew Peters (@realstewpeters) April 5, 2023
Despite the open campaign of lies being waged against National File and President Donald J. Trump, both President Trump and this reporter, Frankie Stockes of National File, have set the record straight in televised interviews.
"We put up a story that was a very exculpatory, very good story from the standpoint of what we're talking about," President Trump told Sean Hannity in a Fox News interview.
"And they put up a picture of me. And you know where I was holding the baseball bat? It was at the White House, 'Make America, Buy America' because I did a lot of 'Buy America' things, and this was a company that makes baseball bats," Trump explained.
"It's an obvious symbol, President Trump is going to knock this phony case out of the park," National File's Frankie Stockes, the creator of the "Slugger Trump" image, explained in a Stew Peters Network interview with Teddy Daniels.
National File's Frankie Stockes ROASTS corporate media phonies, Alvin Bragg on "In The Trenches With Teddy Daniels" – Watch below:
#Video from yesterday's episode of In The Trenches with @TeddyDanielsTV: The TRUTH about the now-infamous baseball bat photo that headed my @NationalFile article that was shared by President #Trump and caused commie media to enter meltdown mode. One small correction: as President… pic.twitter.com/so4yp6DiUN

— Frankie Stockes – Reporter (@stockes76) March 28, 2023