Congressional Democrats held a moment of silence in the US House of Representatives for Shawn Jackson, the 18-year-old Richmond, Virginia man who was shot and killed at a high school graduation ceremony in a shooting that's still shrouded in mystery and protected by a highly-politicized narrative endorsed by corporate media. Jackson, who has been widely portrayed as an innocent victim, was recently revealed by National File to have been a street thug purportedly took credit for the 2021 homicide of a friend of the graduation shooter in a rap music video he released just days before his death.
Virginia Democrat Rep. Jennifer McClellan, along with Virginia's delegation to Congress, rose in the House of Representatives to hold a moment of silence in honor of Shawn Jackson and his stepfather, both of whom were shot and killed at Huguenot High School's graduation ceremony outside of Richmond, Virginia's Altria Theater on June 6th.
Details of the shooting and the investigation into it are scarce, but police reportedly found multiple guns at the scene, though only one of them was traced back to Amari Pollard, the man who's been arrested and charged with two counts of 2nd degree murder in the deaths of Jackson and his stepfather.
The shooting has quickly been hijacked by anti-gun politicians and gun control activists, and police have been slow to inform the public of their investigation.
"Just 20 minutes after Shawn received his high school diploma, both [Shawn and his stepfather] were tragically shot and killed when a gunman opened fire," McClellan said.
"We invite all members of the body to join us in a moment of silence."
Tonight, members of the Virginia House Delegation led a moment of silence to remember Renzo Smith & Shawn Jackson, who were tragically killed in a shooting following @GoFalconsHHS' graduation. pic.twitter.com/ExudcS248t

— Congresswoman Jennifer McClellan (@RepMcClellan) June 13, 2023
Among those participating in the moment of silence was Virginia Democrat Rep. Abigail Spanberger. Spanberger participated in the moment of silence and the lionizing of Jackson despite the fact that she, along with a larger group of exclusively female Democrats, boycotted a moment of silence held last year for the victims of the elementary school mass shooting in Uvalde, Texas.
"No more moments of silence without REAL action [to ban guns]," the group vowed at the time, according to a tweet from Rep. Jackie Speier.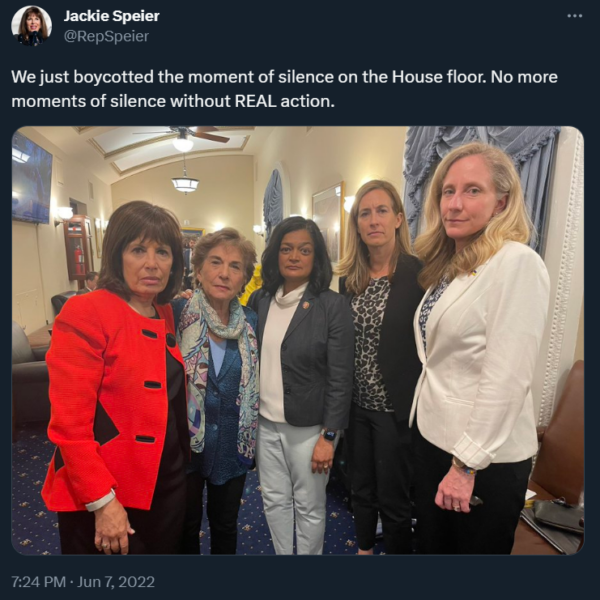 Stay with National File as the truth about the Huguenot High School graduation shooting continues to come to light.