Last Updated on April 2, 2021
Black nationalist Noah Green, the deceased suspect in Friday's deadly attack on the Capitol, donated over $1,000 to the Nation of Islam shortly before carrying out his car-and-knife rampage and proudly displayed the certificate he received for his donation on Facebook.
"This award is given in recognition of your sacrifice in making your word bond and completing your 2021 Savior's Day gift in the amount of $1,085.000. May Allah continue to bless you!" a description of the "Certificate Of Completion" Green received for his donation read.
Green posted the photo of his donation certificate to his Facebook page on March 17, roughly two weeks before he reportedly went on a deadly rampage with a vehicle and a bladed weapon that left Capitol Police officer William F. Evans dead, and another officer seriously injured.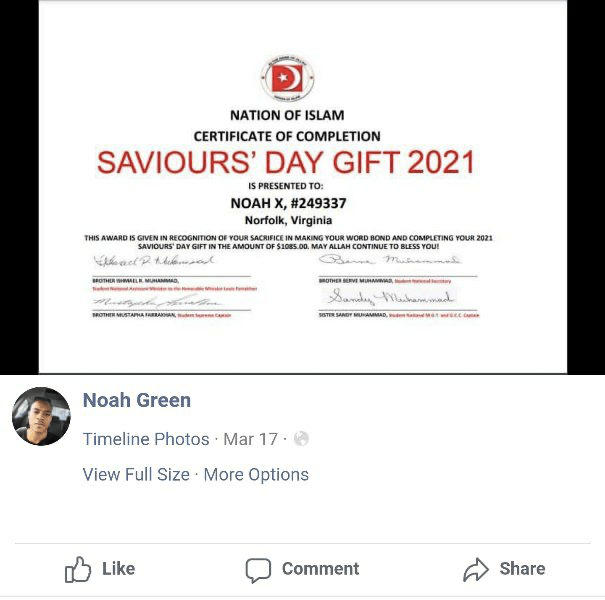 Savior's Day is often called "the crowning event of Black History Month," and is dedicated to commemorating the birth of Nation of islam founder Elijah Muhammad.
Facebook quickly moved to scrub Green's profile from its servers, later releasing a statement saying it did so because the profile violated its "Dangerous Individuals and Organizations Policy".
https://twitter.com/The_Justice7/status/1378078938115760128
Facebook has just confirmed to me in a statement that an account in the name of Noah Green, who called himself "Noah X", was taken down under its "dangerous individuals and organizations policy".

25-year-old Green, from Indiana, is the main suspect of today's Capitol attack. pic.twitter.com/gxGdl0eL7I

— Shayan Sardarizadeh (@Shayan86) April 2, 2021
As National File reported earlier Friday, Green described himself as a "Follower of Farrakhan," expressed adoration for Nation of Islam founder Elijah Muhammad and black nationalism, and made ominous posts about the "end times" and "facing death" shortly before the Capitol attack.
"The Minister is here to save me and the rest of humanity, even if it means facing death," Green wrote. "Be willing to deny yourself and follow him, pick up your cross. The Honorable Elijah Muhammad (his teacher, the exalted Christ) is alive and in power (I bear witness). Study the Minister, watch his lectures, study Elijah Muhammad, study the mother wheel (which is present here in America [I bear witness again]). We have a little time."
Green's praise of Farrkhan echoes similar sentiments expressed by many prominent politicians in the Democrat Party.